Nadal at Peak as Oddsmakers See Win Over Federer at French Open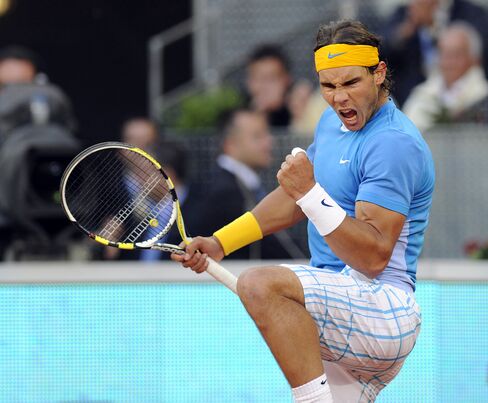 Rafael Nadal's coach says the four-time French Open champion has recovered from knee injuries that hobbled him last year, and is peaking for the Paris tournament. The oddsmakers agree.
The 23-year-old Spaniard failed to win a title last season after his unbeaten record at Roland Garros was ended by Sweden's Robin Soderling in the fourth round. Tendinitis in both knees, attributed to playing too much, kept him from defending his Wimbledon title.
This season, Nadal is ranked second behind defending champion Roger Federer after skipping some events to rest. That's allowed him to play a more aggressive style, and he enters the French Open, starting today in Paris, as the bookmakers' favorite after an undefeated clay-court season. The former champion is close to his peak, according to his uncle and long-time coach, Toni Nadal.
"He started 2008 playing more aggressively and in 2009 because of various problems he didn't manage to," Toni Nadal, who has coached his nephew since he was 4 years old, said in an interview at the Madrid Masters last week. "Now he's got back to the same style of play as two years ago. He's playing more forward, hitting more winners, coming to the net and changing the game better."
The left-hander is the 4-11 favorite at U.K. bookmaker William Hill Plc, which means a successful $11 bet will return $4 plus the original wager. Federer is next at 7-2, with Novak Djokovic of Serbia and Andy Murray of Britain both at 20-1.
Madrid Win
Nadal beat Federer in straight sets in the final at the Madrid tournament, where the 28-year-old Swiss right-hander was the defending champion. That victory made Nadal the first player to win all three clay-court Masters Series titles -- he also won in Monte Carlo and Rome -- in the same season.
"I just watched the Madrid final last week and Nadal looked like he's playing as well as ever," Rod Laver, the only player to win the Grand Slam in one season two times, said in a telephone interview. "He certainly didn't have any problems."
After losing in Paris, knee tendinitis forced Nadal off the tour for two months. He took four weeks rest after this year's Australian Open, when he quit with a knee injury against Murray in the quarterfinals. His victory in Monte Carlo last month ended an 11-month-long title drought.
The injuries have played on Nadal's mind.
"I had problems recently in Australia and last year I had problems," Nadal told a news conference in Rome last month. "When you have a problem in the past, you're probably more scared of them than before."
No. 1 Ranking
A year ago, Nadal was ranked No. 1 on the ATP World Tour and had reduced Federer to tears after beating him in the Australian Open final. Then Soderling ended his 31-match win streak at Roland Garros. Opponents say Nadal lacks the invincibility of a player who had four French Open titles by the time he was 22.
"Now, players have more belief that they can win against Nadal on clay courts," Djokovic, 23, the 2008 Australian Open champion, told reporters last month in Monte Carlo.
Soderling, 25, said he went into last year's French Open match against Nadal feeling he had a chance.
"It doesn't really matter how good you are, you cannot win forever," the seventh-ranked Swede said in an interview in Monte Carlo. "And the more you win, the closer to a loss you become. So I tried to focus on my own game. I knew I had to play my best tennis, and I had a really good day."
To enhance the chances of winning his fifth French Open, Nadal has changed his clay-court schedule. Instead of playing back-to-back tournaments in Monte Carlo, Rome, Barcelona and Madrid before Paris, skipped Barcelona and took a week off after every event to recover.
'A Precaution'
"All's well," Toni Nadal said, when asked last week in Madrid about his nephew's injuries. "He's playing a little less as a precaution, that's all."
Fernando Verdasco, Nadal's friend and the champion in Barcelona, said that "on clay, Rafa will still be the guy to beat."
Gamblers are starting to believe, William Hill's Graham Sharpe said.
"People think that he's back to his best," Sharpe said in London last week. "His recent results have been good, and this is the stage where he would want to prove that he's back."
Nadal's Advantage
Federer's 6-4, 7-6 (7-5) loss to Nadal in Madrid a week before Roland Garros will be "a slight negative" for the top-ranked player, according to Martina Navratilova.
It was the pair's 21st meeting, with Nadal now leading 14-7. Federer, who became only the sixth man in history to win all four majors at least once when he captured his first French Open title last June, has never beaten Nadal at Roland Garros. The Spaniard defeated him in the 2005 semifinals and the 2006 through 2008 finals.
"You want to go into the tournament thinking I can beat anybody," Navratilova, an 18-time Grand Slam singles champion, said during a conference call with reporters. "And, again, he couldn't solve the Nadal puzzle on clay. Let's see how he responds to that."