U.S. Says Geithner Will Discuss Europe, Economy in China Talks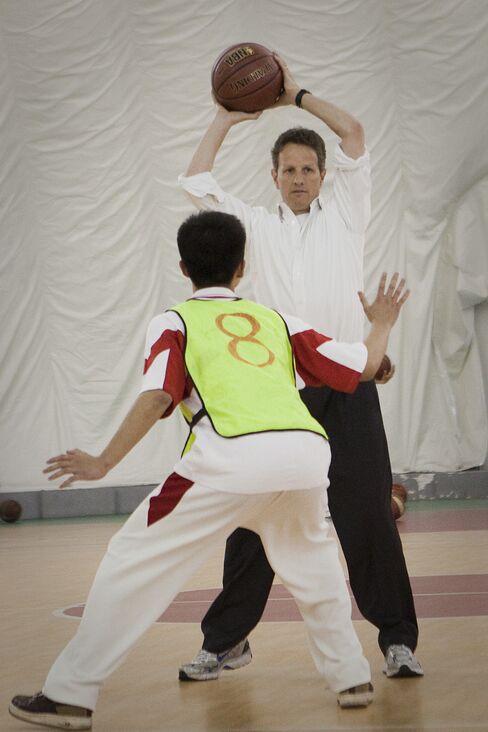 Treasury Secretary Timothy F. Geithner will tell his Chinese counterparts that Europe's battle with a Greece-triggered debt crisis should have only a small effect on the broader global recovery, a U.S. official told reporters in Beijing.
Geithner and Secretary of State Hillary Clinton are in China for the two-day Strategic and Economic Dialogue, a set of annual high-level talks. Geithner will then depart for London, Berlin and Frankfurt to meet with European officials and reinforce his call for coordinated efforts to fight off the crisis and rein in government spending.
One-sided efforts like Germany's ban on naked short-selling are counterproductive and unlikely to boost investor confidence, the U.S. official, who spoke on condition of anonymity, said yesterday. The official also said such measures have a poor historical track record and are unlikely to be adopted on a wider scale.
Heading into this week's meetings, David Loevinger, the Treasury's senior coordinator for China affairs, called for China to "do everything it can" to contribute to a broad-based global recovery. This includes allowing the yuan, which has been pegged at about 6.8 to the dollar for the past 22 months, to appreciate against the U.S. currency.
"Meeting at this time allows us to demonstrate what is a substantial strength of both the United States and China -- a capacity to act quickly, to solve problems, to take initiative and to take a leadership role," Geithner told reporters in Beijing yesterday.
Euro's Decline
The U.S. assessment that Europe's debt crisis won't drag down the global economy could be aimed at easing Chinese fears about letting the yuan rise while the European economy lags behind the U.S. and parts of Asia.
U.S. officials have varied opinions about the impact of Europe's debt crisis. Federal Reserve Governor Daniel Tarullo said May 20 that Europe's debt crisis may pose a threat to the U.S. and world economies as trade shrinks and banks incur losses on European investments.
"A deeper contraction in Europe associated with sharp financial dislocations would have the potential to stall the recovery of the entire global economy, and this scenario would have far more serious consequences for U.S. trade and economic growth," Tarullo told to House Financial Services subcommittees.
Analysts say Chinese officials may be loath to relax the yuan peg while the dollar is rising against the euro and other major currencies.
Dollar
Europe's common currency fell against the dollar on May 19 to its weakest level in four years a day after Germany banned naked short sales, adding to concern the region's leadership may not be able to contain the crisis. It rebounded on May 21 amid speculation traders who bet on its decline amid the sovereign-debt crisis had to buy back the currency as it strengthened to a one-week high.
"Does it make sense to have the dollar be the strongest currency of the major ones and then encourage your own currency to be even stronger than that one?" said Donald Straszheim, director of China research at International Strategy & Investment Group. "That is not going to sell in Beijing. There's just no way."
In an interview with Xinhua published two days ago, Geithner, 48, attributed the dollar's recent rise to confidence in the U.S. economy around the world. Geithner has said it will be "China's choice" on when and how to let the yuan rise against the dollar.
Yuan
While Senator Charles Schumer and other U.S. lawmakers have continued to call for increased pressure on the Chinese to revalue, Geithner has opted for a less combative approach. In April, he decided to delay a foreign exchange report in which the Treasury makes determinations about currency manipulation.
Chinese officials are likely to press Geithner on the state of the U.S. economic recovery as well as on longstanding issues like export restrictions on advanced technology products, the official said. Geithner also will update the Chinese on the Obama administration's efforts to get a financial regulatory package through Congress, which the official said is likely to win final approval by July 4.
There will also be discussion of U.S. concerns about China's proposals for promoting domestic economic growth, including innovation from Chinese companies, and the ramifications of developments in Europe.
Clinton yesterday urged China to work more cooperatively with American companies eager for a larger share of the Chinese market. "For trade to work in any economy, it needs to be a level playing field where domestic and international companies can compete freely," she said at Shanghai's Pudong Airport.
'Level Playing Field'
Geithner on May 14 expressed confidence that Europe will resolve the crisis and said the U.S. economy is strong enough to withstand any fallout. "Europe has the capacity to manage through this," Geithner said in an interview. "And I think they will."
China is the largest foreign investor in U.S. Treasuries and also the country's second-largest trading partner. Total U.S.-China trade in goods was $94 billion for the first three months of 2010, up 19 percent from the same period in 2009. The U.S. trade deficit with China was $52 billion in the first three months of the year, up 3 percent from the first quarter of 2009.