U.K. Posts Record April Deficit as Budget Looms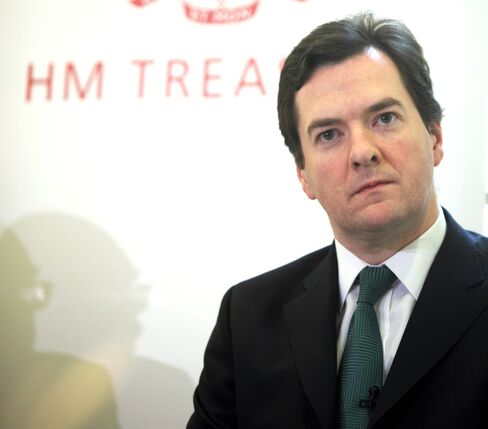 May 21 (Bloomberg) -- Britain posted its largest April budget deficit since monthly records began in 1993, highlighting the scale of the squeeze to come as Chancellor of the Exchequer George Osborne prepares to deliver an emergency budget.
The 10 billion-pound ($14.4 billion) shortfall compared with 8.8 billion pounds a year earlier, the Office for National Statistics said in London today. The result was below the 10.9 billion-pound median forecast in a Bloomberg News survey.
The report sets the scene for what economists say will be the sharpest cuts in public spending for a generation. Osborne has ordered departments to find 6 billion pounds of savings this year and will set out further measures in his June 22 budget.
"This is a hole that they'll have to fill not just by spending cuts but also by tax rises," said Peter Dixon, an economist at Commerzbank AG in London. "They have no room for maneuver."
The pound was little changed against the dollar at $1.4371 as of 1:52 p.m. in London.
Conservative Prime Minister David Cameron and his Liberal Democrat deputy Nick Clegg yesterday said their coalition government is united over the need for immediate action to reduce the deficit, which reached a post-war high of 11.1 percent of gross domestic product in the fiscal year to March.
The newly created Office of Budget Responsibility, headed by former Bank of England policy maker Alan Budd, will produce new forecasts for the deficit before the emergency budget.
Signs of Recovery
The public finances typically get a boost in April as quarterly installments of tax on company profits come in, and there are signs the recovery is starting to feed through.
Current receipts rose 7.2 percent from a year earlier. In cash terms, VAT soared 34 percent, corporation tax gained 13 percent and national insurance contributions, a payroll tax, increased 22 percent. Government spending climbed 6.5 percent.
There was also a 7.5 billion-pound downward revision to the deficit in the last fiscal year, 5.5 billion pounds of which came in March alone as higher receipts in April accrued to previous months.
Net borrowing was 145.4 billion pounds rather than 152.8 billion pounds first reported. Excluding financial interventions, the Treasury's main forecasting measure, the deficit was 156.1 billion pounds instead of 163.4 billion pounds.
Budd's Assessment
The scale of budget cuts will depend on the view Budd and his colleagues take on the permanent damage done to the public finances by the financial crisis and record recession, said Gemma Tetlow, an economist at the Institute for Fiscal Studies in London. The last government estimated that hole to be 69 billion pounds.
"The undershoot in borrowing last year in isolation might reduce this estimate, although many other factors such as their assessment of the amount of spare capacity in the economy will influence their final verdict," Tetlow said. "The government will then have to decide how fiscal policy should respond."
The looming deficit-cutting drive has overshadowed prospects for consumer spending. Osborne has pledged to cut the deficit at a faster pace than Gordon Brown's Labour government had planned and refused to rule out raising the rate of value-added tax, a 17.5 percent levy on sales of goods and services.
Next Plc, the second-largest U.K. clothing retailer, said on May 5 that it was "very cautious" on the outlook for households because "whatever form this action takes, it is likely that it will act to restrain growth in consumer spending."
A measure of cash entering and leaving the public sector showed an 8.8 billion-pound deficit in April. Economists predicted a 7 billion-pound shortfall, according to the median forecast in a Bloomberg survey. Net debt climbed to 893.4 billion pounds, or 62.1 percent of GDP.
To contact the reporter on this story: Craig Stirling in London at cstirling1@bloomberg.net.
To contact the editor responsible for this story: John Fraher at jfraher@bloomberg.net