Locke Quizzed on Export Controls, Energy in Beijing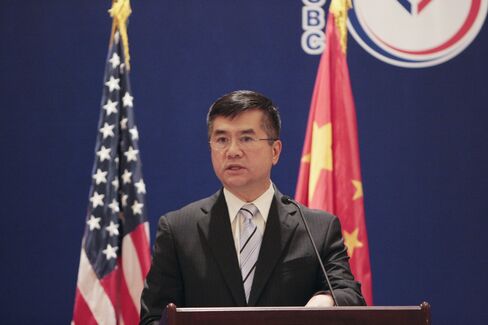 May 21 (Bloomberg) -- Chinese university students quizzed Commerce Secretary Gary Locke about U.S. export controls, the prospects for climate legislation, Chinese investment -- and whether he may run for president one day.
Many of the questions tracked complaints Chinese officials raised with Locke and other officials in recent months as trade tensions have mounted and the two countries clashed over a pledge to cut carbon emissions.
"The United States and China have had many, many common issues for many years," Locke told the students. "We all in the world will benefit from the better quality of life and innovations coming out of China."
China is seeking an end to restrictions on American exports of civilian technology. Locke pledged that the U.S. will complete a plan to overhaul export controls this summer, and said President Barack Obama would pursue limits on carbon emissions with or without congressional legislation.
The questions came from a group of 200 students at Tsinghua University in Beijing submitted through the www.huanqiu.com Internet site, following a model used by Obama when he visited China last year. No other U.S. Cabinet official has participated in this kind of public forum with unfiltered questions submitted on the Web.
Trade Mission
Locke is heading the administration's first trade mission, and executives from U.S. companies such as General Electric Co., First Solar Inc., and Boeing Co. are accompanying him on more than week of meetings in Hong Kong, Shanghai and Beijing. He will take part in the U.S.-China Security and Economic Dialogue on May 24 with Secretary of State Hillary Clinton and Treasury Secretary Timothy F. Geithner
Obama used his forum in Shanghai in November to prod China on human rights and freedom. The questions Locke received were on economic and green energy topics.
Locke ruled out a run for president, saying "No," at least three times when moderator, professor Qi Ye, said, "Let's hope Secretary Locke will run day run for that office."
At a later address to the American Chamber of Commerce in Beijing, Locke complained about Chinese barriers to foreign investment, saying, "there is not enough government transparency."
He praised China's success in building trains that travel as fast as 350 kilometers (217 miles) per hour for Asia's fastest-growing economy.
"We simply marvel at what China has done with high-speed rail," Locke said. "China is a model for the rest of the world in this regard."
High-speed railways will connect all of China's provincial capitals and cities with more than 500,000 citizens by 2020, serving more than 90 percent of the population, according to the Ministry of Railways. China had 86,000 kilometers of track at the end of last year, making it the world's second-biggest railway network after the U.S.
To contact the reporter on this story: Mark Drajem in Washington at mdrajem@bloomberg.net
To contact the editor responsible for this story: Larry Liebert at lliebert@bloomberg.net.