Legg Mason Says Peters to Eventually Run Value Trust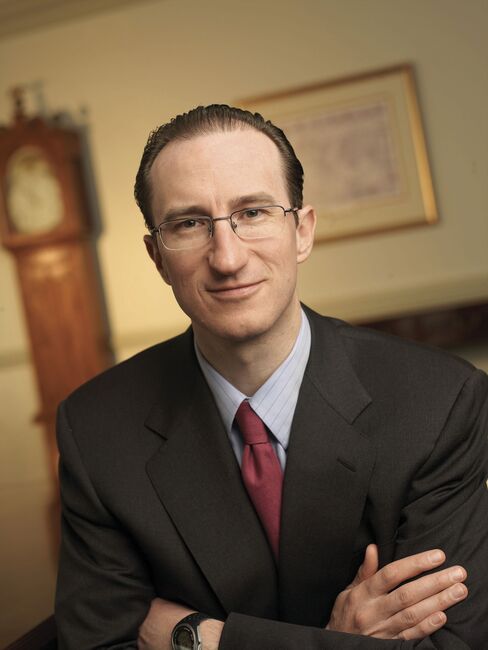 Legg Mason Inc.'s Bill Miller named Sam Peters, a former Fidelity Investments fund manager who joined the firm in 2005, as his eventual successor to run the $4.35 billion Value Trust fund.
Peters will join Miller as co-manager later this year, the Baltimore-based company said today in an e-mailed statement. The 40-year-old Peters oversees the firm's investment strategies that target midsize companies and manages the $1.25 billion Special Investment Trust.
"It's good business management and good for investors to know there is some preparation in place for succession," Burton Greenwald, an independent fund consultant based in Philadelphia, said in a telephone interview.
Miller, 61, famed for beating the Standard & Poor's 500 Index for a record 15 straight years through 2005, trailed the U.S. market benchmark for the next three years, leading to investor redemptions. Value Trust bounced back in 2009, beating the index and returning 41 percent. It has lost 6.9 percent so far this year, according to data compiled by Bloomberg.
Greenwald said the move didn't necessarily reflect pressure on Miller to step aside.
'Highly Regarded'
"I think Bill Miller is highly regarded by Mark Fetting and the management there," he said, referring to Legg Mason's chairman and chief executive officer.
Peters will work with Miller and co-manager Mary Chris Gay beginning "sometime in the fall," Mary Athridge, a company spokeswoman, said in a telephone interview. No date was given for when Peters would take charge of the fund.
Peters took over from Miller as manager of the Special Investment Trust in January 2006. The fund lost an annual average of 11 percent in the past three years, compared with an 8.3 percent decline for competing funds, Bloomberg data show.
"We are not expecting any other changes in Bill's, Sam's or Mary Chris's roles at this time," the statement said.
Peters joined Legg Mason after six years at Boston-based Fidelity. He graduated from Norfolk College of William & Mary in Norfolk, Virginia, and the University of Chicago Booth School of Business.
Withdrawals from Legg Mason's stock funds including those managed by Miller fell to $2.4 billion in the three months ended March 31 from $4 billion in the prior quarter.
Miller's unit is planning new funds this year, including one that will invest in stocks picked based on research from his team of analysts and portfolio managers, he said at a May 13 investors meeting.
Morningstar Inc., a mutual-fund research firm in Chicago, reported Miller's succession plan yesterday.