Abbott to Buy Piramal Generics Unit for $3.72 Billion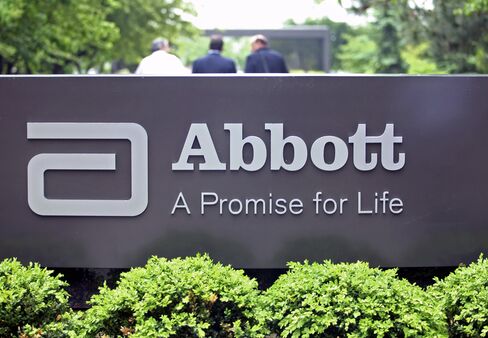 Abbott Laboratories will buy Piramal Healthcare Ltd.'s branded generic-medicine unit in India for $3.72 billion, making it the country's biggest drugmaker and tapping into a market expected to more than double by 2015.
Abbott said it will pay $2.12 billion upfront and $400 million annually for four years from 2011 for the unit, which sells retail-ready pharmaceuticals in India, Sri Lanka and Nepal. The Abbott Park, Illinois-based company will pay cash for the transaction, expected to close in the second half of 2010.
The acquisition announced today will be the second-largest takeover in India's health-care industry and give Abbott a 7 percent stake in the $8 billion Indian pharmaceutical market. The move fits into Abbott's strategy of broadening its business beyond brand-name pharmaceuticals in the U.S. and Europe, where sales are slowing because of generics competition and pricing pressure from governments.
"They are putting in place the next wave of growth drivers -- not for next quarter, but for 2012, 2013 and beyond," said Rick Wise, an analyst with Leerink Swann Co. in a telephone interview. "I think this is a high-quality asset that does terrific things for Abbott on a long-term basis."
Growing Market
In India, the pharmaceutical market is expected to increase as much as 16 percent a year through 2014, according to IMS Health Inc. The $300 billion U.S. market will grow at a slower rate of 3 percent to 6 percent over the same period, said IMS.
The slower growth in the U.S. and Europe has Abbott and other drugmaker turning toward developing countries to increase sales. Tokyo-based Daiichi Sankyo Co. bought 64 percent of Ranbaxy Laboratories Ltd., India's largest drugmaker, for about 488.7 billion yen ($5.45 billion) in 2008, the biggest takeover in the South Asian nation's pharmaceutical industry, and Pfizer Inc. has been licensing products from Indian generic-drug maker Aurobindo Pharma Ltd.
"This is certainly not the last deal that you will see in India given that the country is poised to become one of the biggest pharmaceutical markets in the world," said Nitin Agarwal, an analyst at IDFC Securities Ltd. in Mumbai, who rates Piramal "outperform."
The Piramal unit Abbott is purchasing is set to have $500 million in sales next year and will grow at 20 percent a year, said Abbott Chief Executive Officer Miles White in a conference call with analysts today. Piramal's products include medicines for infections, heart disease, pain, and respiratory conditions.
Scarcity of Assets
"There is a scarcity of high-quality assets in this market and we believe Piramal is among the best," White said. "These markets are so significant in the future growth of our industry that it is important for us to be there early and in a meaningfully strong way."
Abbott gained 46 cents, or 1 percent, to $46.94 at 4:01 p.m. in New York Stock Exchange composite trading. Piramal dropped 12 percent to close at 502.75 rupees in Mumbai trading.
Moody's Investors Services said it has placed Abbott's A1 senior unsecured credit rating under review for a possible downgrade as a result of the acquisition. It affirmed Abbott's Prime-1 rating.
The U.S. drugmaker paid a "hefty premium" of about 50 percent for the business, based on Piramal's market value, likely because there were other bidders involved, said Larry Biegelsen, an analyst with Wells Fargo, in a note to clients.
Standalone Business
Abbott plans to operate the Piramal unit as a standalone business reporting to its so-called established products division. After the acquisition, the company will have 7,000 sales representatives across India, more than the 2,500 current employees in the country.
The unit, called Healthcare Solutions, makes and sells generic medicines for conditions including respiratory and heart disease in India. Piramal's other businesses include contract- manufacturing and drug-ingredient production.
Sales at the Piramal division making branded generics rose 25 percent to 20 billion rupees ($426 million) in the year ended March 31, the company said on May 7. The unit accounted for more than half of the drugmaker's total full-year revenue.
"I don't think we were in a position to take it global. A company like Abbott has the strength and aspirations to do that," Piramal chairman Ajay Piramal said. "There aren't too many markets growing at 25 percent annually and it's a good opportunity" for Abbott to be in India, he said.
Revenue will rise about 20 percent a year, reaching more than $2.5 billion by 2020, Abbott said.
Solvay Acquisition
Abbott, which was advised by Morgan Stanley on the Piramal acquisition, had $8.8 billion in cash and equivalents at the end of 2009, more than doubling from a year earlier, according to its annual report.
The drugmaker completed its 4.8 billion-euro ($6 billion) acquisition of Brussels-based Solvay SA's pharmaceuticals unit in February. The company said May 11 it agreed to license at least 24 generic medicines from the Zydus Cadila unit of Ahmedabad, India-based Cadila Healthcare Ltd. and sell them in emerging markets.
Abbott said the transaction announced today is subject to approval from Piramal Healthcare shareholders and won't affect its per-share earnings guidance for 2010.
Piramal will repay 13 billion rupees of debt using proceeds from the sale and make a special dividend, Chairman Ajay Piramal said at a briefing in Mumbai. The proceeds will incur a 22 percent capital gains tax to be paid to the Indian government, he said.
Before it's here, it's on the Bloomberg Terminal.
LEARN MORE