U.K. April Retail Sales Increase for a Third Month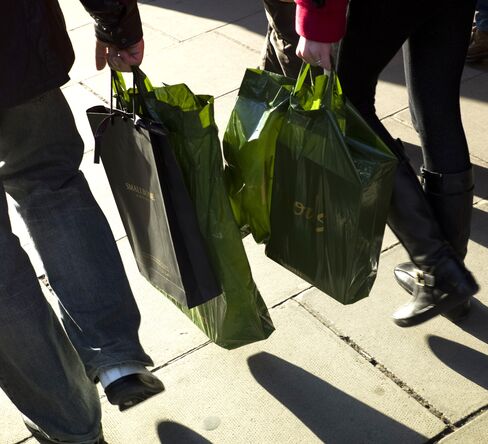 U.K. retail sales rose for a third month in April as the economic recovery encouraged consumers to spend more at clothing shops and department stores.
Sales climbed 0.3 percent from March, when they increased 0.5 percent, the Office for National Statistics said today in London. Economists predicted a 0.2 percent gain, according to the median of 20 forecasts in a Bloomberg News survey. Excluding fuel, sales rose 0.1 percent.
The Bank of England said last week that the economic recovery will continue to strengthen. A survey by the central bank published yesterday showed that consumer-spending growth has stabilized. Still, the pace of sales may be restrained by concern about higher taxes and reductions in public jobs.
"There are signs in these numbers that consumer spending is on the way up again," Nick Kounis, chief European economist at Fortis Bank Nederland JV in Amsterdam and a former U.K. Treasury official, said in a telephone interview. "There is this question about fiscal tightening and uncertainty related to it and people want to see clarity about that, but I think we are seeing an improvement in the underlying fundamentals."
The pound remained lower against the dollar after the report and was down 0.3 percent at $1.4354 as of 10:30 a.m. in London. Bonds fell, with the yield on the 10-year gilt up 2 basis points to 3.68 percent.
Sainsbury Profit
Non-food shops reported a 0.5 percent gain in sales in April from March, the statistics office said. Sales at clothes stores jumped 2 percent. Non-specialized stores, the category which includes department stores, saw sales increase 2.2 percent, the most in three months. From a year earlier, retail sales rose 1.8 percent.
J Sainsbury Plc, the U.K.'s third-largest supermarket chain, on May 13 reported full-year profit that beat analysts' estimates and said it will increase selling space by 8 percent this year.
Prime Minister David Cameron's newly formed coalition government plans 6 billion pounds ($8.6 billion) in spending cuts in an emergency budget statement on June 22 to reduce the deficit. The premier refused to rule out an increase in value-added tax in a BBC television interview on May 16.
While Nationwide Building Society's index of consumer sentiment rose 1 point to 74 in April, a gauge measuring expectations for the economy in the next six months fell to the lowest since August. Nationwide said that further increases in the confidence index may be "muted" as consumers await the impact of the fiscal policies on the economy.
'Big Issue'
"That's a big issue going forward for households," Fortis's Kounis said. "They want to know where the cuts are coming and potential tax rises and how they're going to potentially affect them, but we are seeing signs of a cyclical improvement in the economy."
Food sales were unchanged in April for a second month, today's report showed. Asda Group Ltd., the U.K. supermarket chain owned by Wal-Mart Stores Inc., on May 18 reported its first decline in same-store sales in four years.
"The market has slowed down significantly since the turn of the year," executive committee Chairman Andy Bond said. "I expect conditions to remain tough for some time."
Bank of England policy makers voted unanimously to keep their bond plan at 200 billion pounds and the benchmark interest rate at a record-low 0.5 percent this month as officials downplayed inflation concerns and highlighted the potential impact on the economic recovery from the euro-area debt crisis.
U.K. inflation accelerated to 3.7 percent in April from 3.4 percent in March. Today's data showed that the implied deflator, a measure of annual price changes, was 2.8 percent higher than a year earlier. Textile, clothing and footwear prices fell 0.3 percent on the year, the smallest decrease since 1998.