Trichet's Pain Is Meirelles's Gain as Rates Decline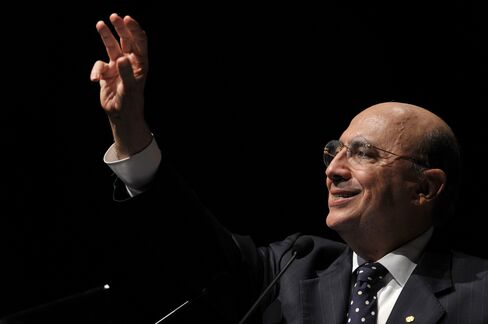 The debt crisis confounding European Central Bank President Jean-Claude Trichet is helping his Brazilian counterpart Henrique Meirelles tame inflation expectations in Latin America's biggest economy.
Yields on Brazil's interest rate-futures contracts due in January have fallen 25 basis points, or 0.25 percentage point, to 10.95 percent today from a 15-month high on May 3. The yield has dropped five straight days, the longest stretch since January, as commodities slid and prospects that global growth will slow led traders to bet Meirelles needs fewer rate increases to curb inflation.
"The sharp decline in commodity prices for the first time makes people think that the external environment is going to slow the local economy down to a certain extent," said Guillermo Osses, who helps oversee $50 billion in emerging- market assets at Newport Beach, California-based Pacific Investment Management Co., manager of the world's biggest bond fund. "People are starting to think that maybe we're not going to have that much tightening."
Traders have trimmed their year-end expectation for benchmark borrowing costs to about 12 percent from about 12.75 percent at the end of April, data compiled by Bloomberg show. Meirelles, 64, lifted the overnight rate 75 basis points last month to 9.5 percent, the first increase since 2008, to cool an economy that analysts forecast will grow at its fastest pace in two decades this year.
Commodities Rout
Commodities, which make up 41 percent of Brazilian exports, plunged 12 percent since mid-April to a seven-month low as the $1 trillion rescue package arranged by European policy makers failed to reverse a jump in borrowing costs for Greece, Spain and Portugal, according to the UBS Bloomberg CMCI raw materials index. Trichet, 67, is leading an effort by central banks in the region to buy the governments' bonds.
Europe is Brazil's largest export market, buying more than 20 percent of its overseas sales, according to government data. About 55 percent of foreign direct investment in Brazil in the past three years came from Europe, according to Barclays Plc.
"The crisis could be more wide-spread and longer-lasting, the global growth could be softer, and there's repercussions for domestic activity as well," said Marcelo Salomon, an economist with Barclays in Sao Paulo. "There's stress on the rate market as people reassess the total amount of tightening."
Salomon forecasts the central bank will raise the overnight rate to 11.75 percent by August and leave it at that level through year-end.
Credit-Default Swaps
The extra yield investors demand to hold Brazilian dollar bonds instead of U.S. Treasuries widened 14 basis points today to 244. The gap is within five basis points of a three-month high reached May 6 on concern Greece's debt crisis is deepening.
The cost of credit-default swaps to protect against a default on Brazilian debt for five years rose two basis points to 142 yesterday, according to data compiled by CMA DataVision. Credit-default swaps pay the buyer face value in exchange for the underlying securities or the cash equivalent should a government or company fail to adhere to its debt agreements.
Brazil's real sank 3 percent against the dollar today, marking its sixth straight day of declines, the longest losing streak since October 2008. The real has dropped 7.4 percent this year after soaring 33 percent in 2009.
Europe's debt turmoil will only have a "marginal" effect on Brazil and policy makers will have to raise the benchmark overnight rate as much as 350 basis points to "re-anchor" inflation expectations, said Paulo Vieira da Cunha, a former central bank director who is now a partner at Tandem Global Partners LLC in New York.
Spending Cuts
Banco Central do Brasil said the European crisis will be taken into account in future policy decisions, according to the minutes of its April 27-28 meeting published May 6.
Central bankers "made it very clear that any worsening of the fiscal situation in the euro zone could affect the tightening," said Marcelo Saddi Castro, chief investment officer at SulAmerica Investimentos, who manages 15 billion reais in Sao Paulo.
A government plan unveiled last week to cut spending by 10 billion reais is also helping drive down yields on rate futures, Salomon said. Finance Minister Guido Mantega said May 13 that the spending cuts are "a strong and quick tool" to curb growth and inflation.
'Deflationary Forces'
Analysts predict the economy will expand 6.3 percent this year, the fastest pace since 1986, according to a central bank survey published this week. Itau Unibanco Holding SA, Brazil's biggest bank by market value, may raise its growth estimate to as much as 8.5 percent from 7.5 percent, economist Guilherme da Nobrega said yesterday in an interview in New York.
Analysts in the survey held their 2011 inflation forecast at 4.8 percent for a fifth straight week while raising their 2010 prediction to 5.54 percent from 5.5 percent. The central bank targets an annual rate of 4.5 percent.
A government report today showed that consumer prices rose 0.63 percent in the April 14-to-May 13 period, more than the 0.58 percent median forecast in a Bloomberg survey of economists. The annual inflation rate climbed to 5.3 percent, above the central bank's 4.5 percent target.
"Inflation is coming to the forefront much faster than expected, but the debt crisis unleashes deflationary forces," said Michael Roche, an emerging-market strategist at MF Global Holdings Ltd., a New York-based broker. "The market is building a premium for a softer tightening environment."
Before it's here, it's on the Bloomberg Terminal.
LEARN MORE