Spain Passes Public Wage Cuts, Lowers Growth Outlook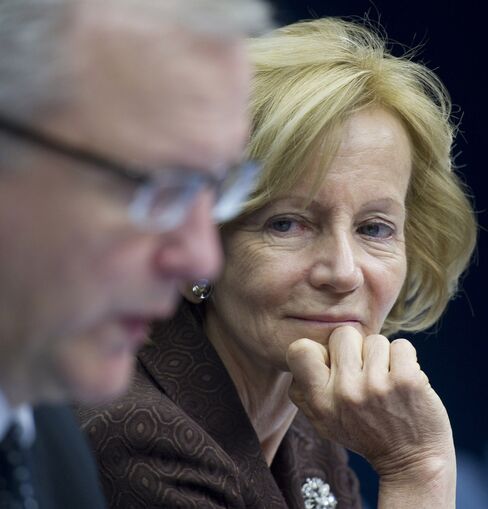 Spain approved the first public wage cuts since returning to democracy in 1978 and reduced its economic growth forecast for next year as the government tries to tame the euro region's third-largest budget deficit.
Gross domestic product will grow 1.3 percent in 2011, less than a previous projection for 1.8 percent, and the government said the deficit will narrow to 6 percent of GDP next year from 11.2 percent in 2009. Wages for government workers will drop 5 percent in June.
"We prefer to have a conservative forecast at the moment, a conservative forecast that's due not just to the deficit-reduction in Spain but also to similar processes in other countries," Finance Minister Elena Salgado said in an interview with RNE radio today. The measures were approved at yesterday's weekly cabinet meeting.
Faced with a surge in borrowing costs and calls from European Union partners to slash the deficit, Spain is reducing salaries and freezing pensions in a U-turn that prompted unions to call a strike. The cuts, the deepest for at least 30 years, were announced last week in response to the EU's 750 billion- euro ($935 billion) aid mechanism for debt-stricken euro members.
"The measures are so unpopular, it's the last thing you want to do, so it shows you really are serious," said Michael Dicks, head of research at Barclays Wealth in London. "The worry is more how does the economy perform when you do 6 percent of GDP of fiscal tightening -- the rule of thumb is you'd knock 3 percentage points, at least, off your growth profile."
Decree
Spain's largest union, Comisiones Obreras, will probably call a general strike in protest, Efe newswire reported, citing Secretary General Ignacio Fernandez Toxo. No one at the union, which supported Greek workers in their strikes against austerity measures, could immediately confirm his comments.
Unions, which Socialist Prime Minister Jose Luis Rodriguez Zapatero has courted since coming to power in 2004 and consulted on measures that affect them, have already called a public-sector strike for June 8.
"If you've got strikes before you see the pain, before you probably see the economy contracting again, you worry about what that means six months down the line when the economy is failing to enjoy some sort of recovery and social and labor market tensions increase," Dicks said.
Ratification Needed
The decree approved by the Cabinet yesterday goes into effect immediately and then needs to be ratified by parliament, where the ruling Socialist party doesn't have a majority.
The budget plan has dented the government's popularity, with the opposition People's Party extending its lead over the ruling Socialists to 9 percentage points, according to a poll published by El Pais on May 16. Facing regional polls this year and a parliamentary election in 2012, Zapatero said this week he wants to make "those who have the most" contribute most to the reduction in the deficit.
Salgado would only say today that any tax hike would be "very specific" and may remain in place for the duration of the economic crisis. The measure will affect those with assets of more than 2 million euros, El Mundo reported.
Spain abolished in 2008 a wealth tax that charged a rate between 0.2 percent to 2.5 percent on assets above 600,000 euros and raised 2 billion euros a year.
Growth Forecast
The government's new growth forecast remains more optimistic than those of the European Commission and the International Monetary Fund, which see the Spanish economy expanding 0.8 percent and 0.9 percent, respectively. Salgado, whose government initially responded to the global recession with one of the largest stimulus programs in Europe, has said getting the budget under control has to take priority over growth.
The extra yield investors demand to hold Spanish 10-year bonds rather than the German equivalent rose to 139.4 basis points today from 138.6 basis points yesterday. That compares with a 14-year high of 164 basis points on May 7, three days before EU governments hammered out a mechanism to stop contagion from the Greek crisis spreading across the euro region.
In return for that backstop, Spain and Portugal agreed to deeper budget cuts. Zapatero will also slash his own salary and that of cabinet colleagues by 15 percent, freeze pensions and scrap a 2,500 euro subsidy for new mothers. The government plans to cut the budget deficit to 4.4 percent of GDP in 2012 and 3 percent in 2013, in line with the EU ceiling.
Before it's here, it's on the Bloomberg Terminal.
LEARN MORE