Sad-Sack Crudup Fights Book Ban in Heavy 'Metal': Jeremy Gerard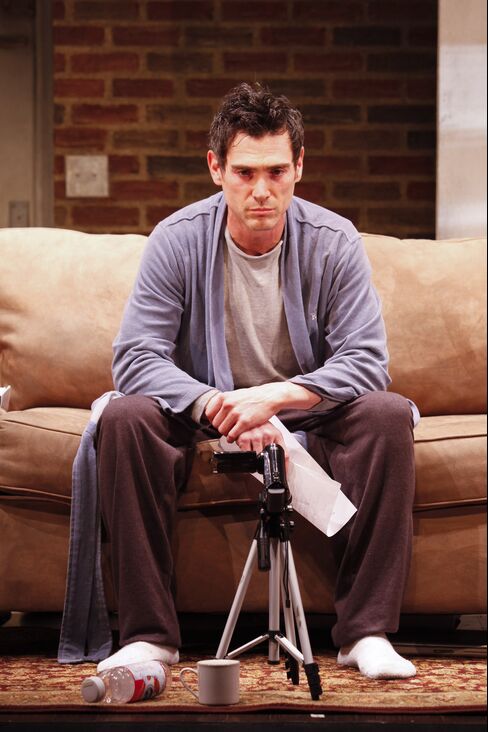 May 20 (Bloomberg) -- Self-effacing charm emanates from Billy Crudup. In "The Metal Children," Adam Rapp's play at New York's Vineyard Theater, he's so affable that it's easy to forget he's playing an imperfect, unwholesome fellow.
Crudup is Tobin Falmouth, a successful writer for the teen-fiction "ghetto," as he calls it, that makes him invisible to critics who would validate him.
His best-known book, also titled "The Metal Children," concerns the disappearance of pregnant high school girls who are mysteriously replaced by golden statues of themselves in a local field. The novel ends with a gruesome act of self-annihilation.
The play begins in Tobin's ratty Greenwich Village apartment. His agent is imploring him to go to Midlothia, a flyover town where 14 high school girls are currently pregnant in emulation of the novel and its heroine, Meredith Miller.
In response, the Midlothian school board has banned the book and scheduled a public hearing, to which Tobin has been invited by the adoring English teacher who put it on the reading list in the first place. The debate attracts the expected mix of bureaucratic weasels, nutjobs and religious fanatics hollering sound bites from Scripture.
The swelling girls of Midlothia have purchased a nearby farm with the profits from Meredith Miller T-shirts and plan to live kibbutz-style with their babies.
"Why get pregnant," Tobin asks Vera, the as-yet unpregnant ringleader, who visits him in his motel room.
"Because we can," Vera responds. "Existentially, aside from suicide, it's the most meaningful choice a young woman can make. We control our own fate."
Vera spouts more teen nonsense, though it's the wisdom of the ages compared to what happens after she tells Tobin that she's ovulating and time is running short before her aunt, the motel manager, will begin her evening rounds.
Leading us down a well-trod path to a shootout between artists and arbiters, Rapp veers off the cliff into something altogether cheesier and far more discomfiting.
Had Tobin made an ethical choice with Vera, "The Metal Children" wouldn't be half as compelling as it is. Crudup doesn't bother to make us the writer's ally. He's a self-absorbed whiner with a deep reservoir of self-loathing -- his more successful wife has just run off with her editor -- and a gift for the pithy rejoinder. Crudup practically dares us to empathize with Tobin.
Unsettling as it is, this is Rapp's most fully realized play. He's staged it with simplicity on David Korins's spare, suggestive sets. Aside from David Greenspan's annoying fussiness as the agent, the cast is splendid, notably Phoebe Strole as headstrong Vera and Connor Barrett as the obsessed teacher.
Through June 13 at 108 E. 15th St. Information: +1-212-353-0303; http://www.vineyardtheatre.org. Rating: ***


What the Stars Mean:
****       Do Not Miss
***        Excellent
**         Average
*          Poor
(No stars) Worthless

(Jeremy Gerard is an editor and critic for Muse, the arts and leisure section of Bloomberg News. The opinions expressed are his own.)
To contact the writer of this column: Jeremy Gerard in New York at jgerard2@bloomberg.net.
To contact the editor responsible for this story: Manuela Hoelterhoff at mhoelterhoff@bloomberg.net.