Ethiopia's Meles Heads for Vote Win as West Gives Aid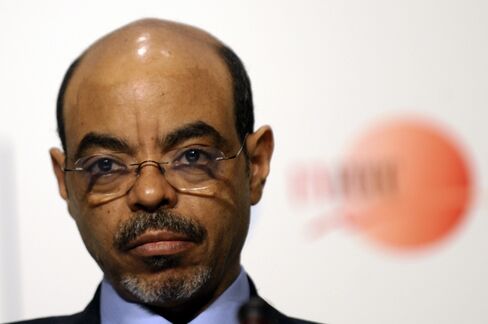 Ethiopian Prime Minister Meles Zenawi, whose nation receives billions of dollars in Western aid, is headed for an easy re-election on May 23 after stifling the opposition, according to analysts and human-rights groups.
"The government has pretty effectively disbanded the leadership of the opposition and undercut its ability to undertake any effective challenge," Jennifer Cooke of the Center for Strategic and International Studies, said in a May 13 phone interview from Washington.
A former Marxist guerrilla leader who has ruled Africa's second-most populous nation since 1991, Meles, 55, has been a key ally in the fight against Islamic militants in neighboring Somalia. Development aid to Ethiopia from the U.S., U.K., the World Bank and other donors rose to $3.3 billion in 2008 from $1.9 billion in 2005, according to the Organization for Economic Co-operation and Development. Canada invited Meles to represent Africa at the June Group of 20 meeting in Toronto.
Under Meles, Ethiopia, Africa's top coffee producer, has pursued an economic model that mixes a large state role with foreign investment in roads, dams and power. The government controls the Ethiopian Telecommunications Corp., a state-run monopoly, and owns all the land, while companies owned by the state or the ruling party dominate banking and trucking. Almost a sixth of its 85 million people depend on food aid.
Chinese Model
"What Ethiopia is doing is looking at the Chinese model and taking bits and pieces of it and adapting it to their own context," David Shinn, the U.S. ambassador to the country from 1996 to 1999, said in a May 11 phone interview from Washington. "I think they're comfortable with the way China does things and the way China handles human rights issues."
The government dismisses opposition charges of harassment as false and intended to discredit the vote. It says economic growth in Ethiopia of more than 7 percent annually over the past five years is the main reason it will win re-election.
"Regarding governance, regarding social development, the people of Ethiopia know for sure the future of Ethiopia lies with this government and so we have no need to compete in an undemocratic way," Communications Minister Bereket Simon told reporters on May 12.
Harassment And Arrests
Meles' Ethiopian Peoples' Revolutionary Democratic Front (EPRDF) has used a combination of harassment and arrests and withholding food aid and jobs to thwart the opposition Medrek alliance, New York-based Human Rights Watch said in a March 24 report entitled "One Hundred Ways of Putting Pressure."
Medrek Chairman Beyene Petros said the authorities blocked opposition rallies in the capital, Addis Ababa, and security forces collected voter identity cards of known supporters of rival parties.
"The U.S., the U.K., they just accept this," he told reporters yesterday. "That's how they relate to the ruling party."
The U.S., under presidents Barack Obama and George W. Bush, hasn't criticized Meles' growing authoritarianism, Jeffrey Steeves, an African politics specialist at the University of Saskatchewan in Saskatoon, Canada, said in a May 12 phone interview.
"Obama has been largely silent on human rights issues in Ethiopia," Steeves said. "It's quite ironic that we have the rhetoric about transparency, good governance and human rights and yet Ethiopia remains at the top of the aid list."
Opposition Leader
Opposition leader Birtukan Mideksa, 35, has been jailed for life since Dec. 29, 2008, for violating conditions of her earlier pardon. The United Nations Human Rights Council has said she was the victim of arbitrary detention, and the U.S. State Department in March labeled her a political prisoner.
"The State Department fully understands the negative effect that the jailing of Birtukan Mideksa and others has on the overall political climate in Ethiopia," Alyson Grunder, a spokeswoman for the U.S. Embassy in Addis Ababa said in a May 14 e-mail. "We pursue human rights issues within the context of a broad governance and democratization agenda that we have with Ethiopia."
Medrek says that three of its activists have been murdered during the campaign and that hundreds more have been beaten and jailed on trumped-up charges.
"The EPRDF wants to totally block any opposition presence in the next parliament," Merara Gudina, a Medrek leader and founder of the Oromo National Congress, said in a May 12 phone interview.
'Conducive Environment'
The National Electoral Board of Ethiopia "believes it has created a conducive environment to carry out a standard election," its Chairman Mergera Bekena said yesterday.
This year's campaign has been significantly less free than the last election in 2005, when state television broadcast live debates between the ruling party and opposition and newspapers gave widespread coverage of politics, says Dan Connell, a lecturer in African politics at Simmons College in Boston.
The opposition won a record 172 seats in the 547-member parliament in that election as well as control of the Addis Ababa city government. The largest opposition alliance accused Meles' party of pervasive fraud, and dozens of members refused to take their seats in parliament.
In demonstrations afterward, security forces loyal to Meles killed 193 people in Addis Ababa and arrested tens of thousands of opposition supporters, including Birtukan and Addis Ababa mayor-elect Berhanu Nega.
"The regime has already done so much to weaken its opposition and to set up the outcome in advance that they will not face the same contest," Connell said in a May 13 e-mailed response to questions.
Before it's here, it's on the Bloomberg Terminal.
LEARN MORE