GE Accused by Mitsubishi of Monopolizing Wind Market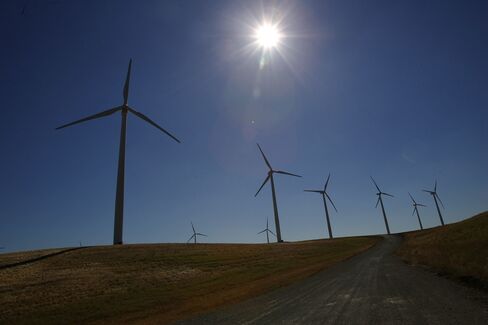 General Electric Co. was accused by Mitsubishi Heavy Industries Ltd. of trying to monopolize U.S. sales of wind turbines through litigation, intimidation and fraud, claims GE dismissed as "outrageous."
Mitsubishi, based in Tokyo, is seeking damages that may exceed $1 billion in an antitrust lawsuit filed today that claims "GE embarked on an unlawful anticompetitive scheme to drive Mitsubishi suppliers out of the U.S. market."
The lawsuit, which focuses on patent claims GE first lodged against Mitsubishi in 2008, escalates a dispute between the two industrial companies over the burgeoning U.S. market for wind turbines. GE had sought to block imports of Mitsubishi's machines in a U.S. International Trade Commission complaint, and filed a separate lawsuit after losing that case in January.
"GE is attempting to kill competition" for variable-speed wind turbines, Sonia Williams, a Mitsubishi spokeswoman, said in an interview. "We want to restore a level playing field."
The claims "alleging improper conduct by GE in obtaining and enforcing our patents are meritless and outrageous," and the company will "vigorously defend" itself, said Dan Nelson, a GE spokesman. "GE's conduct has been appropriate in all circumstances."
'Fabric of Fraud'
Denmark's Vestas Wind Systems A/S and Fairfield, Connecticut-based GE are the world's largest makers of wind turbines and accounted for about 55 percent of the U.S. market last year, according to the American Wind Energy Association.
Mitsubishi, which is planning to build a turbine assembly factory in Fort Smith, Arkansas, filed its antitrust complaint in federal court in Fayetteville, Arkansas.
The company said its variable-speed turbine sales in the U.S. have effectively dropped to zero from about $2 billion a year before the first patent-infringement complaint was filed by GE in 2008. Mitsubishi is challenging those patents, contending that GE used information obtained in government-funded programs to obtain its patents and withheld information from the U.S. Patent and Trademark Office.
"GE's patent empire is built on a fabric of fraud," Mitsubishi said in the complaint.
Nelson said GE's patents are valid.
"The validity of the patents at issue have been examined and upheld in both the U.S. Patent Office and the International Trade Commission," Nelson said. "GE stands strongly behind the merits of its patent infringement lawsuits against" Mitsubishi and will defend its intellectual property, he said.
Dueling Lawsuits
GE sought to block imports of Mitsubishi's machines in the ITC action. Mitsubishi said the fight started when it began in 2006 to gain a foothold in the U.S. wind-turbine market. The trade commission in January sided with Mitsubishi, saying there was no violation of GE patent rights. GE appealed, and then filed a patent suit in federal court.
The lawsuit deterred customers from Mitsubishi, the company said. Mitsubishi's "lawsuit documents how GE representatives intimidated Mitsubishi customers by advising them to either purchase license agreements from GE or face infringement risk," Williams said in the statement.
In a separate complaint, Mitsubishi filed a lawsuit in federal court in Orlando, Florida, claiming GE is infringing a patent related to the blade and pitch angles of the turbines.
Wind Power
About one-third of the world's electricity is generated on equipment including gas, wind and steam turbines made by GE Energy, the company's Atlanta-based power unit.
U.S. developers installed wind turbines with a capacity of more than 10,000 megawatts last year, bringing the total to about 35,000 megawatts in operation, the largest concentration in the world, according to the American Wind Energy Association.
GE is losing market share for new wind turbines in the U.S. to Munich-based Siemens AG and Vestas, according to the industry group. GE's share of installations dropped to 40 percent last year from 43 percent in 2008. Vestas's share rose to 15 percent from 13 percent.
Mitsubishi said it plans to break ground this year on a facility in Arkansas that would assemble turbine engines. The $100 million plant may create more than 300 jobs for the region, the company has said.
"If GE's improper conduct continues, the plant, once built, will have to sit idle as there may be no U.S. demand for Mitsubishi variable speed wind turbines," Mitsubishi said in the complaint.
The antitrust case is Mitsubishi Heavy Industries Ltd. v. General Electric Co., 10cv5087, U.S. District Court for the Western District of Arkansas (Fayetteville). The ITC case is In the Matter of Certain Variable Speed Wind Turbines and Components Thereof, 337-641, U.S. International Trade Commission (Washington). The GE case is General Electric CO. v. Mitsubishi Heavy Industries Ltd., 10-cv-00276, U.S. District Court, Northern District of Texas (Dallas).
Before it's here, it's on the Bloomberg Terminal.
LEARN MORE