Dubai World, Creditors Reach $23.5 Billion Debt Deal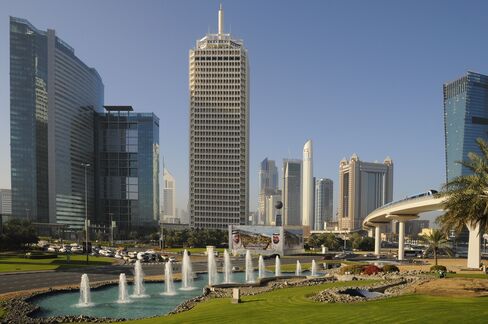 May 20 (Bloomberg) -- Dubai World, the state-owned holding company, reached an agreement with its main creditor group to restructure $23.5 billion of liabilities as it seeks to resolve a debt crisis that roiled global markets last year.
Dubai World will pay $4.4 billion of the loans in five years and another $10 billion over eight years, the company said in an e-mailed statement today. Dubai's government, which pledged $1.5 billion in March for the restructuring, will convert $8.9 billion of its loans to Dubai World into equity.
"Putting closure on the Dubai World issue is a good thing, but we need to get clarity on Dubai and global sovereign debt in order for a true turnaround to unfold," said Sameh Hassan, director of research at Rasmala Investment Bank Ltd. in Dubai.
Dubai World, one of the emirate's three main state-owned business groups, said Nov. 25 it would seek to delay repaying loans until at least May 30. The announcement sparked a plunge in developing-nation stocks and the largest increase in emerging-market bond yields over U.S. Treasuries in four weeks. The cost to protect against a default by Dubai doubled.
Dubai's DFM General Index rose for a third time this week, closing 0.4 percent higher at 1,691.71. Credit default swaps, or the cost to protect Dubai government debt, fell seven basis points to 463 basis points at 2:25 p.m. in London, according to prices provided by CMA DataVision.
Interest Rates
The global credit crunch has battered Dubai's real-estate market and left the emirate's companies unable to raise loans to repay debt. Property prices have fallen 50 percent in the city as banks reduced mortgage lending and speculators fled.
In today's proposal, Dubai World offered banks various combinations of interest rates and principal repayment options depending on whether they lent in dollars or dirhams. Banks will be paid 1 percent interest on the loans maturing in five years. Lenders have three options under the eight-year maturities, with at least 1 percent interest and varying additional rates from 1.5 percent to 2.5 percent at maturity. Two of these options also have shortfall guarantees.
"It's fair to say terms of the deal are not commercially attractive, but it's better than the other option, which is not to repay at all," said Paul Cooper, managing director at Sarasin-Alpen & Partners Ltd. in Dubai. "The increase in clarity will serve to ease lending restrictions in the region."
Seeking Agreement
The proposal requires the agreement of the rest of Dubai World's creditors. Dubai World's bank coordination committee, which is negotiating with the company on behalf of more than 90 lenders, represents about 60 percent of its bank loans, according to today's statement. The committee comprises Emirates NBD PJSC and Abu Dhabi Commercial Bank PJSC from the United Arab Emirates and foreign lenders, Royal Bank of Scotland Group Plc, HSBC Holdings Plc, Lloyds Banking Group Plc, Standard Chartered Plc and Bank of Tokyo-Mitsubishi UFJ Ltd.
This is an "important milestone," Sheikh Ahmed Bin Saeed Al Maktoum, chairman of Dubai's Supreme Fiscal Committee, said in a separate statement. This is "the result of considerable efforts from a large number of stakeholders who all share a common interest in Dubai's future," he said.
The next step is to complete documentation and present it to all banks in "the middle or end of June," Aidan Birkett, Dubai World chief restructuring officer, said in a phone interview today. "I am confident this will now go through."
Diverse Group
Dubai World controls DP World Ltd., the world's fourth-biggest port operator, real-estate developer Nakheel PJSC, private equity investor Istithmar World PJSC, and Economic Zones World, an operator of business parks such as Jebel Ali Free Zone. Istithmar bought New York luxury retailer Barneys in 2007 for $942.3 million, while Dubai World acquired a $5.1 billion stake in U.S. casino company MGM Mirage in 2008.
"The biggest risk was to get people agree on a proposal and the fact that has been done is positive," said Abdul Kadir Hussain, chief executive officer of Mashreq Capital DIFC Ltd. in Dubai. "Still, Dubai credits will continue to be trading at wider yields than other regional bonds because investors want to see how Dubai will be able to reduce its debt load."
The Dubai government and its state-owned companies have racked up $109.3 billion of debt, according to International Monetary Fund estimates, as the emirate sought to transform itself into a tourism, trade and financial services hub. About $15.5 billion of that is due this year, the IMF said.
Nakheel Agreement
As part of today's deal, banks were offered a shortfall guarantee of as much as $4 billion, money the government will provide if proceeds from Dubai World's asset sales isn't enough to repay debt. Banks, who have lent in dollars, also have an option to get a share of as much as $1 billion of profit from Dubai World's asset sales.
Nakheel, which is seeking to restructure $10.5 billion of loans and creditor liabilities, said earlier this month it had reached agreement with trade creditors for more than 50 percent of the claims, or 6 billion dirhams ($1.6 billion). Its trade creditors would be offered 100 percent recovery of their claims -- 40 percent through a cash payment and 60 percent in the form of a publicly tradable sukuk, paying 10 percent return annually.
Debt restructuring by Dubai state-run companies may almost double to $46.7 billion as more of the emirate's businesses may need help making payments, Morgan Stanley said in a report in December. Dubai Holding LLC, Dubai Holding Commercial Operations Group LLC, Borse Dubai Ltd. and Dubai Sukuk Center Ltd. may join Dubai World in restructuring debt, Morgan Stanley said.
Dubai Holding
Dubai Holding and its units owe banks $12 billion and have begun talks to roll over some loans, a person with knowledge of the matter said May 10. Almost three-fourths of the loans were to Dubai Holding's two investment companies, Dubai Group LLC and Dubai International Capital LLC, said the person. The companies are exploring refinancing options for their debt including extending maturities, the person said.
Nakheel repaid a 3.6 billion dirhams Islamic bond this month and has one $750 million dollar fixed-rate bond due in January. Dubai avoided a default in December on $4.1 billion of payments due for Nakheel's 2009 bond after Abu Dhabi and two of its state-owned banks provided $10 billion of loans.
Dubai in February last year created a $20 billion sovereign fund to help state-owned companies suffering from the global credit crisis and the property slump. The U.A.E. central bank subscribed to the first $10 billion tranche, while Abu Dhabi and its state-owned banks provided the rest.
To contact the reporter on this story: Arif Sharif in Dubai at asharif2@bloomberg.net
To contact the editor responsible for this story: Edward Evans at Eevans3@bloomberg.net