Farmers Keep Soybeans From Market Anticipating Weakening Peso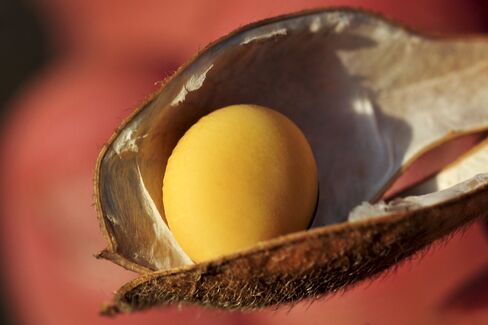 Farmers in Argentina, the world's third-biggest producers of soybeans, are doing everything they can to avoid selling their record harvest of 55 million tons in a bet the peso is poised to plummet.
Keeping their dollar-denominated commodity -- 2 billion bushels worth $19.3 billion -- from the market when inflation is accelerating and Goldman Sachs Group Inc. predicts the currency will decline to 4.15 to the dollar from 3.90 is a form of protection, according to Alabern, Fabrega y Cia, a commodities trading company based in the Pampas city of Rosario.
"When faced with uncertain circumstances farmers hold onto the currency they understand best, the beans," Miguel Calvo, president of the Argentine Soy Association, said in a telephone interview from Rosario, 286 km (178 miles) from Buenos Aires.
Farmers are hoarding soybeans to preserve their wealth as President Cristina Fernandez de Kirchner pursues a weak peso policy intended to stimulate exports from South America's second-largest economy. Argentina outperformed Brazil and Chile last year and posted a record $17 billion trade surplus after Fernandez presided over a 20 percent drop in the peso since taking office for a four-year term in December 2007.
The peso's loss is spurring inflation. Consumer prices may soar 25 percent in the next year, according to a monthly survey by Torcuato Di Tella University in Buenos Aires. Inflation at that rate would lag behind only Venezuela's 34 percent rate worldwide, based on data from the International Monetary Fund.
Peso's Loss
The peso will decline 7.3 percent to 4.2 per dollar by year-end, the biggest decline among 33 currencies with forecasts available, according to data compiled by Bloomberg. The peso has declined every year since 2003, losing a quarter of its value.
Chile's peso slid 7.1 percent against the U.S. dollar this year after the country's pension-fund regulator changed rules on currency hedging, prompting pension funds to buy more dollars. The Brazilian real has declined 4.2 percent in that period.
Farmers sold about 36 percent of the season's soy crop, or 19.4 million tons, through April, compared with 38 percent, or 17.6 million tons, in the same period in 2008, according to the Rosario Cereals Exchange.
Sales were expected to be "far higher" this year after a drought last year curbed output and caused farmers to take on new debt, Patricia Bergero, deputy head of economic studies at the exchange, said in a telephone interview.
Losing Money
Alabern said farmers holding on to their crops risk losing money if international soy prices fall amid rising supplies. Brazilian farmers, the world's second-biggest producers, are reaping a record crop and U.S. growers, the world's largest, are planting more. World soybean prices will slip about 24 cents a bushel, or 2.6 percent, to $9.195 a bushel by November, futures contracts on the Chicago Board of Trade show.
Producers are stockpiling beans in special bags on their farms rather than sell the crops, Omar Barchetta, a vice-president of the Rosario-based Argentine Agrarian Federation farmers group, said in a May 7 phone interview. The Federation is lobbying for a weaker peso to help maintain revenue if the government doesn't lower export taxes this year, he said.
"Farmers mistrust the government and the financial system and that's why they choose to hold on to their soybeans rather than transform it into cash," Barchetta said.
'Competitive Peso'
Mercedes Marco del Pont, who took over as the head of Argentina's Central Bank on Feb. 4, said she'd continue monetary and exchange rate policies to maintain a "competitive" Argentine peso. Her predecessor, Martin Redrado, was ousted after a dispute over the use of bank reserves to repay debt.
The president of the Agrarian Federation, Eduardo Buzzi, said at an April 12 press conference that the currency should be driven down to four pesos to the dollar. Soy is priced in dollars, so a weaker peso means higher sales in local currency.
The peso is the second-worst performer among 26 major emerging-market currencies after Iceland's krona since 2003. Option traders are now more bearish on the peso than any other currency, according to data compiled by Bloomberg.
Soybeans gained about 6.2 percent in April in Chicago, the biggest monthly advance since November, on rising demand from China. Farmers in the U.S. are planting for next year at a "spectacular" rate, according to Dante Romano, a commodities analyst at Alabern. U.S. soybean acres this year will increase 0.8 percent to 78.1 million, according to the U.S. Department of Agriculture.
Increased Forecast
Brazil increased its forecast on May 6 for a record soybean harvest of 67.9 million metric tons, from an estimate of 67.4 million tons expected last month, because of above-average rains in the center-western region, where about half the country's crop is grown. The precipitation allowed farmers to plant earlier than usual at the end of last year and increased yields.
"Prices are far too high given the market context," Romano said in an interview from Rosario. "We don't find any fundamentals that justify a continuation of the increases."
Rising inflation is making Argentina's products more expensive to foreign buyers and will prompt the government and the central bank to allow the currency to depreciate to 4.15 per dollar by year-end, Alberto Ramos, an economist in New York at Goldman Sachs Group Inc., said in a telephone interview.
'They Will Devalue'
"They will devalue, which will keep inflation higher, and then they will devalue again," Ramos said. "Every year they devalued the currency by a fair amount to keep the real exchange rate broadly competitive."
Banco de Galicia y Buenos Aires SA, HSBC Holdings Plc, Banco Frances SA and Banco Santander Rio SA said in April that they expect loans in their agribusiness to increase 20 percent to 40 percent this year because of the record soy crop.
"This year, inflation eats into your savings, so one way to avoid the depreciation of your assets is to put the savings directly into soy," Bergero said April 28.