Obama, Calderon Meet With Drug War, Arizona Law in Background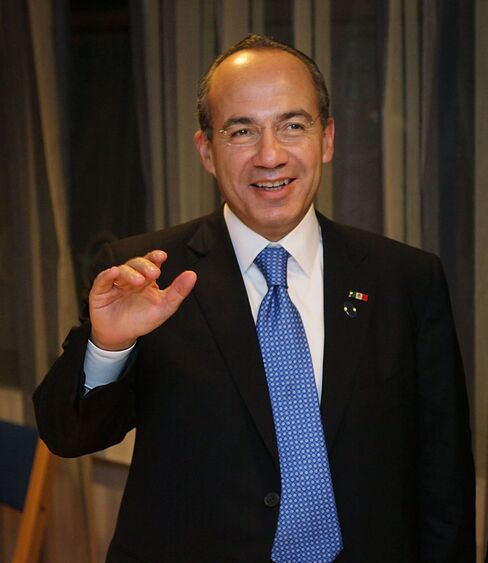 U.S. President Barack Obama welcomes Mexican President Felipe Calderon to the White House today for an official state visit that is taking place amid tension over immigration politics and Mexico's deadly drug war.
The close trade and cultural ties between the two countries are under strain by concerns in the U.S. that Mexico's drug-related violence may spill over the border and by anger in Mexico over an Arizona law that requires police to check the immigration status of anyone they suspect is in the country illegally.
"This is a relationship that's working pretty well on a day-to-day basis," said Peter Hakim, president-emeritus of Inter-American Dialogue, a policy research organization in Washington. The Arizona law "has created a new wrinkle."
Both nations have economic incentives to keep the relationship running smoothly. Mexico was the U.S.'s third-largest trading partner after Canada and China in 2009, amounting to $305.5 billion in goods, Census Bureau figures show.
Calderon arrives at the White House for a formal welcoming ceremony scheduled for 9:30 a.m. and he will join Obama, after a private meeting, for a joint news conference at about noon. Calderon and his wife, Margarita Zavala, will be the guests of honor tonight for the second state dinner of Obama's presidency.
While in Washington, Calderon, 47, also will address the U.S. Chamber of Commerce and Congress.
Agenda for Talks
Obama's talks with Calderon, their fourth one-on-one meeting, will cover an agenda that includes alternative energy development, economic cooperation, climate change, and next month's G-20 meeting in Canada, according to an administration official who briefed reporters. The two countries hope to secure new accords on those issues during the visit, the official said.
An agreement is less likely on allowing Mexican trucks to travel freely through the U.S., a provision of North American Free Trade Agreement that has been blocked by Congress.
The standoff over trucking remains "an important challenge," Arturo Sarukhan, Mexico's ambassador to the U.S. said. "Mexico has underscored how critically important it is to solve this issue."
The dominant issue for both sides is likely to be immigration and Mexico's battle with drug traffickers.
Calderon's Objections
The U.S. expects Calderon to reiterate objections he's voiced publicly about Arizona's immigration law, the official said, speaking on condition of anonymity.
About 10 percent of U.S. citizens are of Mexican descent and a majority of the estimated 11 million immigrants in the country illegally are from Mexico, according to the Pew Hispanic Center in Washington.
The Arizona law prompted Mexico to warn its citizens to "act carefully" and always carry documentation when traveling in the state. Calderon said April 26 that Mexico is "angered and saddened" by the state's action.
Obama, 48, has criticized the Arizona measure as well, calling it "misguided" and saying it undermines the nation's "fundamental principles."
Controversy over the law reignited the debate in the U.S. on an overhaul of immigration policies, including a way to secure the almost 2,000-mile border with Mexico and give legal status to undocumented immigrants. Obama has urged Congress to begin work on legislation this year.
Addressing Congress
Calderon will have an opportunity to make his own pitch on immigration law when he addresses U.S. lawmakers tomorrow.
"He could make a good case for immigration reform in the U.S. but he has to couple it with a call for responsibility in Mexico," said Andrew Selee, director of the Mexico Institute at the Woodrow Wilson center in Washington.
For Calderon, that means increasing economic growth to curb the flow of migrants and grappling with drug violence that has killed about 22,700 Mexicans over almost four years. Much of the drug traffic is flowing north to the U.S., and lawmakers and citizens of border states have expressed concern that violence will follow.
In Mexico, the violence is spreading beyond those involved in trafficking. Mexican authorities are investigating the disappearance of ex-Senator and former presidential candidate Diego Fernandez de Cevallos, a crime that has raised concerns that politicians are being targeted.
Drug War
"Calderon has bet his presidential term on the battle against organized crime," said Kevin Casas-Zamora a senior fellow at the Brookings Institution in Washington and a former vice president of Costa Rica. "Security talks are going to end up dominating the conversation during the visit."
The U.S. is aiding Mexico through the Merida Initiative, which has allocated more than $1 billion for equipment and training for law enforcement over the past two years. Obama has requested an additional $300 million for the program.
Obama also has vowed to take steps to try to lessen the demand for drugs in the U.S., including more money for treatment and prevention programs, and to stem the flow of weapons from the U.S. to Mexico.
The formal setting of the visit will give both leaders a chance to demonstrate the closeness of their relationship. For Obama, it also provides an important opportunity for him to reach out to a domestic constituency: millions of Hispanic voters.
"This is both foreign policy and domestic politics," Selee said.