Deere Profit Tops Estimates on Farm-Equipment Demand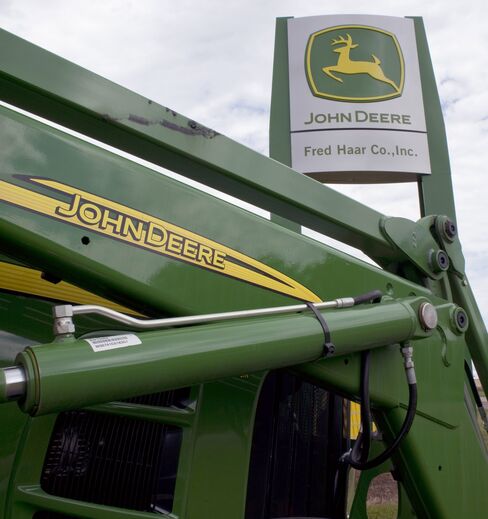 Deere & Co., the world's largest farm equipment maker, reported second-quarter profit that topped analysts' estimates and raised earnings and sales forecasts for a second time this year as demand for farm machinery increased.
Net income rose 16 percent to $547.5 million, or $1.28 a share, from $472.3 million, or $1.11, a year earlier, the Moline, Illinois-based company said today in a statement. Profit in the three months through April, excluding some items, was $1.58 a share, exceeding the $1.08 average estimate of 20 analysts surveyed by Bloomberg.
Deere is benefitting from growing demand in the Americas for machinery such as tractors and combines and signs of stabilization in U.S. construction-equipment markets. The company, led by Chief Executive Officer Samuel Allen, said revenue increased 5.7 percent to $7.13 billion because of favorable currency translation, higher prices and rising equipment sales.
"It was a good clean quarter, much better than expectations," Larry De Maria, a New York-based analyst at Sterne Agee & Leach, Inc., said in a telephone interview. "They are expanding internationally very solidly. Their core business is doing exceptionally well." He rates the shares "buy."
Deere rose $1.71, or 3 percent, to $58.87 at 4:15 p.m. in New York Stock Exchange composite trading. The shares have gained 8.8 percent this year.
Forecast Raised
Deere raised its forecast for net income in the fiscal year through October to $1.6 billion, from a February projection of about $1.3 billion. The new forecast includes a one-time $129.5 million charge related to the enactment of U.S. health-care legislation.
Deere said sales of its signature green-and-yellow equipment will jump 11 percent to 13 percent in fiscal 2010, up from a February forecast of 6 percent to 8 percent.
In November, Deere had forecast fiscal-2010 earnings of $900 million with equipment sales down 1 percent.
Agriculture and turf sales will be up 9 percent to 11 percent in 2010, compared with a previous forecast for a gain of 4 percent to 6 percent.
Sales in the construction and forestry unit will gain 30 percent this fiscal year, up from a previous projection of a 21 percent increase, as rental companies begin purchasing earth-moving machines and overseas customers buy used equipment, Deere said in a slide presentation.
U.S. Construction Markets
"Though remaining depressed as a result of declining non-residential construction and relatively high used-equipment levels, U.S. construction-equipment markets are showing signs of stabilization," the company said in the statement.
The company has maintained among the tightest inventories in the industry to improve profits. Deere dealers' inventories of row-crop tractors in the U.S. and Canada were 18 percent of trailing 12-month retail sales on April 30, compared with 25 percent a year earlier, the company said. Combine inventory was 8 percent, down from 15 percent a year earlier, Deere said.
"They've done a very solid job from an operational standpoint," Meredith Taylor, a New York-based analyst for Barclays Capital, said today in an interview. The company adjusted to changing demand and delivered "strong margin performance."
Fiscal second-quarter revenue in the agriculture and turf division increased almost 1 percent to $5.64 billion, the company said. The unit's operating profit rose 35 percent to $952 million.
'Broad-Based Strength'
Construction and forestry sales rose 52 percent to $911 million while operating profit climbed to $36 million from a loss of $75 million a year earlier.
"It was broad-based strength," Stephen Volkmann, an analyst for Jefferies & Co. in New York, said today of Deere's overall second-quarter performance. "It wasn't just one region or product area."
U.S. and Canada equipment sales increased 4 percent in the second quarter, with revenue from the rest of the world rising 9 percent, the company said.
Farm-machinery sales in the U.S. and Canada will gain 5 percent to 10 percent for the year on higher farm cash receipts, "solid" commodity prices and low interest rates, Deere said.
The company forecast U.S. farm cash receipts will rise 5 percent in 2010 to $312.9 billion.
South American farm-equipment sales are projected to jump about 25 percent because of improvements in the Brazilian and Argentinean markets, Deere said.
"Clearly the markets are improving and there's a lot of good news out of Brazil," Susan Karlix, a Deere spokeswoman, said today on a conference call with analysts. The company said it will offer 50 new or updated products in South America during 2010 and 2011.
Before it's here, it's on the Bloomberg Terminal.
LEARN MORE