Obese Bather, Wealthy Idlers Jostle in Lisette Model Exhibit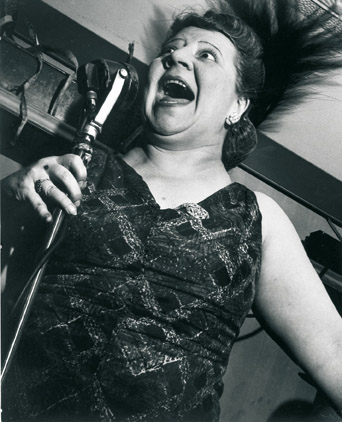 If fatsoes are your thing, don't miss two shows in Paris -- Lucian Freud at the Pompidou Center and Lisette Model at the Jeu de Paume.
The first photograph that Model (1901-83) sold to "Harper's Bazaar" was that of an obese swimmer having a good time on the beach at Coney Island. She's the poster girl of the exhibition, which assembles 120 black-and-white vintage prints, mostly from the National Gallery of Canada in Ottawa.
Photography was only Elise Seybert's (her maiden name) second love. Like other Viennese girls, she dreamed of becoming an opera singer. Arnold Schoenberg was one of her teachers.
She was already 32 when it dawned on her that her vocal talent might not be big enough for a career. By then, she had moved to Paris, following her widowed mother who was French.
Encouraged by her friend Rogi Andre (Rozsa Klein), Andre Kertesz's first wife, she took up photography as a job to fall back on.
The show opens with her first series, "Promenade des Anglais," shot in 1934 on the famous esplanade in Nice. Parts of that series, a satirical portrait of the idle rich, was published by the Communist magazine "Regards." That later got her into trouble with the FBI, which suspected her of un-American proclivities.
Also in 1934, she met the Russian painter Evsa Model whom she married in 1937. Unfortunately, his paintings turned out to be unsalable. Lisette remained the breadwinner.
New York Streets
In 1938, the couple sailed to New York, joining family members who already had turned their backs on an increasingly anti-Semitic Old World.
Her series "Reflections" (1939-45) and "Running Legs" (1940-41) are gentler variations on the street scenes in Nice: In the first, the camera focuses on shop windows and the people reflected in them; the second evokes the haste of the archetypal New York pedestrian.
Model's pictures of the bars and nightclubs on the Lower East Side or the fat cats at the San Francisco Opera have more bite. Thanks to her "fearless eye," as her friend and colleague Berenice Abbott dubbed it, Model's sense of drama and close cropping, her images became classics.
Not that everybody appreciated her aggressive approach. "You can't take pictures of people like that," snapped the photographer Paul Strand. It was the kind of criticism leveled against another emigre, Robert Frank, whose dreary images of the U.S. shocked some closed-minded Americans.
Staying in Bed
The upshot was that the couple often had a hard time making ends meet. When they didn't have enough money to heat their apartment, they stayed in bed for days.
In 1951, Model joined the staff of the New School for Social Research in New York and worked there for the rest of her life. Diane Arbus and Bruce Weber were among her students.
The show, a balanced cross-section of Model's work, also includes her later series on the New York Jazz Festival and the horse races at Belmont Park. It runs through June 6.
For details, go to http://www.jeudepaume.org or call +33-1-4703-1250.
If you have half an hour to spare, walk over to the Paul Klee exhibition at the other pavilion in the Tuileries Garden, the Orangerie (home to Monet's water lilies).
The 26 paintings and drawings of the Bauhaus master (out of about 9,000), come from the Beyeler Foundation in Basel, Switzerland, and aren't what you would call an exhaustive retrospective. Yet the works are elegantly presented and may whet your appetite for more.
The Klee show runs through July 19. For more information, see http://www.musee-orangerie.fr or call +33-1-4477-8007.
(Jorg von Uthmann is a critic for Muse, the arts and leisure section of Bloomberg News. The opinions expressed are his own.)
Before it's here, it's on the Bloomberg Terminal.
LEARN MORE