Hinkle Explodes When Dad Blows Up in 'Graceland': Jeremy Gerard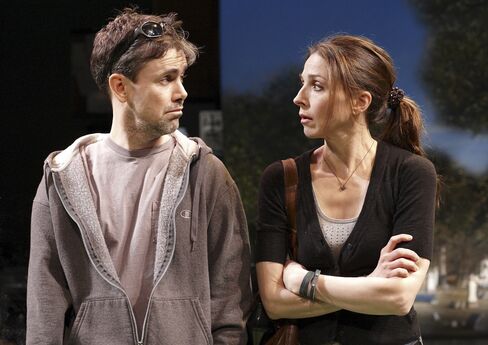 Broadway takes a breather after the Tony nominations and that's when the kids come out to play. Fresh work by writers with plenty to bark about are popping up in small theaters all over town.
Case in point: Ellen Fairey's dark and satisfying "Graceland" at the Duke on 42nd Street. This is the modest black box that's temporary home to Lincoln Center Theater's "LCT3" arm -- the one where all tickets are $20 and you might just discover gold.
With "Graceland" you'll find Marin Hinkle, Judith Harper on the CBS sitcom "Two and a Half Men" and Matt McGrath, a "Law & Order" regular who's one of our best stage actors. They play estranged siblings at loose ends even before their alcoholic father's violent suicide.
The title refers not to Elvis Presley's Memphis home, but to a Chicago graveyard of some renown, where Sara and Sam meet to sort out family affairs, only to find things more complicated and mysterious than they expected.
I like Fairey's sensibility, as refracted through the glum Sara. She favors the self-abnegating songs of Warren Zevon. Looking around the verdant graveyard on a bright clear day, she says, "This sunshine is pissing me off."
Nice Kid
Sara gets drunk and has a one-night fling with Joe (Brian Kerwin), a divorced barfly who may have known her father. A nice guy, Joe takes offense when he later stumbles on Sara in a liplock with his teenage son Miles (David Gelles Hurwitz), a precocious, philosophizing, awfully cute part-time worker at Graceland.
Sam delivers bouquets made of fruit and still mourns the loss of his girlfriend Anna (Polly Lee) -- to his father. While these five lives briefly intersect, there's an air show roaring intermittently above, synchronized fighter jets flirting with annihilation as they plunge toward the earth.
So the symbolism gets a little overplayed and the exposition runs out of steam. Yet the actors -- led by Hinkle, a woozy but spark-emitting exposed nerve -- wear their roles with such ease that you can't help but wish it would go on for more than one act and 85 minutes. Director Henry Wishcamper is fast gaining a reputation for being a fine tuner of such ensembles. They're good, depressing company.
Through May 29 at 229 W. 42nd St. Information: +1-646-223-3010; http://www.lct3.org. Rating: **1/2
What the Stars Mean:
****       Do Not Miss
***        Excellent
**         Good
*          Poor
(No stars) Worthless
(Jeremy Gerard is an editor and critic for Bloomberg News. The opinions expressed are his own.)
Before it's here, it's on the Bloomberg Terminal.
LEARN MORE