Euro Falls to Lowest Level Since 2006 on Austerity Concern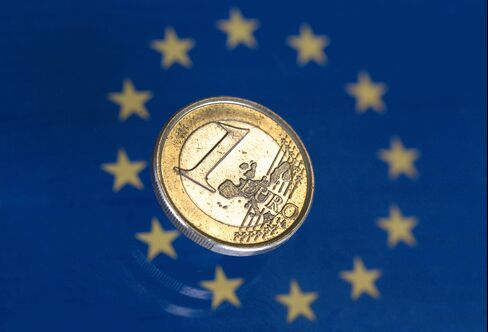 The euro tumbled to the lowest level in four years against the dollar as Germany's move to temporarily halt a slump in European asset prices triggered concern that the region's sovereign crisis will accelerate.
The euro slid below $1.22 after Germany said it will ban naked short-selling and naked credit-default swaps of euro-area sovereign debt and the Bank of Italy allowed lenders to exclude losses on government bonds. The yen rose versus 15 of its 16 most-traded counterparts as a drop in stocks and commodities spurred investors toward the safest assets.
"Things may be a lot worse than they appear," said Lane Newman, director of foreign exchange at ING Groep NV in New York. "There's been a broad change in what the market has been doing, catalyzed by fact that the Europeans have been unable to comfort international investors. Until the situation is settled, the market will be a seller of all things that can be classified as risk."
The euro fell as much as 1.9 percent to $1.2162, the lowest level since April 17, 2006, before trading at $1.2212 at 4:22 p.m. in New York. It fell 1.8 percent to 112.73 yen, the lowest level since May 6, from 114.77. The dollar traded at 92.44 yen from 92.59.
Germany's BaFin financial-services regulator said that it will introduce a temporary ban on naked short-selling and naked credit-default swaps of euro-area government bonds starting at midnight.
'Mind-Boggling'
The ban will also apply to naked short-selling in shares of 10 banks and insurers including Allianz SE and Deutsche Bank AG, BaFin said today in an e-mailed statement.
"Since that news broke a lot of euros have been sold, a mind-boggling amount," said Richard Franulovich, a senior currency strategist at Westpac Banking Corp. in New York. "They're leaving them with only one way to be negative on Europe and that's to sell the euro." The shared currency will probably fall to $1.20 before the end of June, he said.
When securities are sold naked, the trader fails to borrow the assets before sending an order to sell. Investors own naked credit-default swaps when they don't hold the bonds the derivatives are linked to.
The Bank of Italy said in a statement today that Italian banks are allowed to opt for new rules aiming at "neutralizing" the effect of capital losses and capital gains on regulatory capital from holding European government bonds.
"That tells me that the Italian bank balance sheets remain weak and can't handle the losses," said Win Thin, a senior currency strategist at Brown Brothers Harriman & Co. in New York. "That also tells me that somewhere way down the line there may be some sort of debt restructuring."
'Unstoppable' Fall
The euro gained earlier as EU Economic and Monetary Affairs Commissioner Olli Rehn said only countries such as Greece, Portugal and Spain that have high deficits would have to make additional deficit cuts. Budgets in countries with "more fiscal space" would be untouched to preserve growth, he said.
"Countries with no or little fiscal space will need to frontload or accelerate measures," Rehn said in Brussels after a two-day meeting of European finance ministers. "Others that have more fiscal space should maintain their less-restrictive fiscal stances for the sake of growth in Europe as a whole."
Another euro-region financial rescue package may be "inevitable" and the euro's "unstoppable" fall could send it to parity with the U.S. dollar, former Bank of England policy maker David G. Blanchflower said today in an interview on Bloomberg Television. Blanchflower is a contributor to Bloomberg News.
Euro area policy makers unveiled last week an unprecedented loan package of nearly $1 trillion and a program of bond purchases to prevent defaults by countries including Greece, Spain and Portugal.
'Deeper Crisis'
Spain announced on May 14 the biggest budget cuts in at least 30 years and Portugal followed a day later, pledging to slash wages and raise taxes. Italy said May 16 it may make an extraordinary reduction in spending, and France is scheduled to submit spending plans this week.
The euro may fall to $1.16 during the next three months as the sovereign-debt crisis forces the European Central Bank to keep borrowing costs low, according to Credit Suisse Group AG. The last time the euro traded at that level was in November 2003, according to Bloomberg data. Credit Suisse previously forecast that the 16-nation currency would trade at $1.29.
"The euro is now a low-yielding currency suffering a deeper crisis of confidence than we expected, with little near-term outlook for support from interest-rate policy," Credit Suisse strategists including Ray Farris in London and Daniel Katzive in New York wrote in a note to clients. "We think that euro-dollar will need to trade to obviously cheap levels to generate sustained buying interest in the near term."
Correlation-Weighted
Europe's currency dropped 8.9 percent this year against its developed-world counterparts, according to Bloomberg Correlation Weighted Indices.
Norway's krone fell as much as 2.5 percent to 14.5350 yen and South Africa's rand fell 2.6 percent to 11.9353 yen as a decline in oil and commodities encouraged investors to decrease carry trades, in which they buy higher-yielding assets with cash borrowed in nations with low interest rates. The benchmark interest rate of 0.1 percent in Japan has made the yen popular for funding such transactions.
Norway is the world's sixth largest oil exporter. Gold and platinum account for almost a quarter of South Africa's export earnings.