Bangkok Hotel Occupancy 'Very Bad' on Fatal Protests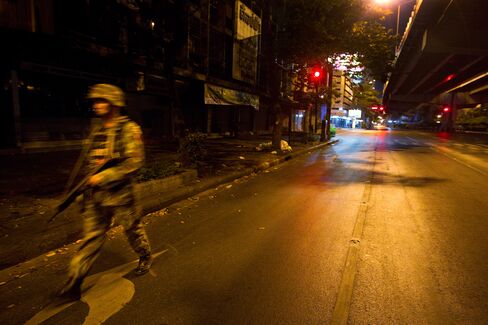 Bangkok hotels are less than 30 percent full, about half the usual rate for this time of year, as deadly protests deter tourists from visiting the city, according to the Thai Hotels Association.
"When they hear about burning tires, bombs and shootings, they decide not to come," Prakit Shinamornpong, the group's president, said yesterday by phone. "It's very bad."
Occupancy in hotels on the Sathorn Road, near some of the worst violence, has dropped to as low as 10 percent, Prakit said, while the 517-room Dusit Thani Hotel in central Bangkok isn't accepting reservations before May 24 after closing yesterday on security concerns. Tourists are avoiding the capital as at least 36 people have been killed in clashes between troops and anti-government protesters since May 13.
"I won't go into the city now," said Lisa Ischane, an event coordinator, as she queued in Hong Kong yesterday for a flight to Bangkok. "I was planning to spend a few days there just to relax."
Ischane will instead connect onto another flight and visit Koh Phangan, an island resort destination in southern Thailand, rather than visiting shops and restaurants in Bangkok. "The airport should be fine," she said.
Nationwide Impact
Thailand's deadliest political clashes in two decades threaten to undermine tourism, which accounts for about 7 percent of the economy, according to Credit Suisse Group AG. The number of foreign tourists may drop to as few as 12.7 million from 14.1 million last year, costing the country as much as 100 billion baht ($3.1 billion) in tourism revenue, the Tourism Council of Thailand said last month.
Tourist arrivals at Bangkok's Suvarnabhumi Airport, Thailand's main international gateway, have fallen to about 20,000 a day from 30,000, Tourism Minister Chumpol Silapa-Archa told reporters today in Bangkok. Japan Airlines Corp. said it will pare flights to the city from Osaka and Nagoya next month because of the protests.
"Even visits to southern regions have dropped as people overseas think there is unrest all over our country," Chumpol said. Many tourist destinations are not affected, he said.
The government today engaged protesters in cease-fire talks after extending a deadline for women and children to leave a downtown area that has been the center of gun battles.
At least 43 countries have issued advisories against travel to at least parts of Thailand, according to Credit Suisse, including Australia, the U.S. and the U.K. JTB Corp., Japan's largest travel agency, canceled tours to Bangkok until May 31, extending a block that began on April 24.
Tourism Stops
"The tourism industry just stops amid a situation like this," Charoen Wangananont, president of the Thai Travel Agents Association, said by phone yesterday. "There have been no new bookings for about two or three weeks already."
Hong Kong travel agents have lost more than HK$30 million ($3.8 million) in sales since late March because of disruptions in Thailand, said Michael Wu, chairman of the Travel Industry Council of Hong Kong, which represents about 1,500 travel agents. The group will likely announce that it is canceling all trips to the Thai capital until May 31, he said.
"We are suffering as Bangkok is a popular travel destination among Hong Kong people," he said. "We hope things will be settled by mid-June and the protests won't affect our summer peak-season bookings or we will see a greater loss."
Bookings Down
Cathay Pacific Airways Ltd.'s Bangkok bookings this month are 50 percent down from last year, predominately because of tour-group cancelations, the carrier said in an e-mailed reply to Bloomberg News questions. The airline will maintain services because most of its flights continue onto other destinations where demand is unaffected, it said.
Hotels in Kao Lak, a resort in Phang Nga province, are less than 6 percent full, Prakit said. On the island of Phuket, occupancy is lower than 40 percent, compared with a usual level of about 60 percent, he said.
Thai Airways International Pcl, the nation's biggest airline, dropped 1.2 percent to 24.70 baht in Bangkok trading today. The carrier has fallen 12 percent since protests intensified on April 10. Hotel operator Minor International Pcl gained 0.5 percent to 9.70 baht, while Dusit Thani Pcl was unchanged at 27 baht. The benchmark SET Index rose 0.9 percent.
The baht yesterday weakened to the lowest level in seven weeks, dropping to 32.50 to the dollar. Foreign funds sold more Thai shares last week than at any time since November 2007.
Qantas, Singapore Air
Qantas Airways Ltd., Australia's largest carrier, said services to and from the Thai capital are operating as normal and that passengers can change their tickets. Few customers have changed travel plans so far and the airline hasn't removed any staff from Thailand, said Olivia Wirth, a spokeswoman for the Sydney-based carrier. Singapore Airlines Ltd. is offering full refunds for bookings on Bangkok flights before May 31.
Thai protesters in 2008 occupied the nation's main international airport for eight days, helping topple Prime Minister Somchai Wongsawat. The protests, which also included an occupation of Bangkok's second airport, stranded as many as 400,000 travelers.
The latest demonstrations began two weeks after a court seized 46.4 billion baht from the family of ex-leader Thaksin Shinawatra, who was ousted in coup in 2006. Officials banned financial transactions of 106 companies and individuals linked to Thaksin on May 16 in a bid to cut off funds for the demonstration.
"The hotel operators don't know what to do because this is a political issue," Prakit said. "We just hope it will end soon."
Before it's here, it's on the Bloomberg Terminal.
LEARN MORE