Barolo Pioneer Looks Abroad as Italy Drinks Fizz: John Mariani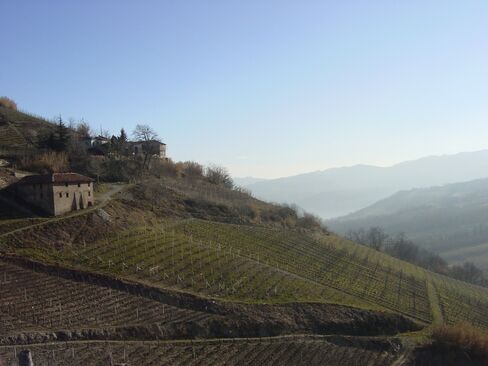 Pietro Ratti, head of the Piedmont wine company that bears his late father's name, Renato Ratti, looked a little forlorn as he ate his gnocchi at New York's Armani Fifth Avenue restaurant.
"The Italians are drinking less and less wine," he said, with the gaunt visage of an El Greco saint contemplating the heavens. "They don't drink at lunch anymore. And the drunken driving laws are now very strict about people driving 120 kilometers an hour down the autostrada after consuming a few bottles of wine."
As one of Piedmont's premier winemakers, whose estate-bottled Barolos are considered among the finest and most innovative in Italy, Ratti, 42, says there has been a cultural shift in Europe about wine.
"Before, Europeans regarded wine as a food and a part of everyday life," he said. "Now, it's considered an indulgence."
The Italians, he said, are especially trendy when it comes to wine and have followed the fashion for sparkling wines.
"Champagne if they can afford it, or prosecco," he said. "And they drink more of their own regions' wines because, frankly, they have really gotten so much better over the last decade."
As a result, Ratti's most expensive wines sell better outside Italy -- 70 percent of his barolos are exported -- with the U.S. his best market, followed by Scandinavia. Ratti also makes lower-priced nebbiolo, dolcetto, and barbera d'asti, which sell well in Italy but have smaller profit margins.
Cult Wines
As with a handful of Super Tuscan wines, the Ratti barolos, along with star Piedmont names like Angelo Gaja, Paolo Scavino, Bruno Giacosa, and Giacomo Conterno, are about as close to cult wines as Italy produces, though the prices never get into the $1,000 California cult stratosphere or those of First Growth bordeaux and Grand Cru burgundies.
Ratti's 2006 Marcenasco estate barolo, showing all the elegance and balance the winery is renowned for, retails for about $47. The more robust 2006 Rocche, made from 50-year-old vines, is only $87, and the silky, mineral-rich 2006 Conca is $75.
Pietro's father, born in 1934, was one of the pioneers in Piedmont. In 1965 he bought a small plot in the area called Marcenasco to make the first single vineyard Barolo. At the time, most wines in the region were made from other growers' grapes, which Ratti also bought. Traditionally barolos were special wines given as gifts locally and not readily sold elsewhere.
Buying Vineyards
Back then the grapes might be macerated for 90 days or more and were highly tannic, taking years to smooth out. Ratti wanted to make softer, easier-to-drink, more complex barolos, so he began buying more and more of his own carefully chosen vineyards. The fame of his innovations opened Ratti up to markets outside Piedmont and eventually around the world. Spurred by his success, the growers themselves were fast creating their own labels by the 1990s.
Pietro carried on his father's work, constructing new state-of-the-art cellars in 2000, relying on gravity for gentler pressing, and using only natural yeasts.
"Our workers wear cotton gloves," he said. "So their fingers never touch the skin of the grapes."
Two months ago Pietro was elected president of the Barolo Consortium, like his father, drafting the rules and regulations governing the appellations of Alba wines to maintain the quality guaranteed by Italy's prestigious D.O.C.G. award.
"By this fall we shall have in place laws that will guarantee that 'single vineyards' listed on barolo labels truly come from those vineyards," he said. "Until now a producer could put any name on the bottle he liked but the wine might have come from anywhere in the barolo region."
Dinner Plans
The younger Ratti is also involved with the marketing, promotion and sales of his wines abroad, his reason for having dinner with me that evening in New York.
"This is a very tough time for wine selling everywhere," he said. "It's important to keep our less expensive wines like dolcetto, barbera, and nebbiolo always in the market because in some years our customers may have too much barolo in inventory and buy much less or pass."
As for China and Russia, Pietro sees great possibilities.
"China is for the moment buying up the most expensive bordeaux at auction the way Las Vegas used to," he said. "I think the markets will open up to more Italian wines, but with China and Russia, you must always ask for the money in advance and in euros."
(John Mariani writes on wine for Bloomberg News. The opinions expressed are his own.)
Before it's here, it's on the Bloomberg Terminal.
LEARN MORE