Man Group Agrees to Buy GLG to Expand Range of Funds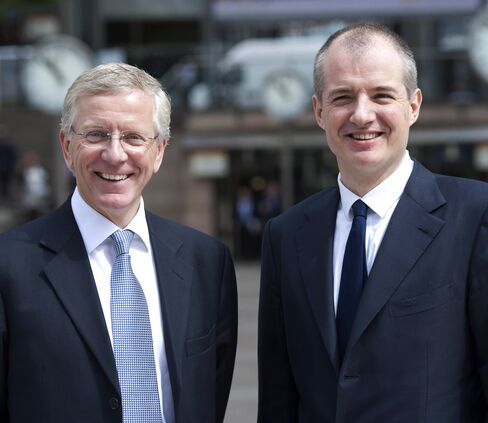 Man Group Plc, the biggest publicly traded hedge fund firm, agreed to buy GLG Partners Inc. for $1.6 billion to reduce its reliance on a single trading program and expand its range of funds.
GLG's shareholders will receive $4.50 in cash for each share, 55 percent more than the firm's closing price on May 14, Man Group said in a statement today. GLG executives will get Man Group shares worth $4.25 each that they must hold for at least two years. Co-founder Pierre Lagrange and two other executives will get as much as $335 million in stock, company filings show.
The London-based firm has been criticized by analysts for its dependence on Man AHL Diversified Plc, an investment program that accounts for half of its assets. AHL posted its first annual loss in 2009. Man Group has said it wants to diversify by adding discretionary funds to AHL, which uses computer algorithms to make investment decisions.
"The deal is incredibly complementary," said Steve Keeling, an analyst at Singer Capital Markets Ltd. in London, which has a "buy" rating on Man Group. "Man had a very simple choice: they either went quant completely or they moved to a more balanced model."
The combined firm will oversee about $63 billion in assets. The acquisition of London-based GLG will give Man so-called long-short funds, which bet on rising and falling stock prices, Chief Executive Officer Peter Clarke told journalists today. GLG also operates convertible arbitrage funds, emerging market funds and long-only mutual funds.
Shares Fall
Man Group fell as much as 9.7 percent in London trading, the most in 14 months, and was down 7.8 percent at 204.2 pence at 1:25 p.m. The shares have fallen 34 percent since the start of the year.
GLG was founded in 1995 as a division of Lehman Brothers Holdings Inc. and went public in 2007 through a reverse merger. Emmanuel Roman and Noam Gottesman, GLG's co-chief executive officers, will receive $79 million and $5.6 million in stock from the sale. Lagrange will get about $250 million in shares.
Man is buying GLG as a European Union Parliamentary committee prepares to approve a proposal today that would force hedge funds outside the EU to agree to transparency standards in exchange for a so-called passport to market themselves to investors in the 27-nation bloc.
The transaction leaves the combined firm better able to cope with those increased regulatory requirements, Clarke said at a presentation to analysts and investors today. Man Group operates its fund of hedge funds business mostly from Pfaeffikon, Switzerland, and Chicago, while most of GLG's managers are based in London.
'Barriers to Entry'
"All the things they are doing are raising the barriers to entry," Clarke said. "It gives us a very significant London- based asset management capability, moving a center of gravity into the EU is helpful."
Reversals in fixed-income, currency and metals markets made 2009 the worst year since l987 for funds similar to Man Group's AHL, according to Fairfield, Iowa-based BarclayHedge, which has tracked so-called trend-following funds for 25 years. Man AHL Diversified dropped 17 percent in 2009 and is little-changed this year, according to data compiled by Bloomberg. AHL's performance wasn't a factor in deciding to buy GLG, Clarke said today.
"Not one jot," Clarke said when asked by journalists a conference call today. "Our investors have been asking for a broader partner, we're very happy with AHL's performance, this isn't a reaction."
Man Group was advised by Perella Weinberg Partners LP with Bank of America Corp. and Credit Suisse Group AG.
Before it's here, it's on the Bloomberg Terminal.
LEARN MORE