Iran Ready to Ship Uranium to Turkey for Nuclear Swap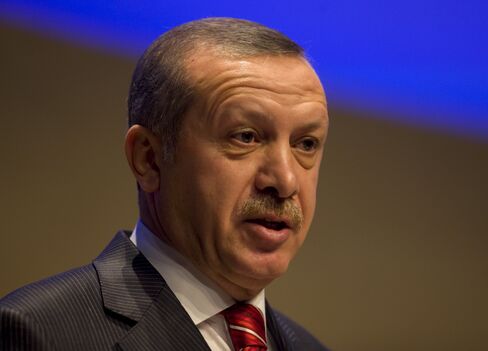 Iran agreed to hand to Turkey about half of its enriched uranium in exchange for fuel to run a medical reactor, possibly thwarting U.S. efforts to step up international sanctions over the Iranian atomic program.
Iran is ready to ship the low-enriched uranium for safekeeping in Turkey within a month of the U.S. and other powers agreeing to the swap, Foreign Minister Manouchehr Mottaki said on state television today. Within a year, Iran expects to get a shipment of reactor-grade fuel for use in the research reactor in Tehran, he said.
"There is no opportunity or excuse for sanctions now," Ali Akbar Salehi, head of Iran's Atomic Energy Organization, said in televised comments.
The agreement, brokered by Brazilian President Luiz Inacio Lula da Silva and Turkish Prime Minister Recep Tayyip Erdogan, comes as the U.S. has been rallying support for a fourth round of United Nations sanctions against the Persian Gulf state. A UN-brokered plan, under which Iran would ship the low-enriched uranium outside the country for processing into reactor-grade fuel by Russia and France, has been stalled for months with Iran citing a lack of trust in the U.S. and Western nations.
Iran had said it was willing to adopt the proposal, provided the exchange was simultaneous and takes place on Iranian soil. The West rejected the conditions.
Uranium Enrichment
The deal brokered by Brazil and Turkey won't prevent Iran from continuing to enrich uranium, including to higher concentrations, Iran's Foreign Ministry spokesman said.
The activity of "enrichment to 20 percent inside our country will still continue," Ramin Mehmanparast said after the signing of the deal, according to the official Islamic Republic News Agency.
The U.S. and its allies accuse Iran of seeking to develop nuclear weapons under cover of its atomic energy program. Iran, which has the world's second-largest reserves of oil and gas, says its activities are solely civilian and it needs to secure energy for its growing population.
Alistair Burt, a British foreign minister, said Iran's actions "remain a serious cause for concern." A push for sanctions will continue until "Iran takes concrete actions" to meet its obligations, Burt said in an e-mailed statement.
German government spokesman Christoph Steegmans told reporters in Berlin today that Iran must still fulfil its obligations under UN resolutions on its nuclear program regardless of any fuel deal and suspend all domestic uranium enrichment.
'Contradictory Statements'
French Foreign Ministry spokesman Bernard Valero said that Iran must inform the UN atomic agency in writing of today's agreement.
"Only then can we judge the seriousness of the Iranian response," he said in an e-mailed response to questions. "Let's not forget the Iranians have made multiple contradictory statements on this subject in recent months."
The deal is likely to make it harder to win support for more UN sanctions from China and Russia, among the veto-wielding permanent members of the UN Security Council, said Theodore Karasik, director of research at the Dubai-based Institute for Near East and Gulf Military Analysis.
"There will be certain countries in the West that will see this as Iran trying to delay the inevitable, which is going to be harsher sanctions," Karasik said in a phone interview from Istanbul. "It will create divisions among members of the Security Council."
Problem for Obama
The deal also may represent a problem for U.S. President Barack Obama as U.S. lawmakers try to impose unilateral sanctions to limit gasoline sales to Iran, said Trita Parsi, head of the Washington-based National Iranian American Council, the largest U.S.-Iranian association.
"Congress may still push forward its extraterritorial sanctions bill, citing other concerns with Iranian behavior," Parsi said in an e-mailed comment. "With the November elections only months away, President Obama may face some stiff opposition from Congress, even over a deal that meets America's red lines on the nuclear issue."
Lawmakers have pursued the sanctions as UN talks over financial penalties dragged on. U.S. officials estimate Iran might be able to enrich enough uranium for one bomb in about a year and may be able to construct a weapon in three to five years.
Exploiting Goodwill
The agreement with Brazil and Turkey, both non-permanent members of the Security Council that oppose sanctions against Iran, came as the country hosted the leaders of the G15, a group of developing nations. Lula visited Tehran at the head of a Brazilian delegation that also focused on expanding trade ties.
A senior Israeli government official said Iran is exploiting Brazil's goodwill over the nuclear deal. The official spoke anonymously because he wasn't authorized to comment.
The swap, which will provide Iran nuclear fuel enriched to 20 percent and in a form usable only in the Tehran reactor, would be carried out under the supervision of the UN's International Atomic Energy Agency, said state-run Press TV. Inspectors from the IAEA and Iran would be stationed in Turkey to monitor the fuel, said Mottaki.
Russian President Dmitry Medvedev said during a visit to Ukraine today that there may be "concerns by international community," and that he will speak to his Brazilian counterpart tonight.
Medvedev said on May 14 that Lula's trip to Tehran "may be the last chance" for a negotiated solution before the UN Security Council considers new sanctions.
UN Sanctions
Further UN sanctions may penalize Iran's banking, shipping and insurance industries.
Turkish officials have several times stated their readiness for their country to serve as a venue for a swap of low-enriched uranium for nuclear fuel that can be used in the Tehran reactor for medical purposes, such as the production of isotopes.
Turkish and Russian officials reached an accord on May 12 for Russia to build Turkey's first nuclear power plant, with four reactors, at a cost of about $20 billion.
Uranium enrichment is at the center of world powers' concern with Iran's nuclear program. The material can fuel a reactor or, enriched to higher degrees, form the core of a bomb.
The 1,200 kilograms of low-enriched uranium that would be shipped to Turkey represent more than half of Iran's stockpile, according to a Feb. 18 report by the IAEA, which said Iran had amassed 2,065 kilograms (4,533 pounds) of low-enriched uranium and had begun to churn out higher-enriched variants for the Tehran reactor.
In October, when the original proposal was made, the IAEA estimated Iran's low-enriched uranium stockpile at 1,763 kilograms.