Ditch Office for Hooky With Shops, Art on N.Y.'s Prince Street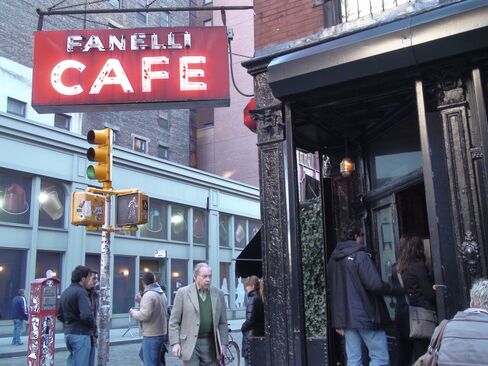 As the New York weather finally warms up, I think of playing hooky nearly every morning when I push the snooze button and dream of all the interesting things I could do if I didn't go to work. Then I go to work.
Fortunately, some of us get paid to play hooky now and then, which is why I find myself on Prince Street in Manhattan's industrial and artsy SoHo district.
First stop is Cafe Gitane on the corner of Prince and Mott streets for an espresso. It's a tiny spot that's hopping almost all the time. I get there around 10 a.m. and sit outside to watch the locals in their natural habitat. Dogs are walking, trucks are delivering, neighbors are chatting. I think about renting an apartment up the block.
Years ago, the last cigarette I smoked was a Gitanes, and I remember how it tasted while I sip my second coffee.
With a clear head and a pounding caffeine heart I pop over to the New Museum of Contemporary Art, designed by a team that received this year's Pritzker Prize for Architecture.
Inside, I ponder the fantastically silly sex obsessions of collector Dakis Joannou who acquired these things with the help of that titan of taste, Jeff Koons. Perhaps the museum could improve its finances renting rooms by the hour for special patrons?
On the way out, I see a statue that looks like Stewie Griffin from "Family Guy" and I imagine him telling me, "There's a drink in your future."
Wackier Heels
But first, I stop by John Fluevog Shoes on the corner of Prince and Mulberry for retail therapy. I may not know contemporary art, but I know shoes. I have three pairs of Vogs, which doesn't seem like nearly enough. So I try on the Mahalo with the heel that makes me swoon, and the even wackier heels of the Response. I think hard about how many pairs I can afford.
My still-humble footwear carries me along the walls of St. Patrick's Old Cathedral, the city's first Catholic Church, dedicated in 1815. I pass the late Keith Haring's 1984 sidewalk art on the corner with Broadway.
When I see the Fanelli Cafe sign at the corner of Prince and Mercer I remember it's five o'clock somewhere and I go in. If Bob Bozic is behind the bar I stay all afternoon, rain or shine.
He once told me he was named Rudest Bartender in New York by the Village Voice. Then, with a proud smile, he told me he had been likened to the cynical central character Bardamu in Louis-Ferdinand Celine's "Journey to the End of Night," a book I'll make room for on my bedside table.
'I Am a Pinched Nerve'
I find out he is a former heavyweight boxer (his picture is on the wall of the 160-year-old cafe) so I think he might know a thing or two about straining muscles from lifting weights. I ask if he knows anything about pinched nerves. "I am a pinched nerve," he says.
I like his pour and his banter. It's hard to leave his bar.
When I finally do, the sun is still out. I walk west past Michael Kors and the Apple Store where I bought my iPhone on a busy Saturday some time back. The mini-mall area between Broadway and West Broadway is now teeming with shoppers.
On the corner of Prince and Greene, I look up to see a particularly nice example of the cast-iron architecture the neighborhood is famous for. Wait, my boozy lunch is playing tricks on me. That's the trompe l'oeil mural that artist Richard Haas painted on the side of the building in 1975 to look exactly like the true iron facade put on the front of the building in
1889.
Groupie Manquee
The Morrison Hotel Gallery at Prince and Wooster is great for a groupie manquee. It represents more than 60 rock-music photographers who have taken some of the most memorable images of our time.
I gaze with love at the photos of Mick Jagger, especially the one of him looking out over the cliffs of Dover (he's actually standing next to a mural on a set in Hollywood) taken by Andee Nathanson in 1969.
Somehow it's 5 p.m. here. I push past the Hans Van der Bovenkamp sculpture just before West Broadway and get myself away from the mad shopping area to a calmer locale.
Milady's, which is also on Prince Street, is filled with locals already. I sidle up to the bar, order a drink and look for someone to play pool with.
The pub is small and doesn't devote much space to the pool table but they have shorty cues. I've mastered shooting with a half-sized stick and after another drink I'm leaning slightly myself so I'm able to counter whatever slope the table has.
A few banked eight-balls later and the party is over for the day. Prince Street has more to offer, but I have to work tomorrow.
(Catherine Smith is a writer for Bloomberg News. The opinions expressed are her own.)
Before it's here, it's on the Bloomberg Terminal.
LEARN MORE