CDS Traders Face Disclosure Requirements in Europe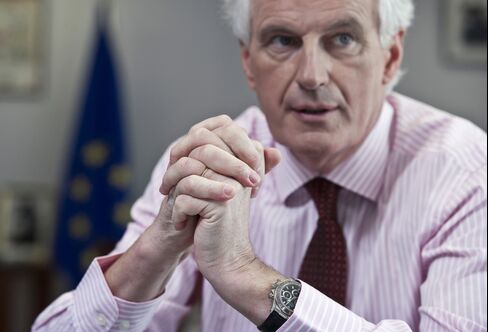 Sovereign credit-default swap transactions face mandatory disclosure rules in the wake of the Greek debt crisis, the European Union's financial services commissioner said today.
Michel Barnier said he would deal with the sovereign CDS market "very severely." Credit-rating companies should also be subject to tougher transparency rules when rating a country's ability to pay back its debt, he said.
"These people don't like being out in the light of day," Barnier said of sovereign CDS traders at a press conference in Brussels. "We'll flood them with light."
German Chancellor Angela Merkel and French President Nicolas Sarkozy have called for curbs on speculating with sovereign credit-default swaps, which many blame for exacerbating Greece's fiscal woes. They have also called for a review of European Union rules regulating credit-ratings companies.
Michel Petite, the former head of legal services at the European Commission and now a lawyer with Clifford Chance LLP, said it's unclear how the CDS proposal would work.
"How exactly this would be done, I don't know," Petite said in a phone interview. "I think they're still figuring it out."
The EU last month proposed that the Financial Stability Board, the group set up by the G-20 to monitor global financial trends, should "closely examine the role" of CDS on sovereign bond spreads.
Intensified Scrutiny
Scrutiny of credit-ratings companies intensified after Greece's rating was cut to junk status by Standard & Poor's. The downgrade added urgency to European plans to bail out the debt-plagued nation.
"If an agency uses information for ratings for its clients then the other rating agencies should have access to the same information," Barnier said.
Moody's Investors Service supports "an environment in which ratings agencies compete on the basis of the quality of their research and opinions," Jessica Sibado, a London-based spokeswoman, said in an e-mailed statement.
"We believe that the market benefits from a diversity of credit opinions, whether from rating agencies or other market participants," said Sibado.
Mark Tierney, a spokesman for Standard & Poor's, and Hannah Warrington, a spokeswoman at Fitch Ratings, declined to immediately comment.
Finance Ministers
The commission, the EU's executive agency, will propose the rules for credit-rating companies in June and for sovereign CDS in October, Barnier said. EU finance ministers and lawmakers at the European Parliament must agree on the final wording of proposals before they enter into force in the 27-nation EU.
Tightening rules on credit-rating companies is "a matter of political will," Petite said. "If the commission decides that the proposals need to be stringent then there's nothing to stop them."
Credit-default swaps are derivatives that pay the buyer face value if a borrower -- a country or a company -- defaults. In exchange, the swap seller gets the underlying securities or the cash equivalent. Traders in naked credit-default swaps buy insurance on bonds they don't own.
A basis point on a credit-default swap contract protecting $10 million of debt from default for five years is equivalent to $1,000 a year.
Before it's here, it's on the Bloomberg Terminal.
LEARN MORE