Timken Fights China on Tariffs, Woos It With Bearings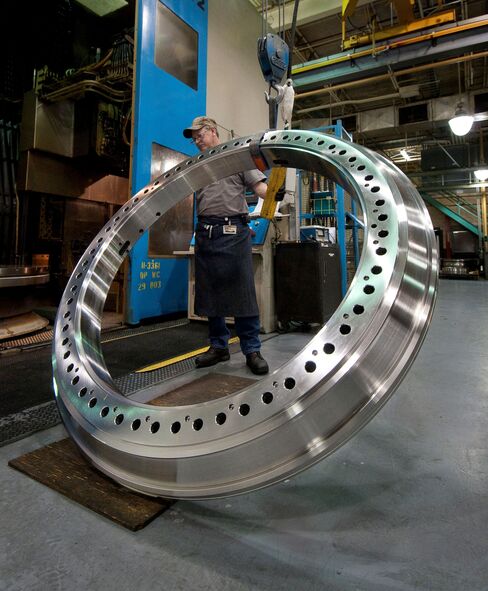 For 23 years, Timken Co. campaigned for U.S. tariffs on bearings from Asia. Now it's rushing to open factories there to make parts for Chinese wind farms.
Timken will produce main-shaft bearings, some big enough to drive a car through, for windmills at a factory the Canton, Ohio-based company just opened in Xiangtan in east central China. The plant is Timken's eighth in Asia.
"We are ramping up our lower-cost manufacturing base in Asia to serve the markets there," James W. Griffith, chief executive officer of the biggest U.S. maker of bearings, told investors on a conference call April 29 that focused on opportunities abroad rather than the anti-dumping cases the company has pursued.
Timken's evolution illustrates a trend among U.S. companies of embracing China for its growing economy and government support for renewable energy while fighting it less on trade policy. This emerging view will be on display this week, when Timken and 23 other U.S. companies accompany Commerce Secretary Gary Locke on a trip to China to promote clean-energy exports and investment.
China "has enormous energy needs, and the American companies have the technology and know-how to help them meet those needs, while at the same time creating jobs here at home," Locke said in an interview with Bloomberg Television on May 14. It's the Obama administration's first Cabinet-level trade mission and part of efforts to double exports and protect the environment, according to Locke.
Steelworkers Union
Locke and participants such as Roger Lindsay, Timken's senior vice president for Asia, and Mark Norbom, General Electric Co.'s top executive for Greater China, will make the case that investment in China by U.S. companies benefits the American economy. Locke calls those investments "win-win," and his office distributed a study by the Washington-based Business Roundtable that says such overseas spending boosts American workers' standard of living.
Union leader Leo Gerard disagrees. Such overseas investments help corporate profits while U.S. workers' salaries and employment prospects suffer, he says.
"We would like to see Timken expanding in America and exporting to China," Gerard, president of the United Steelworkers union, which represents workers at some Timken plants in the U.S., said in an interview. For Locke "to go with folks who already have facilities in China and help them expand is not something I support."
Timken Employment
Timken's U.S. employment has dropped to 9,500 from 12,500 in 2000, and Gerard says the company should hire back workers. The cuts came as Timken sold off two businesses and adjusted to the global recession, spokeswoman Lorrie Paul Crum said. Its overseas employment stayed the same at 7,900 through increased productivity, Crum said.
Timken, or companies it purchased, sought dumping duties on imports of tapered bearings from Japan and China dating back to 1987, and duties on ball bearings from countries such as Japan and Italy since 1989.
Timken patented the tapered bearing design in the 19th century. Its top-of-the line bearings can cost more than $100,000. The company tried and failed to get duties on $128 million of ball-bearing imports from China in 2003.
The cases have been profitable: Because of a U.S. law that has since been repealed, ball-bearing makers including Timken received more than $600 million collected from importers of those bearings. Timken was the largest recipient of the so-called Byrd amendment payments, according to a report by the Government Accountability Office in 2005.
Court Rejects Appeal
The U.S. Supreme Court today refused to rule on a dispute over an additional $70 million between the bearing makers and a unit of Sweden's SKF AB. The court declined to question the government formula for disbursing import duties, rejecting an appeal by the SKF unit.
While China has increased its manufacturing of clean-energy equipment at a "torrid pace over the past three years," it is still dependent on high-end parts from American companies, according to a report by Bloomberg New Energy Finance on May 10. China aims to expand its wind-farm capacity from 25.5 gigawatts last year to 150 gigawatts in 2020, according to the report.
Asia accounted for 12 percent of Timken's $3.14 billion in sales in 2009, and the company expects rapid growth in China in equipment for wind energy, mining and power transmission, according to a company presentation to Asian investors included in a regulatory filing on May 10.
The company's operations in Asia create jobs in the U.S. by increasing demand for American-made products such as specialty steel, according to Crum.
Main-Shaft Bearings
Timken's main-shaft bearings are used to take the load in power-transmission systems such as wind turbines. While it has been a major supplier to the auto industry, that part of its business has shrunk as it has moved more into the assembly, lubrication and servicing of equipment, Crum said.
The bearing maker's bullish take on China isn't shared by all American manufacturers. U.S. Steel Corp. joined Gerard's union in winning tariffs on steel pipe from China used in oil wells, and makers of products such as glossy paper are asking Locke to impose tariffs to compensate for China's undervalued currency.
"Many companies are doing well in China, and they see the potential for future growth," Pat Mears, the director for international commercial affairs at the National Association of Manufacturers in Washington, said in an interview. "For many smaller companies the issue is: Can we get into this big scary market, and will they steal our technology if we do?"
Before it's here, it's on the Bloomberg Terminal.
LEARN MORE