Greedy Gordon Gekko Seeks Revenge as Wall Street Melts: Review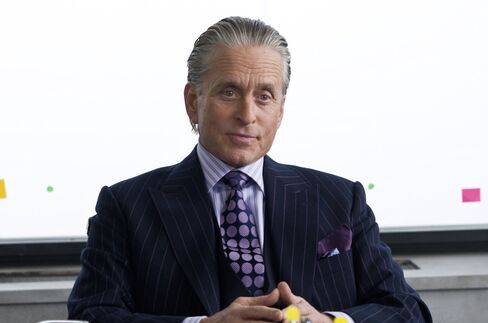 Kissing goodbye to eight years in jail, Gordon Gekko is collecting his things on the way out.
"One silk handkerchief, one necktie, one gold watch, one gold money clip with no money in it: and one mobile phone," says the prison official, slamming a prehistoric piece of hardware on the counter.
Gekko, the corporate raider in Oliver Stone's 1987 "Wall Street," is back on the big screen in the director's "Wall Street: Money Never Sleeps," with Michael Douglas in the title role. Yet Gekko has none of his mythical perks: no private jets with escorts at the ready, no flashy limos, no overpriced art. Years in the slammer have left him with nothing but a surfeit of financial wisdom, which he shares in his book "Is Greed Good?"
Stone took some coaxing before resuscitating the story. As he said at the movie's Cannes Film Festival premiere, Gekko seemed small fry next to the real-life sharks who dominated finance from the 1990s, making exponentially higher sums in speculative transactions with the regulators' blessing.
What persuaded Stone to revive Gekko was the September 2008 bankruptcy of Lehman Brothers Holdings Inc. and the $700 billion lifeline thrown by taxpayers to U.S. financial institutions.
Seen through 21st-century eyes, the original "Wall Street" looks aesthetically dated. How could shoulder pads, big hair, and egg-topped steak tartare ever have been cool?
Yet the movie was packed with potent, tightly scripted scenes that drew you to the characters, particularly the three main ones: Gekko, his hungry young protege Bud Fox (Charlie Sheen), and Bud's blue-collar dad (Martin Sheen). It was riveting to watch Bud swing between those two men, because they represented the conflicting poles in his own personality -- extreme greed and high principle.
Oscar Performance
"Wall Street: Money Never Sleeps" lacks that dramatic intensity. A whole new cast of characters has been brought in to act out the updated storyline. Yet the best thing about the sequel is still that lone leftover from the 1987 original: Gekko, as played by Douglas, whose stellar performance merits a second Oscar.
The main new figure is ambitious Jake Moore (played by baby-faced Shia LaBeouf), a proprietary trader who lost his dad to drink and found a substitute in mentor Louis Zabel (Frank Langella), a bigwig at his Wall Street bank.
Jake loves money. Yet he also loves doing good, and he reconciles the two by seeking investors for an alternative energy company that needs help. Somehow, that's a contradiction there. What bonus-craving upstart on Wall Street would let idealism guide his investment advice?
Gekko's Daughter
Jake's fate becomes entwined with Gekko's through Jake's girlfriend Winnie (Carey Mulligan), Gekko's estranged daughter and only surviving child. Winnie's fury at her dad is undiminished; when he is seen promoting his book on a TV chat show, she throws the remote control at the set.
Jake and Gekko's affection for the same girl -- Winnie --is coupled with their hatred of the same guy: Bretton James (Josh Brolin), a partner in the prestigious investment bank Churchill Schwartz, which has top-level backers in Washington. They both want to get back at him.
James wears burgundy dinner jackets, has a Goya hanging in his oak-paneled home office, and puffs on hefty cigars. You'd expect a man in his position to be paranoid and unforgiving. Au contraire: James hires Jake to give his firm a greener profile - - even though Jake used to work for one of his enemies (Zabel) and dates the daughter of another (Gekko).
Brolin (who was George W. Bush in Stone's "W.") looks as stiff in his two-dimensional part as he is in his dinner jacket. LaBeouf grows into the role, his moral ambivalence increasingly visible, yet cannot overcome the contradictions within it.
Mulligan's Talents
Mulligan, picked by Stone for her incredibly natural performance in "An Education," can't show off her talents in this picture. All that's required of her is to cry, or look like she's about to.
Other fine actors get awkward cameos. Langella is predictable as the weary old Wall Street wolf. Susan Sarandon, Jake's nurse-turned-realtor mom who loses in the property meltdown, keeps nagging her son for cash. "I make more in a month than I did in a year as a nurse," she says. "You made a difference," comes his hackneyed reply.
The financial plot twists are more credible, given co-writer Allan Loeb's record as a licensed broker-dealer. Trading rooms are filled with scrolling screens and plasma TVs tuned into financial news channels. Of the two firms where Jake works, the first (which is sold for a song and refused a government bailout) seems a cross between Lehman Brothers and Bear Stearns Cos., while the second can remind you of Goldman Sachs Group Inc.
Stone created a legend in Gekko two decades ago with "Wall Street": a character venerated since by a generation of wannabes. Though "Wall Street: Money Never Sleeps" is entertaining and full of suspense, it seems to validate his longstanding reluctance to make a sequel.
Rating: **1/2.
(Farah Nayeri writes for Bloomberg News. The opinions expressed are her own.)
What the Stars Mean:
****          Excellent
***           Good
**            Average
*             Poor
(No stars)    Worthless
Before it's here, it's on the Bloomberg Terminal.
LEARN MORE