Haisheng May Sell Shares to Boost Concentrate Exports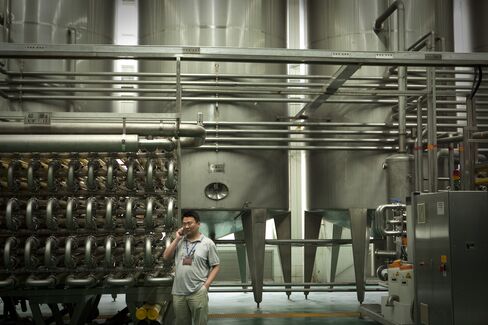 China Haisheng Juice Holdings Co., the nation's biggest exporter of apple-juice concentrate, may sell shares to help finance an expansion aimed at doubling its sales overseas.
The supplier to Coca-Cola Co. and PepsiCo Inc. aims to control 50 percent of overseas shipments by 2015 after accounting for 25 percent last year, Vice President Sabina Liu said in an interview. Haisheng will double production capacity through purchases and the expansion of existing plants, she said.
"Acquisitions are really the only option for expansion," Liu, 36, said May 13 in the northwestern city of Xian, capital of Shaanxi province and where Haisheng is based. "If we were to build new plants now" that may lead to overcapacity and lower prices, according to Liu.
Haisheng is increasing exports as an economic recovery in the U.S., its biggest market, helps raise prices, improving profitability and sales at the concentrate maker. The company last month said it agreed to pay HK$80.6 million ($10.4 million) for Itochu Corp.'s juice plants in China, which will help increase Haisheng's capacity by as much as 15 percent. Haisheng will spend a similar amount or slightly more for future acquisitions, Liu said.
Tighter Competition
"Haisheng is facing increasing competition at home and it remains to be seen how well its exports will recover given uncertainty over the global economic recovery," Lawrence Chor, an analyst at Taifook Securities Group in Hong Kong, said in a phone interview.
The stock fell 3.7 percent to close at HK$1.05 in Hong Kong trading as the city's benchmark Hang Seng Index retreated 2.1 percent.
The concentrate maker, which listed shares in Hong Kong in 2005, more than doubled in market value last year. Its market capitalization is now about HK$1.3 billion, after Haisheng's shares declined 6 percent this year, compared with a 10 percent drop for the stock benchmark.
"When the time comes we'll see if selling debt, taking loans or selling shares makes more sense" for funding acquisitions," Liu said. "A share sale is more likely."
About half the new capacity Haisheng aims to add in the next five years will come from acquisitions, with the remainder from the expansion of its existing facilities and contracting work to third-party producers, Liu said. She didn't identify any potential targets.
Haisheng Debt
"Haisheng's debt level is also relatively high and will rise further should it proceed with more borrowing and financing," Taifook Securities' Chor said. "It would benefit the company to seek partnerships or ventures with established beverage brands to ensure long-term contracts and also help increase its branding in the domestic market."
The company's debt-to-equity ratio fell to 121 percent at the end of last year from 166 percent at the end of 2008, according to data compiled by Bloomberg. That compares with a debt to equity ratio of 28.84 percent last year for China Huiyuan Juice Group Ltd., the Chinese juice maker that Coca-Cola Co. proposed to buy before being rejected by the Chinese government last year.
China accounted for 52 percent of the world's apple production last year, Haisheng said, citing statistics from the U.S. Department of Agriculture.
Shaanxi province's annual apple harvest is twice that of the U.S., which is the world's second-biggest producer, Liu said. The region's dry climate is suited for the fruit's growth, she said.
North America Sales
Haisheng's North American sales fell 11 percent last year to 1 billion yuan ($146 million) because of lower prices and the economic slowdown, the company said in its 2009 annual report. North America accounted for 70 percent of total sales, which declined 15 percent to 1.45 billion yuan.
Net income was 98.1 million yuan last year, compared with a net loss of 59.1 million yuan in 2008. The company's gross profit margin, or the percentage of sales remaining after deducting the cost of goods sold, fell to 26.5 percent last year from 28.1 percent in 2008. The margin may widen this year as concentrate prices rise, Liu said.
Payrolls in the U.S. increased by the most in four years last month, as first-quarter household spending grew at the fastest pace in three years. The world's biggest economy expanded 3.2 percent in the first quarter after growing 5.6 percent in the fourth quarter, marking the best six-month performance since the second half of 2003.
Concentrate Prices
The price of apple-juice concentrate may rise to about $1,000 a ton in September, once the harvest season for the fruit nears its peak, from about $950 a ton now, Liu said. Haisheng has already gotten some orders at that price, she said.
Concentrate prices fell to as low as $600 a ton in early 2009 after reaching more than $2,000 a ton in 2007, Liu said.
Haisheng said it accounted for a quarter of China's 795,000 tons of apple-juice concentrate exports last year. The nation's exports were 60 percent of global shipments, the company said. The concentrate maker's exports may rise to as much as 30 percent of China's total this year, Liu said.
The company's acquisition of Itochu's assets gives it three additional juice plants in China and includes an agreement for the Japanese company to help Haisheng sell its concentrate in Japan.