Visa, MasterCard Fall on Vote Curbing Debit-Card Fees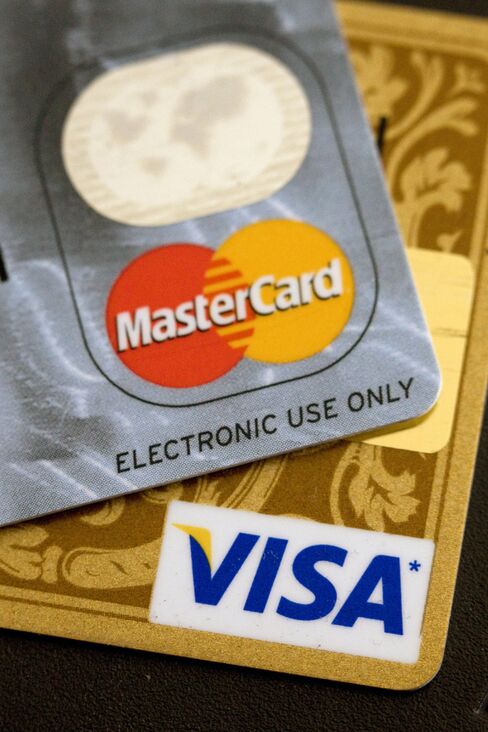 Visa Inc. and MasterCard Inc. fell in New York trading after the U.S. Senate included limits on debit-card fees in the financial-overhaul bill and analysts said the House is likely to approve the amendment.
The measure would empower the Federal Reserve to curb debit-card interchange, or "swipe" fees, charged to merchants. Visa, the world's biggest payments network, dropped $8.47, or 9.9 percent, to $77.26 at 4:15 p.m. in New York Stock Exchange composite trading, and has fallen 20 percent from a closing high of $96.59 on April 23. MasterCard fell $19.86, or 8.6 percent, to $212.45, also sliding 20 percent in three weeks.
Shares of networks and banks came under pressure last week as Senate Majority Whip Richard Durbin pushed the fee curbs. The limits may crimp revenue at Bank of America Corp., Wells Fargo & Co. and JPMorgan Chase & Co., the biggest U.S. debit-card issuers. The measure cleared the Senate because of the industry's "terrible" attitude toward merchants, Durbin said.
"They do things that are just totally indefensible," Durbin said today in a telephone interview. "They really have done everything they can to suppress any competition between the two giants."
The Senate voted 64-33 to approve Durbin's amendment, which passed with the support of 17 Republicans.
'Unlikely To Be Removed'
"Given its significant margin of passage, we consider it unlikely to be removed," said Scott Valentin, an analyst with FBR Capital Markets, in a research note.
Visa and MasterCard accounted for 91 percent of global credit-and debit-card purchase transactions in 2009, according to the Nilson Report, an industry newsletter based in Carpinteria, California.
Merchants last year paid $19.7 billion in fees tied to debit transactions processed by the two networks, with more than half that amount paid to banks as interchange, according to the National Retail Federation. Other costs include brand-usage, authorization, clearing and settlement fees.
The payment networks say the interchange system is self-regulating and fosters competition by balancing the interests of their client banks with those of merchants who accept debit and credit cards. If interchange rates are too high, they say, then merchants won't accept cards; if they're too low, banks won't have an incentive to issue them.
Free Enterprise
"The reason why this is so problematic is because it really amounts to government intervention into our system of democracy and free enterprise," MasterCard General Counsel Noah Hanft said today in a telephone interview. "It really relates to the ability of an American business to set prices for its products, and that's what really would be taken away here."
MasterCard and Visa also said the bill would benefit retailers at the expense of consumers.
"We are disappointed that Senator Durbin has decided to force unrelated legislation into the financial reform package at the 11th hour without a hearing or debate," Visa said in a statement. "We're hopeful that when the issue is fully reviewed by members of Congress during the next phase of negotiations, they will conclude the amendment harms consumers, credit unions and community banks and should be eliminated from the bill."
Some Wall Street analysts who predicted the Senate would defeat Durbin's amendment, including Morgan Stanley's Adam Frisch, urged investors to buy MasterCard and Visa shares after the selloff because the companies don't get interchange revenue.
Uncertainty
"The biggest harm to the stocks could be the perception that this bill hinders growth and the uncertainty it creates about the regulatory environment," said Frisch, who isn't changing his revenue or profit estimates for either company and rates both stocks "overweight."
Visa and MasterCard revenue still may be hurt if banks begin charging customers for using debit cards to compensate for lost interchange income. If consumers use their cards less as a result, royalties based on spending volumes may be curtailed. Such royalties are the networks' biggest source of revenue.
Frisch also said "there is a real possibility" that Durbin's amendment may still fail to make it into the final bill if Representative Barney Frank, chairman of the House Financial Services Committee, opposes it.
Frank won't comment on the measure until the Senate finishes work on the overhaul bill, according to Steven Adamske, a spokesman for the Massachusetts Democrat. In February, Frank said a bill seeking to regulate interchange rates on credit cards wouldn't be on his committee's agenda this year.
Amendment
Earlier this week, Durbin altered his proposal to exempt lenders with assets of less than $10 billion, or 99 percent of U.S. banks. That failed to win the support of trade groups representing smaller community banks and credit unions which said the amendment would make their debit cards more expensive compared with those issued by the biggest lenders.
"To make matters worse, nothing would stop Visa and MasterCard from simply applying the artificially lowered interchange rates across the board to all issuers, regardless of size, forcing many credit unions and community banks to re-evaluate their ability to offer debit cards," the Independent Community Bankers of America and the Credit Union National Association said in a May 12 letter to senators.
Durbin sent a letter today to both groups accusing them of misrepresenting the measure's potential impact on their members.
"My amendment does not disadvantage small banks and credit unions, and in fact goes to great lengths to protect their ability to successfully compete with big banks in offering payment cards to consumers," the letter states.
Rules Relaxed
Durbin's amendment also would relax some of the networks' rules on credit cards, permitting retailers to offer discounts for cash, checks or debit cards, or for a particular card brand, and to set minimums and maximums for card purchases.
Allowing discounts for competing card brands may pressure American Express Co., which levies the highest merchant fees among the biggest payment networks. AmEx issues credit and charge cards and doesn't offer debit cards.
Fees paid by U.S. merchants to accept credit-card payments last year averaged 2.23 percent for New York-based American Express, 2.06 percent for Visa and MasterCard and 1.88 percent for Discover Financial Services, based in Riverwoods, Illinois, according to Nilson.
American Express, today's worst-performing stock in the Dow Jones Industrial Average, fell $2.17, or 5.1 percent, to $40.64. Discover declined 3.7 percent to $14.24.
Earlier Attempts
The payments industry has escaped previous attempts to regulate interchange on credit cards, saying the fees are needed to compensate them for the risk of lending money. That argument isn't relevant to interchange on debit cards, which tap funds held in consumer checking accounts.
Debit transactions should pass at face value, just like checks, according to the National Retail Federation.
"Debit cards formerly passed at face value, but now the biggest banks and card companies are using them to circumvent the system and are reducing the face value of debit-card transactions through higher fees," NRF chief lobbyist Steve Pfister said in a statement. "This hurts retailers and merchants of all sizes, including doctors' offices, restaurants and florists, and it causes all of our customers to pay more."
Before it's here, it's on the Bloomberg Terminal.
LEARN MORE