Spain's Core Inflation Turns Negative for First Time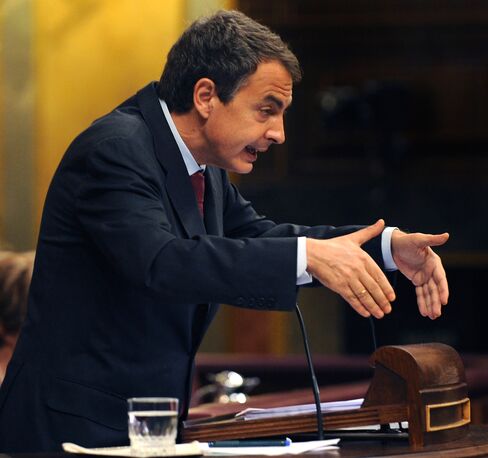 Spain's underlying inflation rate turned negative in April for the first time on record, just as Prime Minister Jose Luis Rodriguez Zapatero pushes through the country's biggest budget cuts in more than three decades.
Core consumer prices, which exclude energy and fresh food, fell 0.1 percent from a year earlier, after rising 0.2 percent in March, the National Statistics Institute in Madrid said today. That's the first annual decline since the data were first collected in 1986. The headline inflation rate, based on European Union calculations, was 1.6 percent, in line with an initial estimate published on April 29.
Spain's economy emerged from an almost two-year recession in the first quarter, even as unemployment rose to 20 percent. After the third-largest budget gap in the euro region prompted a surge in Spain's borrowing costs, the government announced a 5 percent reduction in civil servants' wages this week and said the measures could undermine the return to growth.
"It's the start of a trend," said Luigi Speranza, an economist at BNP Paribas in London who first forecast deflation in Spain more than a year ago. "It's an adjustment mechanism, a way of gaining competitiveness."
European Comparison
Spanish inflation has generally been above the EU average over the last decade. Now, its negative core inflation compares with a positive rate of 1 percent in the euro area in March. The European rate probably slowed to 0.8 percent in April, according to a Bloomberg News survey.
The government plans to increase the main value-added tax rate to 18 percent from 16 percent in July. Retailers may pass on around half of the increase and absorb the rest, Deputy Finance Minister Carlos Ocana said on March 23. Inditex SA, the owner of the Zara fashion chain, said on March 17 that it would not pass on the increase to consumers.
The new VAT rate will have a "marginal" impact, pushing up the core rate briefly before the downward trend resumes, Speranza said. Deputy Finance Minister Jose Manuel Campa, speaking today in Madrid, said April's negative core rate was "temporary" and due to seasonal effects.
As households pay down one of the largest private-debt burdens in the euro area, Spaniards expect prices to fall and have the region's second-most negative inflation expectations after Italians, according to data from the European Commission.
Spain's economy will contract 0.4 percent this year, while the euro area and U.S. expand, according to the International Monetary Fund. The government forecasts growth of 1.8 percent next year, even as Zapatero said new austerity measures could trim that expansion.
Following pressure from the EU to reduce spending in return for an almost $1 trillion backstop for indebted members, Zapatero announced the reduction in public workers' wages and said ministers will take a 15 percent pay cut, a subsidy for newborns will be abolished and pensions will be frozen.