Russian GDP Grew 2.9% Last Quarter on Stimulus, Oil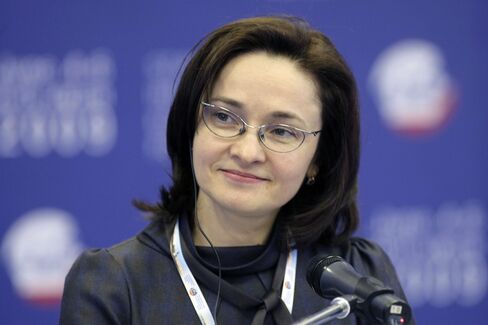 Russia's economy expanded for the first time since 2008 in the three months through March as the world's biggest energy producer rebounds on an oil-funded stimulus program and record-low borrowing costs.
Gross domestic product rose an annual 2.9 percent in the first quarter after contracting 3.8 percent in the last three months of 2009, Economy Minister Elvira Nabiullina said at a meeting in Moscow today. The median estimate in a Bloomberg survey of 12 economists was for 4.8 percent growth. GDP shrank 7.9 percent in 2009, the biggest decline since the collapse of the Soviet Union in 1991.
Prime Minister Vladimir Putin last month said Russia's recession "is over" after 3 trillion rubles ($99.6 billion) in stimulus spending left the economy "confidently showing signs of recovery." Russia is poised for the world's "biggest bounce," Bank of America Merrill Lynch said last month, and estimates output may grow 7 percent in 2010 as companies rebuild stocks and stimulus spending supports demand.
"We see the economy recovering relatively briskly this year, as the strengthening global economy and reviving domestic demand support the revitalization," Annika Lindblad, economist at Nordea Bank AB, wrote in a report before the release. "The economic environment has improved faster than expected, largely due to a recovery in the global economy and commodity prices."
BRIC
The four so-called BRIC economies are leading the global recovery, with growth in China exceeding 10 percent. The world's second-largest economy expanded an annual 11.9 percent in the three months through March. Brazilian output grew 4.3 percent in the fourth quarter while the economy of India expanded an annual 6 percent in the same period. Brazil and India have yet to release first-quarter GDP data.
The recovery is gaining steam as some of Russia's biggest companies rebound from last year's slump. Sales at OAO AvtoVAZ, the country's largest carmaker, are rising while commodity producers OAO Severstal and OAO Mechel have increased output.
Businesses are benefitting from record-low borrowing costs as banks resume lending. The central bank has cut its main interest rates 13 times in as many months to spur credit flows, helping manufacturers and driving household confidence. Lending may grow 15 percent this year, bank Chairman Sergei Ignatiev said on April 9.
Ruble
The ruble slipped 0.3 percent against a basket of dollars and euros to trade at 33.5853 at 4:31 p.m. in Moscow. Russia's RTS Index of the country's 50 most-traded stocks was trading 2.1 percent lower, after a 55 percent gain over the past 52 weeks.
The ruble's real rate is back at pre-crisis levels, Nabiullina said today.
"The Russian economy will continue to recover rapidly in 2010 and 2011," said Odd Per Brekk, the International Monetary Fund's senior representative in Russia. Europe's rescue package, worth almost $1 trillion, designed to counter a spreading debt crisis "has increased the upside potential" to the IMF's forecast for 4 percent growth in Russia's GDP, he said.
A return of economic growth won't prevent inflation from easing to 5 percent this year, central bank First Deputy Chairman Alexei Ulyukayev said. That compares with a 12-year low of 6 percent in April. The economy may grow more than 5 percent this year, while the country's budget deficit probably won't exceed 5 percent of GDP, according to Ulyukayev.
An 88 percent surge in Urals crude prices since the end of 2008 allowed the government last year to increase spending by 27.3 percent. Oil averaged more than $75 a barrel in the first quarter, 70 percent more than during the same period last year.
Energy Boost
Income from oil and gas, which account for about 25 percent of GDP, reached 1.1 trillion rubles in the first four months, or 36 percent of the government's target for the year, Finance Ministry data show.
Russia earns $2 billion in extra revenue every time the price of oil rises by $1, Deputy Finance Minister Dmitry Pankin said last month. The budget deficit may be between 5.2 percent and 5.4 percent of GDP this year, Finance Minister Alexei Kudrin said in Moscow today. That compares with the government's latest official forecast for 6.8 percent.
If oil continues to average higher than $70 a barrel, the deficit may narrow to 4 percent in 2011, Kudrin said. Crude will probably average $76 a barrel this year and next, Nabiullina said.
Higher incomes, a revival in bank lending and stabilizing unemployment are boosting consumer confidence and spending. Consumer demand rebounded last quarter, Nabiullina said. The Economy Ministry said on April 29 it may raise its official forecast for economic growth this year to 4 percent from 3.1 percent.
Last year's record economic slump, which President Dmitry Medvedev has called the "hardest year" since the country's 1998 default, pushed the government into its first budget shortfall in a decade.