Lula to Visit Iran as Chances for Nuclear Deal Fade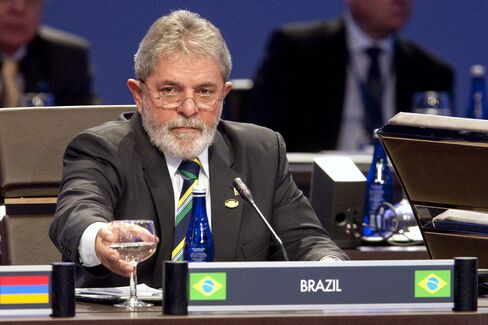 Brazilian President Luiz Inacio Lula da Silva arrives in Iran tomorrow for a visit that he says may revive diplomatic efforts to curb his hosts' nuclear program -- and that the U.S. says should lead to sanctions if it fails.
Lula is making his first trip to the country, after hosting President Mahmoud Ahmadinejad in November, to revive a plan to supply Iran with nuclear fuel and stimulate talks about its program, presidential spokesman Marcelo Baumbach said.
If Lula fails, efforts to engage Iran over its nuclear ambitions should end and pressure for tougher sanctions should intensify, U.S. State Department spokesman Philip J. Crowley said yesterday. "At that point we believe there should be consequences for a failure to respond," Crowley told reporters in Washington.
Lula's outreach to Iran may damage his reputation and hurt his country's bid for a permanent seat on the United Nations Security Council, said Rubens Barbosa, a former Brazilian ambassador to the U.S. The visit follows diplomatic controversies in Cuba and Israel.
French Foreign Minister Bernard Kouchner said Lula was "on the wrong track" and risked being "ensnared" by Iran's deception, according to a transcript provided by his office of a May 7 interview with Rio de Janeiro's O Globo newspaper.
'Touch of Naivete'
"There is a touch of naivete to his good intentions," said Rep. Gary Ackerman, a New York Democrat and member of the House Foreign Affairs committee. "In the end we are going to be just where we were before and he's going to have to seek his legacy elsewhere. I ain't hankering for him to fail, but as a realist I don't see success in the cards."
The Iranian government's refusal to curb its uranium-enrichment program means that the chances of reaching a deal with the country are slim, International Atomic Energy Agency Director General Yukiya Amano said today in an interview in Vienna. The United Nations brokered an offer to exchange nuclear fuel for low-enriched uranium, but the deal has stalled and some countries are losing interest in it, Amano said.
Brazil's economy, Latin America's biggest, has grown at an annual average of 3.6 percent since Lula took office in 2003 compared with 2.3 percent during his predecessor's eight-year tenure. It may expand this year at the fastest pace in a quarter of a century. The central bank expects a record $45 billion in foreign direct investment this year.
"Lula's foreign policy won't change investors' perception of Brazil," said Newton Rosa, chief economist at Sao Paulo- based SulAmerica Investimentos. "Investors see opportunities in an economy that is expanding faster than the rest of the world, and with low risk."
Loans for Iran
Brazilian business executives from the oil, construction and agricultural industries will accompany Lula to Tehran. Trade with Iran has more than doubled to $1.2 billion since Lula took office in 2003. Lula may use the visit to provide Iranians with loans to boost food imports, Baumbach said.
Lula, 64, who is stepping down in January after eight years in office, says direct talks between leaders can do more for peace than pressure tactics backed by the U.S., U.K. and France. They want tougher sanctions on Iran and say its program is aimed at producing a nuclear weapon, something Iranian leaders deny.
President Barack Obama, 48, and leaders from France and Great Britain have "never called Ahmadinejad to talk," Lula told journalists this week in Recife. "I was born a politician and I do business eye to eye."
Mediation Efforts
U.S. Secretary of State Hillary Clinton said today that Lula is "trying to climb a hill" in his efforts to mediate with Iran.
"Iran's senior officials continue to say they will not talk about their nuclear program with us," Clinton said in Washington during an appearance with British Foreign Secretary William Hague. "We are working with the U.K. and other partners on a new Security Council resolution affirming serious consequences should Iran continue to flout its international obligations."
Lula says he wants both Iran and Brazil to enjoy the right to develop a peaceful civilian nuclear program. Sanctions are counterproductive and Brazil has the moral authority to intervene because its 1988 constitution is the only one in the world to ban nuclear weapons, he argues.
The 53-year-old Ahmadinejad, speaking at the UN on May 5, said a lack of trust in the U.S. and other Western powers is the principal reason Iran hasn't concluded an agreement to exchange some of its low-enriched uranium for nuclear fuel that can be used in a Tehran reactor for medical purposes. He said he welcomed mediation efforts by Brazil and Turkey.
Domestic Support
At home, Lula has an approval rating of 83 percent according to a March Ibope poll of 2,002 people commissioned by the country's industrial confederation and with a 2 percentage point margin of error. Abroad, the reaction hasn't always been so positive.
On a March trip to Israel, he was snubbed by Foreign Minister Avigdor Lieberman for laying a wreath at Palestinian leader Yasser Arafat's grave without visiting the tomb of Zionist founder Theodor Herzl. Lula meets quarterly and is building an oil refinery with Venezuelan President Hugo Chavez, who calls Ahmadinejad a fellow "gladiator of the anti-imperialist battle" against the U.S.
On a February trip to Havana, he was photographed embracing Cuba's Fidel Castro, and ignored a request to meet with dissidents mourning the death of activist Orlando Zapata Tamaya from a hunger strike. Lula, who was briefly jailed for fighting Brazil's 1964-1983 military dictatorship, compared the dissidents to "criminals," according to the transcript of a March 9 interview with The Associated Press.
UN Council
Lula's "south-south" foreign policy, while popular with members of his Workers Party dissatisfied with his record for pragmatism in economic policy, weakens Brazil's bid to join the UN Security Council permanently, said Barbosa, who was ambassador to the U.S. from 1999 to 2004.
"People will start to ask which side Brazil is on," said Barbosa in a phone interview from Sao Paulo. "Who decides on the reform of the Security Council are the five permanent members with a veto. If you fight them, they won't put you there."
Before it's here, it's on the Bloomberg Terminal.
LEARN MORE