GM India to Add China-Developed Light Trucks on Urban Growth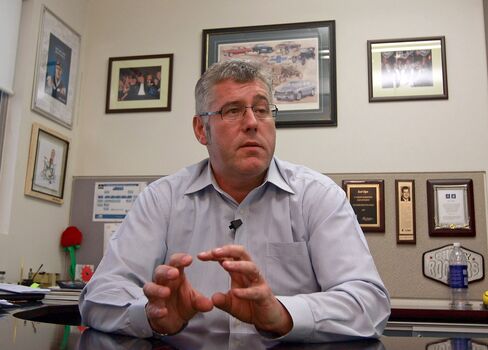 General Motors Co.'s India unit plans to introduce light trucks developed in China by the end of 2011 as economic development and expanding cities spur road haulage in the world's second-most populous nation.
"I see a large growth opportunity for this segment," Karl Slym, GM's India head, said in a May 12 interview at his office in Gurgaon, near New Delhi. "A lot of hub-and-spoke delivery systems have to be put in place as the number of metros grow."
Chinese models may help GM compete with Mahindra & Mahindra Ltd. and Tata Motors Ltd. in India's 1-ton truck market, which could expand as much as 15 percent a year, according to Slym. GM has access to low-cost vehicles, including minivans that sell in China for as little as $4,000, after injecting India operations into a 50-50 venture with Shanghai-based SAIC Motor Corp.
"Partnering with the Chinese is a very good strategy," said Puneet Gupta, an analyst at CSM Worldwide Inc. "This is a segment where consumers are not very brand conscious if they can get a good product at a good price."
Indian sales of trucks of less than 3 tons may reach 350,000 in 2016 from about 200,000 in 2009, he said.
GM India, which more than doubled April car sales from a year earlier, presently has no commercial vehicles on offer, Slym said. In China, the automaker and SAIC control the nation's largest minivan maker, SAIC-GM-Wuling Automobile Co., which boosted sales 64 percent last year to 1.1 million vehicles.
The partners own the GM India operations through a Hong Kong-based venture, Slym said. They may eventually expand cooperation to other markets using a similar model, he said, without elaboration.
Production Plans
In India, GM eventually plans to make light trucks at a plant in Halol, Gujarat state, which has the capacity to build 85,000 vehicles a year, Slym said. Initially, production will take place in Talegaon in Maharashtra state at a factory that makes models including Chevrolet Beat cars and Tavera sport- utility vehicles.
The carmaker will also start building engines in Talegaon from November and open a stamping plant in January, Slym said. The engine plant will have an initial capacity of 160,000 units a year, which may later be raised to 300,000, Slym said.
GM plans to expand its number of car dealerships in India to about 300 this year from around 200, Slym said. The automaker already gets about half of sales in rural areas, and it expects that about 60 percent of new outlets will be in towns of 500,000 people or less, Slym said.
The carmaker sold 10,601 vehicles in India last month, helped by the January introduction of the Beat small car. Volkswagen AG and Ford Motor Co. have also added small cars in India this year, challenging Maruti Suzuki India Ltd. The Suzuki Motor Corp. unit sells about 50 percent of all cars in India.