Euro Falls to Lowest Since Lehman as Breakup Concern Increases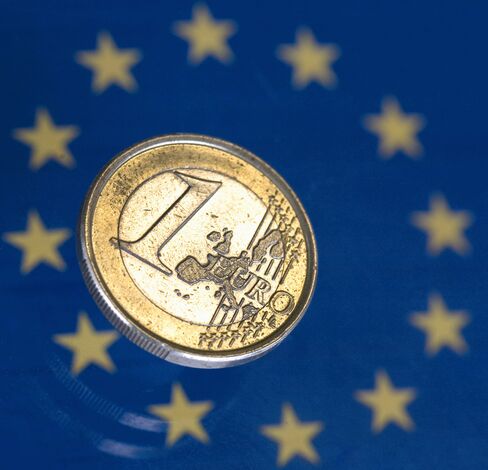 May 14 (Bloomberg) -- The euro fell to its lowest level since the collapse of Lehman Brothers Holdings Inc. on concern that the 16-nation currency may be headed for disintegration.
The shared currency fell through $1.24 for the first time since November 2008 as German Chancellor Angela Merkel said that Europe is in a "very, very serious situation." El Pais reported that France threatened to leave the euro during talks that led to this week's almost-$1 trillion bailout. The yen rose against its most-traded counterparts, including Brazil's real and the Australian dollar, as oil retreated for a fourth day and equities fell. Gold reached an all-time high.
"There are fundamental questions about the euro's survival," said Samarjit Shankar, a managing director for the foreign-exchange group in Boston at BNY Mellon, the world's largest custodial bank, with more than $20 trillion in assets under administration. "Emotions are running very high. Investors are coming around to fact that all the belt-tightening measures put forth by euro zone countries will have a huge impact on growth not only in Europe but around the world."
The euro decreased 1.3 percent to $1.269 at 4:12 p.m. in New York, from $1.2535 yesterday. It touched $1.2359, the lowest level since October 2008. The common currency fell 1.7 percent to 114.27 yen and touched 113.51, the lowest level in over a week, from 116.27. The dollar traded at 92.41 yen, from 92.75.
Stock Markets
The Aussie fell 1.6 percent to 81.82 yen and the real declined 2 percent to 51.320 yen on speculation investors reversed carry trades that had profited from Australia's 4.68 percent one-month deposit rate and Brazil's 9.5 percent central bank rate.
Japan's benchmark rate of 0.1 percent makes the yen a popular funding currency for such trades. Such strategies lose money as the funding currency gains because it costs more to repay the loan.
Spain's IBEX 35 index of stocks slumped 6.6 percent, the most since October 2008, to 9,314.7. The Standard & Poor's 500 Index fell 1.9 percent to 1,135.68. Crude oil for June delivery fell as much as 4.8 percent to $70.83 a barrel on the New York Mercantile Exchange. That's the lowest price since Feb. 8.
Gold reached an all-time high of $1,249.70 an ounce in New York, while bullion advanced to all-time highs in euros, Swiss francs and British pounds.
Success Not Guaranteed
"The stock market is down, commodities are following suit," said Fabian Eliasson, head of U.S. currency sales at Mizuho Financial Group Inc. in New York. "People are selling the euro across anything and buying the yen across anything."
Europe's currency has fallen 3 percent this week versus the dollar and decreased 2.2 percent against the yen on concern the region's most-indebted nations will struggle to contain deficits even after policy makers provided a bailout.
Merkel, speaking today at a panel discussion by Phoenix television, said that success is not yet guaranteed. Asked about disagreements with EU partners, she said that "some arguments are worth it," without elaborating.
The German chancellor's comments followed a report from El Pais that French President Nicolas Sarkozy threatened to pull out of the euro unless Merkel agreed to back the European Union's bailout plan at a meeting last weekend in Brussels, citing comments Spain's Prime Minister Jose Luis Rodriguez Zapatero made at a meeting of socialist politicians. The Madrid-based newspaper didn't say how it obtained the information. Aides to Sarkozy, Merkel and Zapatero all denied the report.
'A Form of Meltdown'
Yields on 10-year Greek government bonds touched 8.015 percent, the highest since Europe announced the rescue plan this week, after Moody's Investors Service said there is a "greater than" 80 percent chance it will cut its rating on Greece's debt again as the government struggles to push through measures to reduce its budget deficit.
The euro has lost 9 percent this year, according to Bloomberg Correlation-Weighted Indices. The dollar has gained 7.1 percent and the yen has advanced 8 percent.
UBS AG said the euro will reach $1.15 by December and $1.10 by the end of 2011, in a report dated yesterday, trimming its previous forecasts for the currency to trade at $1.30 and $1.25, respectively.
ING Groep NV lowered its year-end prediction to $1.15 from $1.25, Chris Turner, head of foreign-exchange research in London, wrote in a research note today. Capital Economics Ltd., a London-based research firm, said the euro will reach $1.10 by the end of 2010, in a report dated today, trimming its previous forecast for the shared currency to trade at $1.20, and reach $1 by the end of 2011.
"The big level is the low from the Lehman Brothers crisis at $1.2330," said Andrew Chaveriat, a technical analyst at BNP Paribas SA in New York. "If the Greek crisis equals the Lehman crisis we could be going back to $1.1335." Lehman filed for bankruptcy on Sept. 15, 2008.
U.S. Treasury Secretary Timothy F. Geithner said he's confident European policy makers will contain the continent's sovereign-debt crisis without harming America's economy or financial markets.
"Europe has the capacity to manage through this," Geithner said in an interview today on Bloomberg Television's "Political Capital With Al Hunt." "They've committed to fix this problem. And again, I think they have the ability to do that, and I think they will."
To contact the reporters on this story: Ben Levisohn in New York at blevisohn@bloomberg.net.
To contact the editor responsible for this story: Dave Liedtka at dliedtka@bloomberg.net