EMI Says Guy Hands Wins Investor Backing for EMI Cash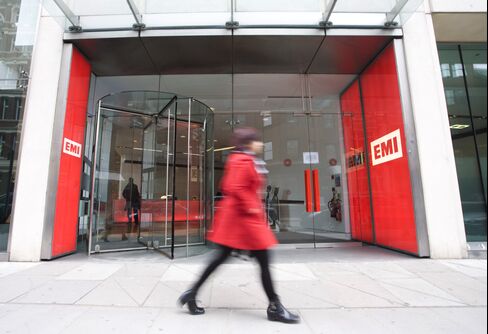 May 14 (Bloomberg) -- EMI Group Plc, the 79-year-old record company of The Beatles, was given a lifeline after investors agreed to inject enough cash to maintain banking agreements.
Guy Hands's Terra Firma Capital Partners Ltd. will put more cash into the label, EMI said in a statement today. The investment will take place by June 14 and Citigroup Inc., the principal lender, has been informed. No further details were disclosed.
"Even if Guy Hands has bought more time, it's only to make EMI a more appealing acquisition in the future," said Mark Mulligan, a music industry analyst at Forrester Research Inc. in London. "That's what we're talking about, buying extra time for someone to swallow them up."
Hands bought EMI for 4 billion pounds ($5.8 billion) at the height of the buyout boom in 2007 and had to convince investors to inject new capital after breaking covenants. Since the purchase, Paul McCartney, Radiohead and the Rolling Stones have left the label, and Queen is taking its recorded music contract to rival Universal Music Group.
Without today's funding, EMI could have ended up in the hands of Citigroup. There was speculation in recent months that Warner Music Group Corp., the label of Green Day and Metallica, was interested in acquiring all or part of EMI. New York-based Warner Music made way for Hands to buy EMI after abandoning a takeover in July 2007. Warner's Chief Executive Officer Edgar Bronfman Jr. said in February that regulatory hurdles shouldn't stop his company from buying EMI.
Compact Disc Sales
Terra Firma investors voted this week on whether to put more money into EMI after the label breached its loan covenants in March. Hands needed 75 percent of his backers to approve the plan to retain control of the record company.
Money raised came from current investors in Terra Firma and no outside funds were involved, a person familiar with the matter said. The person declined to be identified because the talks were confidential.
EMI's challenges come as of the music industry grapples with declining CD sales amid piracy and a shift in consumer preference for digital downloads. U.S. compact disc sales fell 65 percent from 2000 to 2009, according to SoundScan.
"Regardless of financing, the structural challenges for EMI remain," Mulligan said. "They continue to have a wholly insufficient U.S. footprint, they have a key challenge on the conversion from physical to digital and there's the big issue over staff turnover."
Low Morale
Still, the cash will allow EMI to meet its debt agreements until March, according to an April 27 presentation to investors. Hands is also trying to raise 255 million pounds to help EMI meet its covenants until March 2015, the document showed.
A long-term business plan was sent to investors last month to help secure the funding.
Hands last year asked Citigroup to cut EMI's debt by about 40 percent in return for a 1 billion-pound cash injection from Terra Firma. The bank spurned the offer because it would have been forced to write off some of the debt without getting an equity stake in EMI, said a person familiar with the talks at the time.
In December, Hands filed suit against the bank, saying it tricked Terra Firma into buying EMI in 2007. In February, after posting a 1.5 billion-pound annual loss on impairment charges, a letter to Hands from former EMI Chief Executive Officer Elio Leoni-Sceti was filed in court documents that said morale at the company had reached a low and that artists were questioning whether to stay.
Leoni-Sceti left EMI on March 31 and Allen was named as executive chairman.
To cut debt, EMI had considered selling Abbey Road Studios, where the Beatles recorded most of their songs, only to withdraw the plan after a public outcry led to the site being put on a protected list by English Heritage.
Queen agreed to a contract with Universal Music, after almost four decades with EMI, two people familiar with the matter said this week. Publishing rights for Queen will remain with EMI.
Paul McCartney last month struck a deal with independent record label Concord Music Group that took his solo work away from EMI. Pink Floyd has also been in talks with other record companies about leaving EMI, people familiar with the matter said in March.
To contact the reporter on this story: Kristen Schweizer in London at kschweizer1@bloomberg.net.
To contact the editor responsible for this story: Vidya Root at vroot@bloomberg.net.