Warhol Sells for $32 Million, Rothko $31 Million at Sotheby's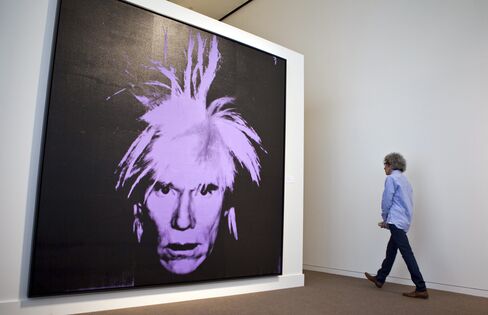 Fashion designer Tom Ford sold a purple, 9-foot-square, 1986 Andy Warhol "Self-Portrait" for $32.6 million tonight, as Sotheby's New York contemporary-art auction had a buoyant start.
The Warhol's high presale estimate was $15 million. Mark Rothko's nearly 8-foot-tall 1961 "Untitled," estimated for $18 million to $25 million, went for $31.4 million.
The evening auction had a presale range of $113.8 million to $161.8 million. The fashion designer Valentino Garavani and investor Nicolas Berggruen were among the notables in the salesroom.
Last night at Christie's, a Jasper Johns painting of the American flag from the estate of author Michael Crichton sold for a record $28.6 million, leading a $231.9 million sale.
Before it's here, it's on the Bloomberg Terminal.
LEARN MORE