Senate Adopts Plan to Reduce Credit-Rating Conflicts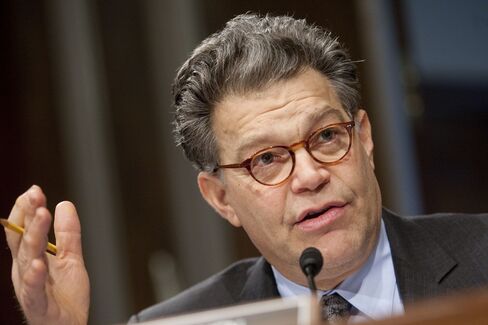 The U.S. Senate approved a proposal to let regulators decide who rates asset-backed securities after investors said Standard & Poor's and Moody's Investors Service inflated assessments of mortgage bonds because the companies were paid by Wall Street firms selling the debt.
The Senate backed an amendment to the financial overhaul legislation in a 64-35 vote today that created a ratings board overseen by the Securities and Exchange Commission. The panel would assign a credit-rating company to evaluate an offering.
"There is a staggering conflict of interest affecting the credit-rating industry," said Senator Al Franken, a Minnesota Democrat, who offered the amendment. "Issuers of securities are paying for the credit ratings. They shop around for their ratings."
Public pension funds blame S&P, Moody's and Fitch Ratings for helping cause the global financial crisis by assigning top rankings to mortgage-linked securities that blew up when the housing market collapsed in 2007. Lawmakers and regulators have debated for three years how to reduce conflicts at the companies.
Shares of Moody's and McGraw-Hill Cos., the parent company of Standard & Poor's, tumbled on the news. Moody's fell as much as 6.8 percent to $20.77, a decline of $1.52, in New York Stock Exchange composite trading. Moody's closed at $21.70, down 2.7 percent. McGraw-Hill dropped as much as 4 percent to $28.75, before ending the day at $29.23, off 2.4 percent.
Investors on Board
Financiere Marc de Lacharriere SA, the Paris-based owner of Fitch Ratings known by the acronym Fimalac, was unchanged in after-market trading in Paris.
Under Franken's amendment, the SEC would determine the size of the board. The majority of members would be investors, at least one member would be from a credit-rating company and at least one would be from an investment bank.
The board would conduct an annual assessment of each credit-rating company to scrutinize the firm's accuracy in grading debt compared with competitors, according to the amendment. While credit-rating companies would set fees, the SEC would have authority to ensure payments are "reasonable."
Before the credit-rating board plan can become binding, lawmakers must approve a broader financial reform measure, which President Barack Obama would then sign.
Removing References
The Senate also supported an amendment offered by Florida Senator George LeMieux that would remove references to credit ratings in some federal rules. Deleting ratings from government regulations would reduce investors' "dangerous over-reliance" on the assessments, said LeMieux, a Republican.
"Moody's supports the goals of enhancing the transparency and accountability of the ratings process," spokesman Michael Adler said in an e-mailed statement. "We are hopeful that the final legislation will achieve these goals while avoiding unintended consequences for market participants."
S&P said the Franken amendment would have unintended consequences.
"Credit-rating firms would have less incentive to compete with one another, pursue innovation and improve their models," said Chris Atkins, an S&P spokesman. "This could lead to a more homogenized rating opinion and, ultimately, deprive investors of valuable, differentiated opinions on credit risk."
"Market participants may question whether legislation that leads to transactions having only one rating, assigned randomly, is consistent with recent regulatory efforts to promote competition in the ratings market and with the concept of greater diversity of credit opinions in the market," Fitch Ratings spokesman David Weinfurter said in an e-mailed statement.