Ruhl's 'Passion' Brings Jesus to Reagan-Era U.S.: Jeremy Gerard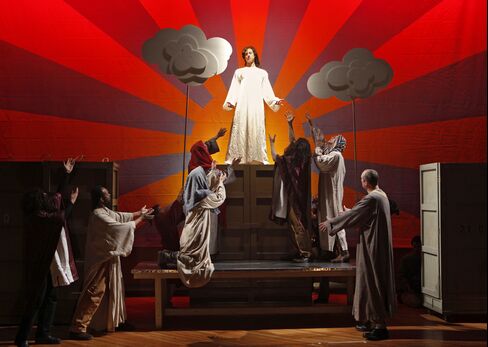 Late in "Sarah Ruhl's Passion Play," Jesus peers down from the cross and asks his director, "So how do you want me to play this scene?"
With walk-ons by Adolf Hitler and Ronald Reagan, and free wine and bagels at each of the two intermissions, the 3 1/2-hour show offers an unorthodox yet weirdly nourishing take on the rite of communion.
Ruhl, who recently focused her passion on vibrators in "In the Next Room," has written an engrossing triptych of plays that recalls Greek iconography and Hollywood sitcoms, as a motley mix of villagers from three centuries struggles to perform the Passion of Christ.
Part 1 is set in 16th-century England, when Queen Elizabeth is about to shut down all religious performances.
Part 2 is set in 1934 in the Bavarian town of Oberammergau, whose Passion Play has become the ne plus ultra of such performances, heavy on the malign characterizations of beady-eyed, blood-thirsty, horned Jews. It's a special day because that rising politician with the push-broom mustache is in the audience.
Tourist Attraction
Part 3 is set in Spearfish, South Dakota, which has started up its own Passion Play to attract tourists. This section begins during the Vietnam War era, carries through to Reagan's "Morning in America" campaign and ends in the present.
As one might expect, the Passion onstage is little match for the passions off, as various Marys (both Jesus's mother and Magdalene) get impregnated by various Jesuses; a politically correct Pontius Pilate insists on removing Jews from the picture altogether, and village idiots spout universal truths.
Ruhl deftly explores the changing (or unchanging) role of women, the insidiousness of anti-Semitism and the power of story-telling. Only in the third part does the work derail, veering into anti-Republican, antiwar screed with a familiar, if no less heart-breaking, local hero who returns, shattered, from Vietnam.
Director Mark Wing-Davey gets committed performances from his time-traveling leads: Hale Appleman, the compassionate, buff Jesus; Kate Turnbull, the compelling, available Mary; and Dominic Fumusa, charismatic as the evolving Pontius.
No Razzle-Dazzle
The show is presented, aptly, at the Irondale Center, a cathedral space in a church in Fort Greene, Brooklyn, converted to use by various groups, in this case the Epic Theatre Ensemble. (It's near the Brooklyn Academy of Music and easy to get to from Manhattan.)
The ingenious sets by Allen Moyer and Warren Karp consist mostly of big lockers on wheels that move and open to suggest homes, churches, stages and other locations. The bridge-chair seating will test your patience, but there's an everything bagel and a cup of wine waiting for you at the next break.
Through May 30 at 85 Lafayette St., Brooklyn. Information: http://www.passionplaynyc.com Rating: ***
What the Stars Mean:
****       Do Not Miss
***        Excellent
**         Good
*          Poor
(No stars) Worthless
(Jeremy Gerard is an editor and critic for Bloomberg News. The opinions expressed are his own.)