Orban Keeping Budget Pledge May Hurt Hungarian Assets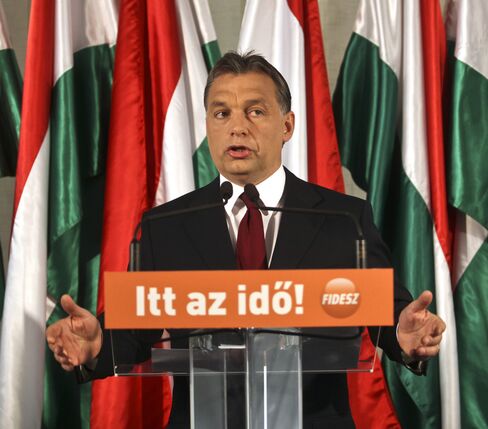 May 14 (Bloomberg) -- Hungary's currency and bonds may weaken on investor concern the new government will widen the budget deficit as the Greek crisis pushes the European Union to cap shortfalls.
Prime Minister-designate Viktor Orban may ask the EU and International Monetary Fund, which provided the bulk of a $27 billion bailout for Hungary, to let him ease fiscal controls to boost growth after the worst recession since 1991, strategists at BNP Paribas SA and Budapest Investment Management said.
Orban's Fidesz party, which swept to power in elections last month and will take over in about two weeks, predicted during the election campaign that this year's shortfall may be double the previous government's target of 3.8 percent of gross domestic product because it's based on false figures. Economy Minister-designate Gyorgy Matolcsy is trying to persuade lenders to allow a gap of as much as 6 percent this year.
"Most of the investor community was just thinking this was pre-election rhetoric that would never be applied," Elisabeth Gruie, a London-based strategist at BNP Paribas, said in a phone interview yesterday. "We're having second-thoughts. This is a period of tentative risk appetite and the market will be quick to punish any expansionary budget policy."
The forint, which fell 4.1 percent against the euro in the past month, may decline a further 5 percent over the next month, Gruie said. The forint traded at 273.5 per euro at 9:41 a.m. in Budapest today. The yield on the benchmark three-year bond has fallen 73 basis points since mid-November.
"The impact on bond yields is much more muted as there are entrenched deflationary pressures on the economy which will compensate any budget-related sell-off," she said.
Euro Crisis
The IMF and EU have said the 3.8 percent target is attainable.
Investor concern about the prospect of a wider deficit is magnified by the euro area's fiscal crisis, which prompted the European Commission to urge members to "toughen" budget rules. The risk of contagion from Greece's crisis forced euro area leaders to adopt an almost $1 trillion aid package last week.
Germany, which is contributing the largest portion of a 110 billion-euro ($138 billion) bailout for Greece, is skipping plans to cut taxes to focus on debt reduction, Chancellor Angela Merkel said May 10 after losing a state election.
The EU, under procedures to curb excessive deficits, gave Hungary until next year to narrow its budget gap to 3 percent or face potential sanctions, including a suspension of grants. Matolcsy this week said the country needs to cut taxes from July 1 to accelerate growth.
'No Point'
"The government can say it's gutsy and can widen the budget deficit but there's no point taking the risk now," Daniel Bebesy, who helps manage $1.5 billion, mostly in Hungarian government bonds, at Budapest Investment Management, said by phone. "We see how difficult it is to stop the slide once the market loses its confidence."
Bebesy has "continuously reduced" holdings of Hungarian government bonds, he said, adding that Matolcsy's plan to reduce the budget gap by as much as 1 percentage point annually from next year "doesn't appear too ambitious."
The government needs pro-growth policies to exit a "debt trap" that made Hungary "one of the world's 10 most vulnerable" economies, Matolcsy said May 3. Government debt is set to reach 79 percent of gross domestic product this year, according to the European Commission, making it the bloc's most indebted eastern member.
Austerity Years
Hungary has cut spending since 2006, reducing the deficit to 4 percent of GDP last year from a record 9.3 percent four years ago. The government of outgoing Prime Minister Gordon Bajnai, in office for a year, reduced expenditures by 1.3 trillion forint ($6 billion) to restore confidence in the currency, which strengthened 14 percent from a record low on March 6 last year.
The forint will probably underperform other emerging-European currencies, because of fiscal risks and the new government's intensifying conflict with the central bank, Gabor Ambrus, a Sofia-based analyst at 4Cast Ltd., said in a note.
Magyar Nemzeti Bank President Andras Simor, his two deputies and the four outside members of the rate-setting Monetary Council should resign because of "policy mistakes" that included allowing increased use of foreign-currency loans in recent years, Matolcsy said this week.
Simor last week said the chances of the EU approving a wider deficit goal for next year were "doubtful" and urged the government to follow "very conservative" fiscal plans to convince markets the country can "outgrow" its debt.
"Markets have so far been overwhelmed by the external pressure back and forth, but should these abate and local factors carry market weight again, we expect the forint's underperformance to be more pronounced," Ambrus at 4Cast said.