Jets Won't Discount Stadium-Seat Licenses More, Johnson Says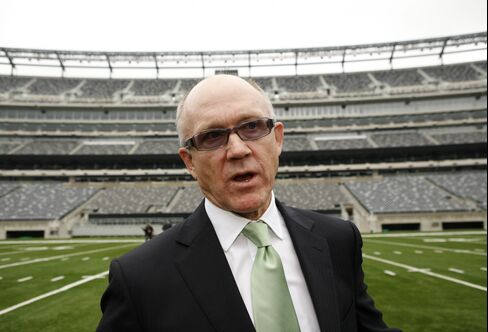 May 13 (Bloomberg) -- The New York Jets are finished discounting game tickets and seat licenses in their new $1.6 billion stadium and won't sell licensed seats on a game-by-game basis, team owner Woody Johnson said.
Johnson said he was "extremely confident" the National Football League team would sell out the licenses and the stadium long before facing television blackouts required by the U.S.'s most-watched television sport if home stadiums aren't full.
"I'd like to sell every ticket I have in one day," he said in a telephone interview. "But it's not bad considering everyone's not focused on football right now."
The team won't sell tickets for seats that require licenses on a game-by-game basis because that corrupts the value of the licenses, Johnson said.
He declined to comment on how many seat licenses remain unsold. The New York Post, citing an unidentified person in the NFL, said 17,000 remained for Jets games.
The new stadium in East Rutherford, New Jersey, has 82,500 seats, with all but the 27,000 in the upper bowl requiring some kind of purchase license.
Matt Higgins, the team's executive vice president for business operations, said the team was offering incentives such as giving Bon Jovi concert tickets to Facebook fans who buy licenses before tomorrow as the team attempts to sell out the stadium in advance of its inaugural 2010 season.
"Clearly, we have tickets or we wouldn't be running ads," Higgins said. "Most of them are in the end zones, which is what we expected at this point in the process, but there are still some great seats available."
Prices Cut
The Jets lowered the price of tickets and seat licenses on about 6,400 lower level seats near the goal line in February. Higgins at the time called that "our last section of softness." Seat licenses in the goal-line sections fell to $6,000 and $7,500 from $10,000, with game tickets dropping to $125 from $140.
Johnson said those seats are almost sold out.
"Those were mispriced," he said. "We're done with the pricing changes, because we think everything else in the building is fairly priced."
The New York Giants, who will share the stadium with the Jets, have fewer than 1,500 club-seat licenses remaining after increased sales in the past month driven by interest in the league's draft and other team activities, according to Pat Hanlon, a team spokesman.
"The one thing we have found is that many assume we are sold out and we are not," Hanlon said in an e-mail. "So we are going to make a final push so anybody who is interested has a chance to buy before we are sold out."
Opening Games
Hanlon said that having the stadium open for events including soccer and lacrosse games also helps sales and the Giants are confident they will sell the remaining licenses before opening day. The Giants will open on Sunday, Sept. 12, and the Jets will begin the regular season in the stadium the following night.
Johnson said sales will increase as that weekend approaches.
"We're coming into that time where there's that focus on football," he said. "Training camps start. Excitement is going to start building. I think all of this will work for us."
To contact the reporter on this story: Aaron Kuriloff in New York at akuriloff@bloomberg.net.
To contact the editor responsible for this story: Michael Sillup at msillup@bloomberg.net.