Banks Embrace 'Extend and Pretend' as U.S. Hotels Await Rebound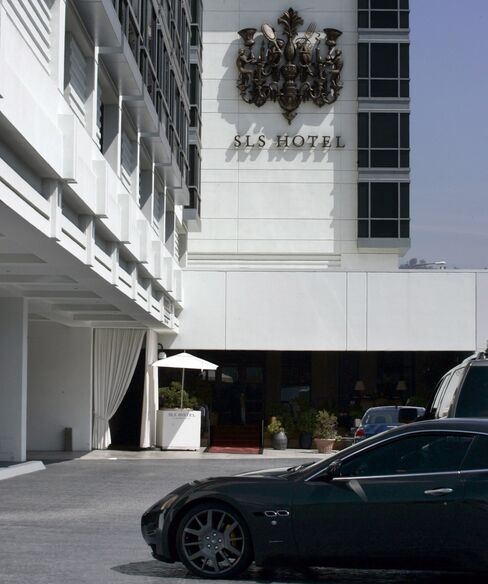 A year ago, Sam Nazarian was concerned bankers wouldn't rework the mortgage on his SLS Hotel at Beverly Hills after the recession cut occupancy and the luxury property lost money.
"There was a point in time when getting a lender on the phone to talk restructuring was very challenging," said the Los Angeles nightclub owner and hotelier, who has played himself on the HBO series "Entourage" and has a house next to actor Leonardo DiCaprio's in the Hollywood Hills.
The talks heated up in November as the loan's maturity loomed, and within three months Nazarian had a three-year extension on $137 million of debt. He's among a growing number of hotel investors, including Blackstone Group LP and Ashford Hospitality Trust Inc., to find that lenders are increasingly willing to redo loans often backed by struggling properties rather than risk taking an immediate loss.
"I have banks who have told me that they are less likely now to take back an asset as we begin to see some positives in the economy, the unemployment rate going down a bit, consumer spending ticking up," said Robert T. O'Brien, U.S. leader of consulting firm Deloitte Real Estate Services in Chicago. "Because it will make it more likely that they can work it out with their current borrower until values return."
While Nazarian kept up with his mortgage, lenders are also cutting deals with delinquent borrowers or those whose property is worth less than their loan. The trend is called "extend and pretend" by people such as Randall Zisler, managing director of Zisler Capital Associates LLC, who say lenders may be postponing inevitable losses on owners swamped by debt taken on during the commercial real estate boom of 2002 to 2007.
Cost Avoidance
"We engorged ourselves, and now we're passing the bill around the table," Zisler, whose investment and advisory firm is based in Marina del Rey, California, said in an interview at Bloomberg's Los Angeles offices.
Lenders and owners restructured $10.5 billion of troubled debt during the first quarter, up from $2.2 billion a year earlier, according the Ben Thypin, senior market analyst at Real Capital Analytics Inc. in New York. Such deals accounted for 49 percent of newly troubled and foreclosed commercial properties in the first quarter, compared with 13 percent in the first quarter of 2009.
The research and consulting firm defines restructurings as those in which loan terms have been modified, the lender remains in that role and the owners retain a majority stake in the property.
While hotels have been a main beneficiary of lenders' willingness to redo loan terms, a 40 percent decline in commercial real estate values since the 2007 peak is also squeezing owners of office buildings, malls and apartments. Brack Capital Group last year won an extension for its Axis at Brickell Village condominium complex in Miami.
An estimated $1.4 trillion in commercial mortgages will mature through 2014, according to Deloitte's O'Brien.
Difficulties Ahead
"We estimate that 65 percent of those would have difficulty to be refinanced, which could mean extensions for many of them," he said in a telephone interview. "The banks and other real estate lenders are concerned about the risk and cost of foreclosing."
Lenders are also granting longer extensions, he said. By the fourth quarter, many repayments were being put off anywhere from two years to seven years, compared with about 30 days to 60 days earlier in 2009.
Foreclosing can be more costly than reworking a loan, according to Jim Sullivan, an analyst with research and consulting firm Green Street Advisors Inc. in Newport Beach, California. If a property's value slips below the amount owed, the lender needs to increase the cash held in reserve. A foreclosure means even more money must be set aside.
Tehran to California
Banks also don't want to hassle with trying to unload properties they take over.
"They would prefer to avoid selling into this market if at all possible, since doing so would likely result in realizing a loss," Real Capital's Thypin said in a telephone interview.
"Banks have been a lot more proactive," said Nazarian, the 34-year-old chief executive officer of SBE, which owns the SLS brand.
Nazarian, who was born in Tehran and moved with his family to Los Angeles after Iran's 1979 revolution, bought the hotel for $88 million in 2005. Credit Suisse Group AG, Switzerland's second-biggest bank, provided $114.5 million for the acquisition and renovations of what had been Le Meridien.
Two years later, Nazarian refinanced, with the senior loan divided into three parts -- a $70 million fully securitized portion by Credit Suisse, a $19.7 million note held by Brookfield Asset Management Inc. and a $24.5 million note held by Orix Capital Markets. Washington Holdings took a mezzanine loan of $22.9 million.
Renovations, Recession
A portion of the $137 million funded renovations that closed the hotel, which is operated by Starwood Hotels & Resorts Worldwide Inc. of White Plains, New York, for much of 2007 and 2008. Nazarian added a rooftop pool overlooking the swank Los Angeles neighborhood, a spa and a four-star restaurant.
His family owns the SLS at Beverly Hills real estate through Nazarian Enterprises, headed by Nazarian's brother, David Nazarian.
The overhaul cut occupancy at the 297-room luxury property, which also features two lobbies, one exclusively reserved for guests. In October 2009, with maturity a month away and restructuring talks still unresolved, the loan was transferred to Orix Capital as special servicer, Nazarian said.
Nazarian began negotiating with the lender group at the end of last year. Talks were challenging because "everybody in the whole CMBS stack has to agree on how to restructure," said Nazarian, referring to the holders of the commercial mortgage-backed securities created from his loan. The hotel's market value remained above the amount he owed.
Hilton, Ashford
As part of the restructuring, Nazarian committed to pay down the loan by $13.5 million -- $9.5 million at closing and $4 million by February 2011.
Officials at Zurich-based Credit Suisse, Brookfield Asset Management of Toronto and Dallas-based Orix declined to comment.
"Even if the loan exceeds the current value of the property, if the borrower is paying its debt service regularly, lenders have been told explicitly by regulators that they can treat it as if it's performing," said Green Street Advisors' Sullivan.
Bondholders also have committed to refinancing. Hilton Worldwide, the hotel chain owned by New York-based Blackstone, last month completed a deal to reduce debt by almost $4 billion and extend the maturity by two years.
Wait for Recovery
A recovery of the U.S. hotel industry isn't likely until 2011 because room rates are down and commercial real-estate values have plunged, Fitch Ratings said in December. Net occupancy will decline 0.2 percent this year as the addition of rooms will outpace demand, according to estimates by Smith Travel Research Inc. of Hendersonville, Tennessee.
Ashford Hospitality last month announced it had restructured a $157 million loan with Aareal Bank AG that is secured by the Hilton LaJolla Torrey Pines and the Capital Hilton. The modification extends the loan to August 2013. In exchange, Ashford, a Dallas-based hotel real estate investment trust, agreed to reduce the balance by $2.5 million at closing and another $2.5 million over the next 12 months, the company said on April 5.
"Banks don't want to take back assets," Alan Tantleff, managing director in New York of Hotel Asset Value Enhancement, an asset-management advisory firm, said in March at an industry conference in Atlanta. "Not only do they make bad owners, but assets lose value in the foreclosure process."
Brickell Village
Societe Generale SA, the Paris-based bank, in March 2009 gave Brack Capital a two-year extension on a $183.5 million loan until September 2011 to sell the already completed 718 condominium units at Axis at Brickell Village, a high-rise building complex in the Brickell district of Miami, according to Real Capital Analytics data. At the time of the extension, 174 units had been sold.
Brack founder Shimon Weintraub, based in Israel, didn't respond to an e-mail seeking comment. Jim Galvin, a Societe Generale spokesman, declined to comment.
Regulations enacted in the fourth quarter are enticing banks to restructure, according to Andrew Florio, an analyst at Real Capital Analytics.
A regulatory directive by the U.S. Federal Reserve in October allowed lenders with current loans worth more than the underlying property to split up the debt and increase backup funds for only a portion of the loan, according to Green Street's Sullivan.
CMBS Trusts
The same month, the Internal Revenue Service changed the Real Estate Mortgage Investment Conduit rules, which are the guidelines that govern CMBS trusts, allowing certain commercial-mortgage borrowers to modify and restructure their securitized loans without triggering tax penalties. The new rules make it possible for loans to be transferred to special servicers prior to default.
Preceding the rule change, the special servicers, which hold the power to modify, extend or liquidate CMBS loans, weren't able to initiate the workout process until the loan was already in default, according to Florio.
"Now that the workout process can begin before the loan defaults, there is less motivation on the lenders' side to liquidate, since in many cases they're still receiving payments," said Florio.