U.S. Stocks Fall as Banks, Retailers Decline; Cisco Retreats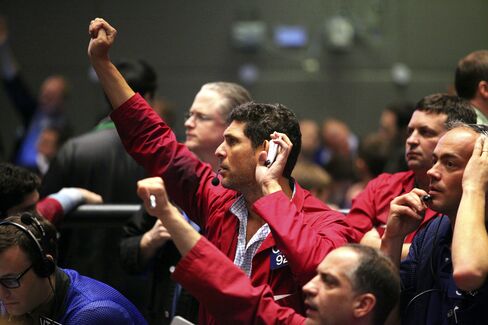 U.S. stocks fell, led by banks and technology companies, on reports that more mortgage-bond deals are being scrutinized by prosecutors and an earnings forecast from Cisco Systems Inc. that disappointed some investors.
Citigroup Inc. and Moody's Corp. helped lead declines in financial shares. New York prosecutors are probing eight firms over whether they misled ratings companies about mortgage-backed securities, according to a person familiar with the matter. Cisco, the biggest maker of networking equipment, fell 4.5 percent. Kohl's Corp. dropped 5.8 percent after its full-year profit forecast trailed analyst estimates.
The Standard & Poor's 500 Index retreated 1.2 percent to 1,157.44 at 4 p.m. in New York. The Dow Jones Industrial Average declined 113.96 points, or 1.1 percent, to 10,782.95. The benchmarks yesterday recovered the remainder of their losses on May 6, when the S&P 500 fell as much as 8.6 percent amid a widening sovereign-debt crisis in Europe.
"It's a dichotomy between tech and telecom, which are being held up by Sybase and rumors of takeovers, and financials, which are being dragged down by the criminal investigation and continuing uncertainty around the euro," said Richard Campagna, chief executive officer of 300 North Capital LLC in Pasadena, California, which manages $600 million.
Downgrades in Europe
Last week's 6.4 percent decline by the S&P 500 was the biggest in 14 months, and it pared the index's rebound from a 12-year low in March 2009 to 64 percent. The European Central Bank unveiled an almost $1 trillion financial-aid package this week, including a plan to buy government and private debt, after downgrades of Greece, Spain and Portugal made investors wary of investing in the region.
Citigroup, the bank 27 percent owned by the U.S. government, fell 2.2 percent to $4.09. Moody's, whose Moody's Investors Service unit issues credit ratings, dropped 2.7 percent to $21.70.
New York Attorney General Andrew Cuomo is investigating eight banks over whether they misled agencies that rated mortgage securities, a person familiar with the matter said. Bank losses stemming from the collapse of the U.S. subprime mortgage market beginning in 2007 totaled about $1.78 trillion globally, according to Bloomberg data.
Federal prosecutors and the Securities and Exchange Commission are investigating whether banks misled investors about mortgage-bond deals, the Wall Street Journal reported.
'More Cautious'
Cisco retreated 4.5 percent to $25.53. The company forecast sales of at least $10.7 billion in the current period, following record revenue last quarter. While that beat the $10.6 billion average prediction of analysts surveyed by Bloomberg, estimates ranged as high as $11 billion.
Volume on U.S. stock exchanges has decreased each of the past five days since May 6, when the Dow fell nearly 1,000 points intraday before recovering some of its losses.
"When the stock market falls 10 percent in one day, every investor becomes more cautious," said Robert Lutts, president of Cabot Money Management in Salem, Massachusetts, which oversees $500 million. "We're probably in a trading range until there is more guidance from companies that will move up to a substantially higher level of earnings. We're not seeing that from many companies."
Consumer-discretionary stocks declined the most of 10 industry groups in the S&P 500 before tomorrow's U.S. Census Bureau report on April retail sales. Kohl's fell 5.8 percent to $53.81 for the third-biggest drop in the S&P 500. The company's forecast full-year profit of up to $3.75 a share, trailing the $3.77 average of estimates compiled by Bloomberg.
Urban Outfitters Inc., the clothing and housewares retailer, fell 6.7 percent to $36.78 for the biggest decline in the S&P 500 after reporting first-quarter sales in line with the average estimate. Office Depot Inc. and Abercrombie & Fitch Co., the teen clothing retailer, had the second- and fourth-biggest declines in the index.
Energy Firms Decline
S&P 500 energy companies declined 0.8 percent as a group as a drop in the euro to a 14-month low against the dollar helped push crude oil down to $74.44. Chevron Corp., the second biggest U.S. energy company, dropped 1.4 percent to $78.92.
Sybase surged 14 percent to $64.22, adding to a 35 percent jump yesterday after Bloomberg News reported a takeover bid by SAP AG of Germany was in the works. Sybase stockholders will receive $65 a share, SAP said after the close of trading yesterday. Bloomberg earlier reported that SAP was close to paying about $6 billion for Sybase to help it fend off competition from Oracle Corp.
The Sybase acquisition emboldened investors to buy shares of other potential targets, 300 North's Campagna said, including data-storage software company Teradata Corp., which had the third-biggest advance in the S&P 500.
Takeover Speculation
"The Sybase news is putting a bid under a lot of the small- and medium-sized tech names that could be tuck-ins for larger companies," he said. Teradata rose 4.3 percent to $32.88. Other companies that benefited from takeover speculation included Netflix Inc., Equinix Inc. and Human Genome Sciences Inc., Campagna said.
Whole Foods Market Inc. rose 5.6 percent to $42.50 for the second-biggest gain in the S&P 500. The organic-foods grocer boosted its forecast for profit this fiscal year to at least $1.33 a share, compared with an average analyst estimate of $1.25.
A full 77 percent of S&P 500 companies that released results so far beat analyst profit estimates as the earnings recovery extended into the first quarter. After declining from the year-earlier period for a record nine straight quarters, profit from continuing operations more than doubled in the fourth quarter on a share-weighted basis, and is up about 55 percent in the first quarter, based on reports by 456 companies, according to Bloomberg data.
Alcoa Inc. rose most in the Dow average after China discontinued energy subsidies to domestic producers of aluminum. Alcoa, the biggest U.S. producer, gained 2.7 percent to $12.80.
Sprint Nextel Corp. rose the most in the S&P 500, climbing 7.5 percent to $4.46, after Raymond James & Associates upgraded the third-largest U.S. mobile phone carrier to "outperform" from "market perform."