Old Enemy May Help Greece Trim Its Budget Deficit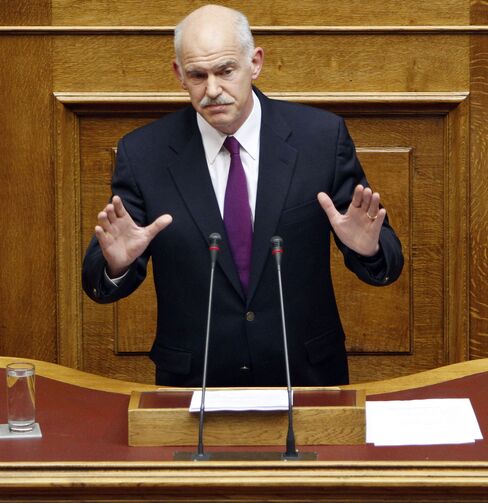 May 14 (Bloomberg) -- Fear of Turkey's army led Greece to become the European Union's biggest military spender as a share of the economy in the past decade. Now, détente between the neighbors offers Prime Minister George Papandreou a route to squeeze extra savings from his country's army.
Turkish premier Recep Tayyip Erdogan, during a visit to Athens today, said the neighbors and strategic rivals should work to cut military spending. Matching cuts from Turkey would help Greece make the reduction in military expenditures it pledged in return for $139 billion of International Monetary Fund and European Union loans to stave off a debt default.
"Investments in the arms industry could be made in health, in education, or transferred to the poorest people in society," Erdogan told a press conference in Athens today. Papandreou said the countries will seek "a common future of understanding, friendship, trust and cooperation."
Greece has spent 50 billion euros ($62 billion) on the military in the past decade, with the budget rising each year since 2003 as the army added fighter jets, submarines and tanks. They are mostly for defense against Turkey: the two NATO members came close to war over territorial rights in the Aegean Sea in 1996. While ties have improved, pilots regularly engage in mock dogfights above its waters. A Greek pilot was killed in 2006 after colliding with a Turkish plane.
Unarmed Flights
Turkey and Greece "are allies, not competitors" and "we might together decide to reduce the defense allocation of our respective budgets," said Egemen Bagis, Turkey's minister for EU membership negotiations, in an interview in Istanbul late yesterday before departing for Athens.
As a step toward building confidence, Greek planes flying over the Aegean should take off unarmed as Turkish planes in the region do, Erdogan said. Papandreou said Turkish planes should stop violating Greek airspace, and submit their flight plans in advance.
Papandreou has to slash Greece's budget deficit to 3 percent of gross domestic product by 2014 from last year's 13.6 percent to meet its commitments to the IMF and EU. Concern that he won't be able to meet that target sent yields on 10-year Greek debt to 12.4 percent last week before European central banks started buying the bonds of indebted EU nations after agreeing to a $1 trillion bailout. Yields rose 36 basis points to 7.71 percent today.
Education, Not Arms
Erdogan met Greek President Karolos Papoulias in Athens today, and with Papandreou presided over a joint Cabinet meeting attended by 10 Turkish ministers who accompanied him on the trip, together with their Greek counterparts. The two countries signed agreements to collaborate in areas including tourism, energy, transport and cultural exchanges.
Greek military spending was 3.6 percent of gross domestic product in 2008, the EU's highest, and the country with a population of 11 million was the world's fifth-biggest weapons importer between 2005 and 2009, according to the Stockholm International Peace Research Institute.
Beneficiaries of the spending include Duesseldorf-based steelmaker and shipbuilder ThyssenKrupp AG, which is supplying submarines for the Greek navy under a contract worth more than 2.5 billion euros ($3.2 billion). Greece fell behind on payments to the company last year.
Turkey's population is 72 million and its 600,000-strong army is the second-biggest in the North Atlantic Treaty Organization after the U.S. Turkey's Finance Ministry says defense spending will be about $10 billion this year, or 1.5 percent of GDP. SIPRI, whose estimates are typically higher than government figures, says it was 2.1 percent of GDP in 2007.
No Peace Dividend
"The conflict with Turkey has been overwhelmingly the thing that's been keeping Greek military spending as a share of GDP and the arms purchases high" since the Cold War ended, said Sam Perlo-Freeman, head of SPIRI's military expenditure project. "In the rest of Europe it's been for the most part completely flat or declining over the last 10 years."
Papandreou has announced defense savings of about 500 million euros this year. The cuts were visible on March 25, Greece's independence day, when celebrations lacked the usual tank parades and air displays.
For Erdogan, cutting military spending may help curb the political influence of Turkey's army, which has ousted four governments since 1960. Throughout a seven-year premiership Erdogan has clashed with generals who view his Islamist-rooted party as a threat to Turkey's secular system.
Coup Plot Trial
Dozens of military officers are facing trial on charges of plotting to oust Erdogan. Prosecutors say the plan involved attacks on non-Muslim minorities and provoking Greece into shooting down a Turkish plane, to destabilize Erdogan's government.
"If they can strike some kind of deal with the Greeks, it would help Erdogan increase leverage over the military," said Wolfango Piccoli, an analyst at the New York-based Eurasia Group, which measures political risk. It will take time because "with military spending the cutting needs to be gradual, it can't be done overnight."
Turkey keeps about 30,000 troops on Cyprus since a 1974 invasion to reverse a coup by supporters of union with Greece. In 1996 Turkey and Greece exchanged threats over ownership of uninhabited rocks in the Aegean. Other disputes include definitions of airspace and territorial waters.
"There is more or less a consensus in this country that there is a challenge, a threat from Turkey," making some areas of the military budget hard to cut, said Thanos Dokos, the director of the Hellenic Foundation for European and Foreign Policy in Athens.
Still, "the Greek armed forces were in need of an overhaul in spite of the crisis," Dokos said. "The crisis will be an opportunity to trim them down."
To contact the reporters on this story: Patrick Donahue in Berlin at pdonahue1@bloomberg.net; Ben Holland in Istanbul at bholland1@bloomberg.net.
To contact the editors responsible for this story: James Hertling at jhertling@bloomberg.net; Peter Hirschberg at phirschberg@bloomberg.net.