Bernanke Says Swaps Measure Would Threaten Stability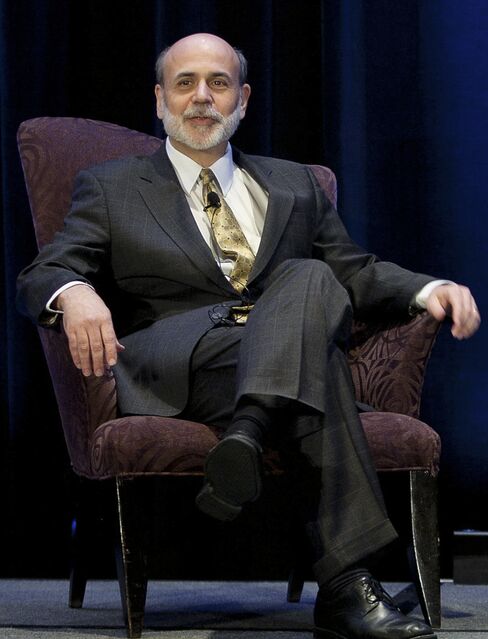 May 13 (Bloomberg) -- Federal Reserve Chairman Ben Bernanke said a Senate proposal to separate commercial banks from their swaps trading desks would weaken financial stability and regulation of derivative activities.
Bernanke, in a May 12 letter to Senate Banking Committee Chairman Christopher Dodd, said the proposal, part of the Connecticut Democrat's regulatory-overhaul bill, would harm the Fed's ability to monitor systemic risk among financial firms. He had previously spoken privately against the proposal crafted by Senate Agriculture Committee Chairman Blanche Lincoln.
"I am concerned that section 716 in its present form would make the U.S. financial system less resilient and more susceptible to systemic risk and, thus, is inconsistent with the important goals of financial reform legislation," Bernanke wrote in the letter obtained by Bloomberg News.
The provision crafted by Lincoln, an Arkansas Democrat, would require banks including JPMorgan Chase & Co. and Goldman Sachs Group Inc. to move swaps-trading operations into subsidiaries. It would bar swaps traders from access to the Fed's discount lending window and Federal Deposit Insurance Corp. guarantees.
The measure has been the most contentious part of Lincoln's larger plan to overhaul regulation of swaps and other derivatives. Derivatives are financial instruments based on the value of another security or benchmarks such as stock options. They have been blamed for aggravating the financial crisis that led to the worst downturn since the Great Depression.
Bipartisan Concerns
Lincoln has fought to keep the swaps-desk proposal in the bill, even as regulators and lawmakers from both parties voice concern that it will force trading into unregulated areas or overseas.
"Prohibiting depository institutions from engaging in significant swaps activities will weaken the risk mitigation efforts of banks and their customers," Bernanke wrote. "Depository institutions use derivatives to help mitigate the risks of their normal banking activities."
The provision would ban the Fed from lending to any swaps dealer or major swap participant, regardless of whether it is affiliated with a bank, Bernanke wrote.
"Experience over the past two years demonstrates that such broad-based facilities can play a critical role in stemming financial panics and addressing severe strains in the financial markets that threaten financial stability," Bernanke wrote in the letter, which was also sent to Alabama Senator Richard Shelby, the top Republican on the Senate Banking Committee, and Senator Kirsten Gillibrand, a New York Democrat.
Rejecting Chambliss
The Senate yesterday rejected an amendment by Senator Saxby Chambliss, a Georgia Republican, that would have stripped the Democrats' derivatives language and substituted an alternative measure.
The Republican proposal would have expanded the so-called end-user exemption for companies that use derivatives to hedge risk and removed the mandatory exchange trading requirement for standardized derivatives.
To contact the reporter on this story: Phil Mattingly in Washington at pmattingly@bloomberg.net; Alison Vekshin in Washington at avekshin@bloomberg.net.
To contact the editor responsible for this story: Lawrence Roberts at lroberts13@bloomberg.net