New Jersey Investment Chair Orin Kramer Takes Leave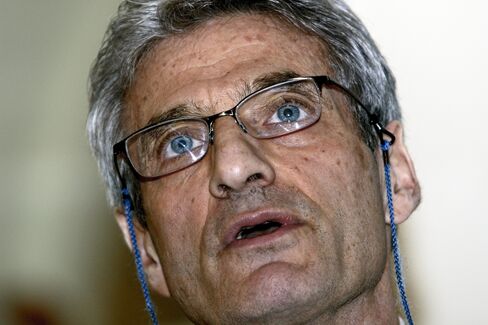 Orin Kramer, chairman of New Jersey's Investment Council, is taking a leave of absence for family reasons, according to acting chair Jonathan Berg.
Kramer, 64, general partner of hedge fund Boston Provident Partners LP, is stepping aside as chairman of the 13-member council at least through the May 20 meeting, Berg said today in a telephone interview. Kramer, who didn't return a message at his New York office, will continue working at Boston Provident, said his assistant, Michael Bell.
A supporter of President Barack Obama and a domestic policy adviser in the administration of former Democratic U.S. President Jimmy Carter, Kramer was appointed to New Jersey's Investment Council in 2002 by then-Governor Jim McGreevey, a Democrat. Kramer's term expires in September.
The council sets policy for New Jersey's $68 billion public pension fund, the 13th-largest in the U.S., according to the panel's website. Since 2006, under Kramer's direction, the committee has steered $9.9 billion into alternative investments, including $3 billion in hedge funds, according to the most recent monthly report.
Berg, vice chairman of the panel, said he learned of Kramer's decision when he was asked to direct next week's council meeting by Ray Joseph, acting director of the state treasury's Division of Investment. William Clark, director of the investment division since 2005, resigned in February to become senior vice president and chief investment officer of the Federal Reserve System's office of employee benefits.
"I believe chairman Kramer is unavailable for the May 20 meeting," Berg said.
New Members
Governor Chris Christie, a Republican who took office Jan. 19, this week nominated three new members to the council, including Robert Grady, a former partner in the Carlyle Group and an aide to former Republican Governor Thomas Kean. Grady, who lives in Jackson Hole, Wyoming, was budget adviser on Christie's transition team.
The investment division manages money for New Jersey's seven pension funds, which provide benefits to about 800,000 working and retired teachers, police officers and government employees.
Through June 30, 2009, the pension system was underfunded by $46 billion, meaning the assets on hand were worth less than half the projected cost of the benefits already promised to members, actuary reports released earlier this year show.
Before it's here, it's on the Bloomberg Terminal.
LEARN MORE