Morgan Stanley Investigated Over Mortgage Securities, WSJ Says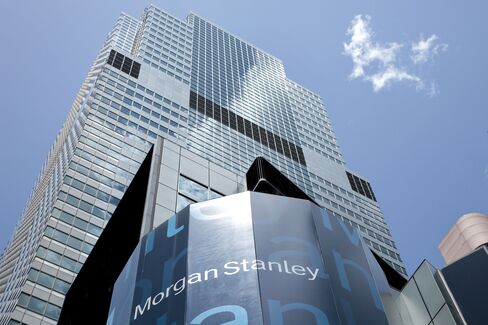 Morgan Stanley is being probed by U.S. federal prosecutors over allegations it misled investors about mortgage derivatives, the Wall Street Journal reported, citing people familiar with the matter that it didn't identify.
Investments known as collateralized debt obligations, or CDOs, backed by home loans, were arranged and sold by Morgan Stanley even as its trading desk would sometimes bet that their value would fall, the newspaper said, citing traders. The investigation is reviewing whether Morgan Stanley clearly represented its roles, the WSJ said.
The probe, which is at a preliminary stage, marks deepening scrutiny of Wall Street firms by U.S. regulators following the global financial crisis, the Journal said. Rival Goldman Sachs Group Inc. is contesting a fraud lawsuit from the U.S. Securities and Exchange Commission, which alleges the firm misled investors about a mortgage-linked security in 2007.
"We have not been contacted by the Justice Department about the transactions being raised by the Wall Street Journal, and we have no knowledge of a Justice Department investigation into these transactions," Morgan Stanley spokesman Nick Footitt said in an e-mail to Bloomberg News.
Spokespeople for the Manhattan U.S. Attorney's office and the SEC declined to comment, the Journal said.
The probe stemmed from an ongoing civil-fraud investigation of more than a dozen Wall Street firms' mortgage bond businesses by the SEC that began in 2009, the newspaper said. The Manhattan U.S. Attorney's office is now conducting a criminal probe into some of those firms' activities, it said.
Criminal Investigations
The government frequently begins criminal investigations without filing charges, the Journal said. In bringing criminal charges, the government would need to prove beyond a reasonable doubt that the firm or its employees misled investors, it said.
Two of the transactions being probed were named after U.S. Presidents James Buchanan and Andrew Jackson, and were called the "Dead Presidents" deals by traders, the WSJ said, citing a person familiar with the matter. Morgan Stanley arranged and bet against the deals, and didn't market them to clients, it said.
The firm made money on the two transactions, though it lost $9 billion on mortgage-related investments in 2007, the newspaper said. Morgan Stanley wasn't among the biggest firms in the CDO market, it said.
Before it's here, it's on the Bloomberg Terminal.
LEARN MORE