London Financial Vacancies Fall by 12%, Survey Says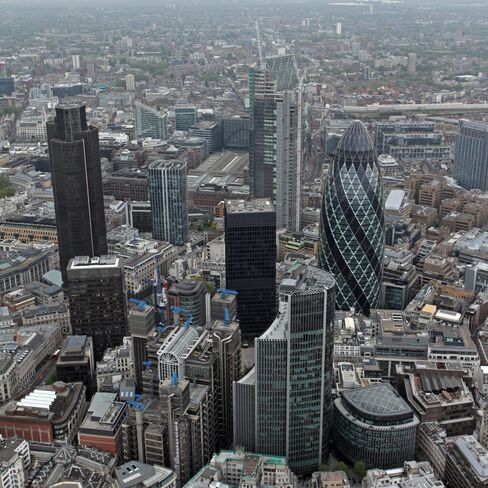 May 13 (Bloomberg) -- Job vacancies at London financial-services companies fell 12 percent in April as Britain headed into elections that resulted in a coalition government and the European Union struggled to cut deficits.
The number of new job vacancies in the City, as London's main financial district is known, and elsewhere in the British capital fell to 5,569 in April from 6,332 a month earlier, recruitment consultant Morgan McKinley said in a statement today. The number of people seeking new jobs climbed 33 percent to 11,910, the survey showed.
"The month-long general election campaign fueled debate about possible regulation and policy changes within the financial services market," Andrew Evans, managing director of Morgan McKinley's financial-services unit, said in the statement. "The likelihood of a hung parliament and economic uncertainty in the euro zone, as well as the Easter break, added to the reduction in recruitment activity."
U.K. unemployment climbed to a 16-year high in the first quarter, according to the Office for National Statistics figures yesterday. The report comes a day after Conservative leader David Cameron became prime minister of a coalition government which included Britain's third party, the Liberal Democrats. European Union officials this week agreed to a $1 trillion rescue package for the region's most indebted nations to stem a sovereign debt crisis that hammered the euro and government bonds.
'Bone of Contention'
Financial firms in the U.K. are still cutting jobs. Royal Bank of Scotland Group Plc, Britain's biggest government-owned bank, plans to cut 2,600 jobs at its insurance and consumer banking divisions, according to a person with knowledge of the plan, on May 10. The bank has previously reduced its staff by 26,000 according to data compiled by Bloomberg.
Average City salaries fell 9 percent in April from the previous month to 50,734 pounds ($75,791), the survey showed. The average time taken to find a new post in April fell by seven days to 53 days, the survey showed.
"Remuneration in financial institutions has been a major bone of contention, which means that salary levels have not increased across the board at the first sign of recovery," said Evans.
The fall in vacancies follows three consecutive months of financial services job increases, Morgan McKinley said.
To contact the reporter on this story: Ambereen Choudhury in London achoudhury@bloomberg.net
To contact the editors responsible for this story: Edward Evans in London at at eevans3@bloomberg.net