Food Health Claims Need Scientific Tests, Report Says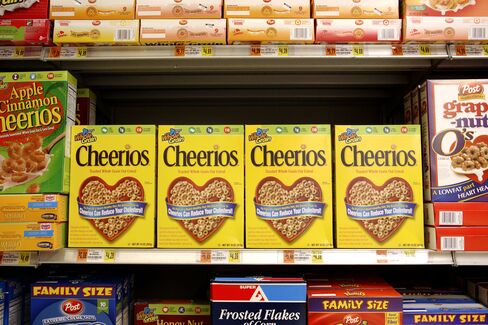 General Mills Inc.'s Cheerios are among the foods that should be held to the same scientific standards as pharmaceuticals when promoted as having health benefits, a report ordered by U.S. regulators said today.
The Food and Drug Administration doesn't police food makers' medical claims as rigorously as those made by drug companies, the Institute of Medicine, the health arm of the National Academies in Washington, concluded in its report. Cereal boxes touting the cholesterol-lowering power of Cheerios, for example, should be supported by more scientific research.
Health claims on foods can "impact a far greater portion of the population than do drug claims," and may cause harm if they are misleading, the institute said. One out of every four dollars spent by U.S. consumers pays for FDA-regulated products, the report found. While 75 percent of those dollars go to foods, dietary supplements and cosmetics, the FDA doesn't review these products before they go on sale.
Food marketing "has just been the wild west, where people have been making amazing claims about foods that have been untethered to reality or evidence," Harlan Krumholz, a professor of medicine at Yale University who served on the committee that produced the institute report, said yesterday in an interview. "With foods, we need to do at least as well as we're currently doing with drugs, and to be honest, with drugs we have to be doing a lot better."
$470 Million Budget
The FDA's Center for Food Safety and Applied Nutrition has a $470 million budget to regulate the $525 billion food, supplement and cosmetics industry, the institute said. Legislation may be required to empower the FDA to evaluate food companies' claims of health benefits with "the same degree of scientific rigor" it uses in evaluating drugs, the report said.
"Health claims are about marketing; they're not about health," said Marion Nestle, a professor of nutrition at New York University, in a telephone interview. "If I were a food marketer, I would be trembling in my shoes."
Enhanced FDA regulation of food, if enacted by Congress, would be "an enormous change in the game," because most claims that processed foods have health benefits can't be scientifically proven, Nestle said.
The FDA ordered the report to help strengthen its decision- making process, Rita Chappelle, an agency spokeswoman, said today in an e-mail.
FDA Warning Letters
The agency warned Minneapolis-based General Mills in May 2009 that its Cheerios marketing violated federal rules with claims that the cereal can bring down cholesterol levels and reduce the risk of heart disease and cancer. Cheerios boxes, until last year, said the cereal could lower a person's cholesterol by 4 percent in six weeks. Studies support the claim, General Mills said in a Nov. 3 letter to the FDA.
"We continue to stand behind the science and the substance of the Cheerios claims," Tom Forsythe, a company spokesman, said today in an e-mailed statement.
Regulators in February issued warning letters to 15 other food and beverage makers, led by Switzerland's Nestle SA, over nutritional claims for a range of products and said they were developing guidelines on package labeling.
"The FDA is currently reviewing consumer studies and other scientific data" on package labels "and is working with others to obtain research and expertise," Chappelle said. "Guidelines will be issued when information becomes available."
Baby Food, Ice Cream
Nestle, the world's largest food maker, misstated the nutritional value of some Gerber baby foods, Dreyer's Ice Cream products and Juicy Juice drinks, according to the warning letters. Los Angeles-based Pom Wonderful, LLC received an FDA warning letter for its claim that pomegranate juice can slow the progression of prostate cancer.
Nestle, based in Vevey, Switzerland, "stands behind" the nutritional quality of its products, and will "fully cooperate with the FDA to bring this matter to a conclusion," Hilary Green, a company spokeswoman, said today in an e-mail. Pom didn't immediately respond to an e-mail and a voicemail message left on its media relations telephone line.