Toyota Forecasts 48% Profit Gain on Recall Recovery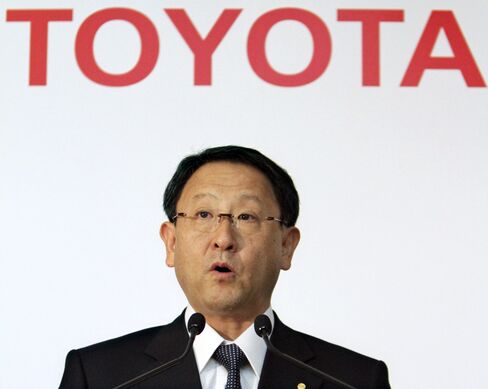 Toyota Motor Corp., the world's largest carmaker, forecast profit to rise 48 percent this fiscal year as it recovers from record North American recalls and expands sales in China and other Asian markets.
Net income may increase to 310 billion yen ($3.35 billion) in the 12 months ending in March, from 209 billion yen a year earlier, the Toyota City, Japan-based automaker said in a statement today.
Toyota's U.S. sales rose 24 percent in April as incentives buoyed demand for Corolla cars and Prius hybrids, easing the impact of recalls of more than 8 million vehicles worldwide for defects including unintended acceleration. North American sales may climb 1.5 percent this fiscal year to 2.13 million, the company said, as the U.S. recession eases.
"North America is the only market that matters," said Gentoku Kiyokawa, a fund manager in Tokyo at Fortis Investments, which bought Toyota shares in February. "Based on the recent sales numbers, the recalls aren't posing a problem."
Toyota's U.S. sales dropped 20 percent in 2009, as industrywide deliveries slumped 21 percent to 10.4 million units, the lowest level since 1982. The company's sales there surged 41 percent in March, the final month of its fiscal year, after the automaker added discounts across its lineup.
The company's American depositary receipts, equal to two ordinary shares, rose 71 cents, or 0.9 percent, to $77.46 at 4:15 p.m. in New York Stock Exchange composite trading. They have dropped 8 percent this year. Toyota shares fell 0.7 percent to close at 3,565 yen in Tokyo before the earnings announcement.
50,000 Vehicles
Lost sales due to the recalls for the year ended in March amounted to about 50,000 vehicles, compared with an earlier estimate of 100,000, Toyota Senior Managing Director Takahiko Ijichi said at a press conference in Tokyo today. The cost of the recalls was 170 billion yen to 180 billion yen, he said.
"We are still in the middle of the storm, but I am feeling that we can see clear skies in the distance," President Akio Toyoda said.
While Toyota didn't say by how much the recalls will cut profit this year, related costs, such as a $16.4 million fine from the National Highway Traffic Safety Administration, are included in the forecast for the year ending in March 2011, it said. The company set aside an extra 100 billion yen in provisions for warranties last fiscal year.
Toyota also expects to benefit from cost savings of 290 billion yen, including cuts to executive compensation, Toyoda said. That may help operating profit surge 90 percent to 280 billion yen this fiscal year, according to today's statement.
Increasing Competition
Still, the Japanese carmaker must fend off increasing competition in the U.S. from Ford Motor Co. and Hyundai Motor Co.'s new models, said Jessica Caldwell, senior analyst at Edmunds.com., an auto industry researcher in Santa Monica, California.
"This will be a tough year for Toyota," Caldwell said. "They've fallen weak at a time when their competitors are so strong."
Sales of Hyundai's revamped Sonata sedan, which was introduced in the U.S. in February, soared 57 percent in April. The model competes with Toyota's Camry, sales of which gained 10 percent last month. Ford's April sales rose 25 percent.
Competition in the U.S. is intensifying as domestic automakers strengthen their car lineups and as Hyundai grows, Honda Motor Co. Executive Vice President Koichi Kondo said on April 28.
U.S. Investigation
The U.S. Transportation Department continues to investigate Toyota's handling of past recalls. NHTSA, which fined Toyota the maximum $16.4 million last month for failing to promptly notify the agency about defects tied to unintended acceleration, yesterday opened an investigation into a 2005 recall for faulty truck steering-relay rods.
Toyota faces potential costs, not included in its profit forecast, from at least 180 consumer and shareholder lawsuits seeking class-action status and at least 57 individual suits claiming injuries or deaths caused by sudden acceleration.
U.S. Transportation Secretary Ray LaHood, speaking to reporters in Toyota City yesterday, didn't rule out another fine against Toyota, saying it will take a few months for his department's staff to complete the review of almost 500,000 documents and determine the next step.
Fourth-Quarter Profit
In the fourth quarter, Toyota posted net income of 112 billion yen, compared with a loss of 766 billion yen a year earlier, according to its statement today. Toyota was projected to post 48.3 billion yen in net income, based on the average of four analyst estimates compiled by Bloomberg. Sales rose 49 percent to 5.28 trillion yen.
Toyota based its full-year forecast on exchange rates of 90 yen to the dollar and 125 yen to the euro, compared with an average 93 yen against the dollar and 131 yen against the euro last fiscal year.
The automaker predicts sales in Asia excluding Japan will rise 11 percent to 1.09 million vehicles this fiscal year. In Japan, its second-biggest market, sales are expected to drop 11 percent to 1.92 million. In Europe, the company forecasts sales of 860,000 vehicles, an increase of 0.2 percent from the previous year.
Toyota said today that it plans to review models and improve the efficiency of its production structure in Japan, North America and Europe.
In China, Toyota's sales may exceed 800,000 units this year, compared with 709,000 in 2009, Masahiro Kato, president of the company's business in that country, said at the Beijing Auto Show on April 23.