Dollar Libor Increases as Doubts Remain Over EU Plan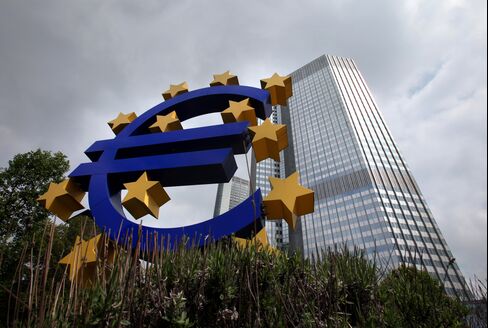 May 11 (Bloomberg) -- The rate banks pay for three-month dollar loans held near the highest level in about nine months as Europe's near-$1 trillion loan plan failed to encourage institutions to lend more to each other.
The London interbank offered rate, or Libor, rose to 0.423 percent today from 0.421 percent yesterday, according to data from the British Bankers' Association. Libor reached 0.428 percent on May 7, the highest since Aug. 17, on concern the sovereign-debt crisis triggered by Greece's budget deficit is hurting the quality of loan collateral.
"The package hasn't had too much impact on money markets," said David Keeble, head of fixed-income strategy at Credit Agricole Corporate and Investment Bank in London. "There's not really much going on in the interbank markets."
Three-month dollar Libor climbed by more than eight basis points last week, the most since October 2008, as concern over the quality of collateral needed to secure loans heightened banks' reluctance to lend to potentially risky counterparties. These doubts pushed the Libor-OIS spread, which widens as banks' willingness to lend decreases, to the widest since August.
Euro-region nations agreed yesterday to offer a loan plan of as much as 750 billion euros, including International Monetary Fund backing, to contain the sovereign-debt rout.
Highest, Lowest Rates
Three-month Libor is a benchmark for about $360 trillion of financial products worldwide, ranging from mortgages to student loans. Dollar Libor is set by 16 banks in a daily survey by the BBA before 11 a.m. in London. Contributing banks provide estimates on how much it would cost to borrow in 10 currencies for periods ranging from a day to a year.
WestLB AG contributed the highest rate today, at 0.49 percent. HSBC Holdings Plc gave the lowest, at 0.37 percent. The BBA strips out the four highest and lowest rates quoted, calculating the average of the middle eight.
The Libor-OIS spread, which compares three-month dollar Libor and the overnight indexed swap rate, widened to 19.3 basis points from 19.2 basis points yesterday, the most since Aug. 25. The spread ballooned to 364 basis points, or 3.64 percentage points, after the 2008 collapse of Lehman Brothers Holdings Inc.
The three-month rate for euros, or euro Libor, was unchanged at 0.628 percent today. It rose to 0.634 percent on May 7, the highest level since Jan. 12.
Overnight Rate
The overnight rate for euros climbed to 0.613 percent on the last day of the European Central Bank's reserve maintenance period. It was 0.279 percent yesterday. That increase is "technical" due to last-minute bidding before the period closed, and the rate is likely to fall tomorrow, Keeble said.
As part of the liquidity measures announced by the EU yesterday, the U.S. Federal Reserve reopened currency swap lines with major central banks to alleviate funding pressures facing European financial institutions.
The ECB resumed holding weekly dollar auctions today, holding an eight-day, fixed-rate, full-allotment auction that allotted $9.2 billion at 1.22 percent. Cagdas Aksu, a fixed-income strategist at Barclays Capital in London, said today's auction attracted only seven bidders, indicating banks aren't under "huge funding pressure."
"The total participation doesn't look exceptional," he said.
Borrowing From ECB
The three-month euro interbank offered rate, or Euribor, was unchanged at 0.682 percent today, according to the European Banking Federation. That matched the highest level since January, reached last week.
Banks in the euro area borrowed the most in two months from the European Central Bank yesterday, indicating the near-$1 trillion package to shore up debt markets didn't raise confidence in the interbank lending market amid concern over counterparty risk.
Banks borrowed 3.83 billion euros ($4.9 billion) from the ECB's marginal loan facility, the most since March 10, ECB data shows, while the amount of overnight deposits held at the central bank increased to 314.8 billion euros yesterday, the highest since July.
"Banks have every incentive to lend, but there is clearly a heightened perception of counterparty risk," said Matteo Regesta, an interest-rate strategist at BNP Paribas SA in London. "You would not want to lend money to a bank with exposure to mark-to-market losses in the sovereign market, as your counterparty risk will increase. In that framework, you put money in the safest possible location, which is the ECB."
Regesta said the European rescue plan is likely to eventually have an effect, pushing down the level of deposits held by the ECB.
"Going forward, this number has to decrease," he said of deposits at the ECB. The EU package "will consolidate, clarify and calm markets."
To contact the reporter on this story: Keith Jenkins in London at kjenkins3@bloomberg.net
To contact the editor responsible for this story: Justin Carrigan at jcarrigan@bloomberg.net